Tere Liye
Jan 31, 2015
Tere Liye (By Taanihalai) (Thanked: 122 times)
Part 1
It was indeed a beautiful morning!
The birds were singing their lovely songs waking everyone up..
The seven rainbows were there together to make the morning more beautiful.
Samarpur, one of the most beautiful place in India.
This is the place where you could see lots of rainbows together, it was the place with a weather that would make you get romantic anytime.
The greenery around the whole town made it look the best. It is really hard to describe such a beautiful town in words.
The mornings in this town were always beautiful for everyone, feeling the cool breeze and the morning sun while heading to school college or work was just something different.
Many people did enjoy this, but there were also some kind of people who never saw the sun rising, who never felt the cold morning breeze, who never got the chance to see the seven rainbows together.
Counted in such kind of people was this man, a simple yet complicated man.
The morning in jails would usually begin with some works but here it was a bit different, the police men and the criminals in the jail never considered it as the morning not until they heard their daily morning tune.
As the clock stroke 7. Am there was silence all over.
A beautiful tune started playing, and everyone stopped, either to listen to it or to find the person playing such a wonderful tune.
The mornings usually began like this in this jail. For the past two years these seemed like to have been the daily routine.
A lady walked in the police station with some papers. She handed the papers to the officer and after that she was escorted to one of the lock ups.
The lock up was opened for her and she walked in making noise with her heels.
There was dark all over and she could hardly see the face of the person who was inside there.
On top of it, his long hair and beard was hiding his face more. All she could notice at this time was the mouth organ he was playing.
Yes this was the place where the beautiful tune came from every morning. The lady stood there listening to the tune, until the man stopped playing it.
She finally took a deep sigh and introduced herself.
"Avisha, Avisha Mehra here, I am a lawyer" she said.
She waited for a while expecting a reply from the man but he seemed like not interested at all. He just kept quiet and continued cleaning his mouth organ.
"Is it that you aren't interested in talking to me, or you are just shy?" She asked.
But again there was no reply.
"Ma'am you are wasting your time, this man has never talked to anyone since the day he came here what will he talk now? It seems like he doesn't want to be helped, he seems to have been liking this place so let him stay" an officer standing outside said.
"As I said earlier I am Avisha, what about you? At least you can introduce yourself right?" she said ignoring the officer.
There was still complete silence, he neither looked at her nor did he reply.
"You know what sir, two years back when I was doing my finals on law, I heard about your case, after the case got too much attention I did a complete research on everything connected to it and I finally came to only one conclusion, no this can't be it, you can't be a criminal, there is surely something we don't know about, because a person like you can never be a criminal, no I just can't believe it, anyways so now today I am a lawyer and here I am for my first case" she said
There was another silence again. The lady was feeling angry why was this man quiet? Why wasn't he letting out the truth? Why did he want to waste his whole life behind the bars, why? What was it that was stopping him?
"Sir please, just for once tell me about your story tell me about the incident I will make sure I get you out of here, trust me sir, I chose your case as my first one and this is what will decide my future so please for heaven sake say something." she pleaded.
He still did not reply. He was silent and like the officer had told the lady earlier he did not speak, he had been silent for the past two years and he was still silent.
"I told you ma'am you are wasting your time, he won't speak, who knows he might have lost his strength to speak in the past two years or he might have gone dumb or something" The officer said.
"Talk about him with respect, just because he never talks doesn't mean that he is dumb, you are here to look on him do that not something else" Avisha replied back angrily.
She turned towards the man and looked at him with anger too.
"I know you are not dumb, I just don't understand why you aren't speaking up, aren't you the person who taught everyone through your movies not to keep quiet when something wrong happens? Then why? Why are you quiet today Arnav Singh Raizada or should i said Superstar ASR???
Just by listening to his name for the first time after this two years made him shiver. He turned his face up and looked at the girl. His eyes spoke a lot.
Just the way he turned by a simple mention of his name, the way he shivered, the fear in his eyes or call them the hidden tears showed up, everything just said one thing, this man can't be a criminal!
There was surely some hidden story behind this, there was something that people did not know about.
Feb 3, 2015
Tere Liye... Part 2 (By Taanihalai) (Thanked: 112 times)
There was some noticeable pain in his eyes.
The way he shivered just by a simple mention of his name.
His almost moist eyes
His trembling lips
Everything just said one thing
Whatever it was, it did give him a lot of pain.
"Sir please, for once talk to me I will make sure I help you in anyhow" Avisha pleaded
He looked at her as a cute smile curved up on his face.
"Miss Avisha, it's your first case and I don't want you to lose, better stay out of this" he said
His voice echoed in the whole place.
There was pain in his voice too.
"Please sir, I don't care if I lose all I know is I want to fight your case, just for once trust me and tell me about it, please sir please" she pleaded
Arnav took a deep sigh and looked at the girl standing in front of him. she seemed to be determined and he did not want to hurt her in any case.
"The story begins in this same town, 3 year back when I came here for shooting."
Arnav started telling his story as Avisha got out a tape recorder and recorded each and every word he said.
Flashbacks.
It was a beautiful morning, well mornings in Samarpur had always been beautiful without any doubt, but today's morning was a different one.
A beautiful lady was sleeping peacefully on her round bed with a beautiful smile curved up on her face. She was all over a sudden woken up by a phone call.
She disconnected the call irritatingly and drove back to sleep but it rang again and finally she received it.
"What is it? Why are you always up to disturbing my beautiful sleep?" she asked angrily.
"Khushi wake up, do you have any idea on what's happening?" a girl said
"What's happening?"
"Khushi they want to break the swing!!"
Khushi stood up in shock
"What? Who dared to do that and why?" Khushi said angrily
"Stop asking questions, just come here right now before they break it"
Khushi disconnected the call, without thinking of anything else she just took her bag and rushed to the place where the swing was.
She found a huge crowd there surrounding the swing.
She slowly walked there hoping that no one touched her swing
She pushed people away one by one and was finally relaxed to see the swing still there.
She took a deep sigh just when her friend Payal ran towards her.
"Khushi… They want to break it down"
"Who? And why?" Khushi asked
"We want to break it" Some men standing there replied.
"I tried hard to stop them but they aren't ready to listen to anything" Payal explained
"Why are you breaking it?" she asked
"Ma'am this place had been chosen for a movie shoot, and for us to make the set here we have to break the swing" a man explained
"No, this can't happen, you can't break this swing like that"
"Ma'am we have the permission to so please stop wasting our time, the shoot would begin in half an hour and we need to get this out"
"No! this swing isn't going to be broken. Dint you guys get any other place for your so called damn shoot, no one would touch this swing got that?" Khushi shouted back angrily.
"Ma'am let us do our work please" a man said
"No"
"Ma'am please let us do what we are here for you otherwise I am afraid we will have to take some action against you"
"Do whatever you want to, till I am alive I won't let you do this, never!"
"What's with this swing? You can put it somewhere else too, for now we need this place so please move away" A man said.
They were still having an argument while the men were confused on what to do, they did not know how to convince Khushi to let them do their work.
A black Mercedes arrived there as everyone turned around to have a look.
The door opened slowly as a man ran there with an umbrella.
Arnav stepped out of the car as the man covered him with the umbrella almost hiding his face.
Khushi tried her best to look at the person's face but she couldn't.
He stopped ten inches away from her and looked at the men.
"What's going on? what is the crowd for? And why isn't the set ready? Is this what you call shooting?" he asked angrily.
"Sorry sir, we have been trying to convince this ma'am to let us do our work but she doesn't want us to break this swing in any case and since then we have just been arguing with her" a man replied
"I need this set ready by tomorrow, I am here for a shoot not to waste my time, do anything and get this lady out of here, if the set isn't ready by tomorrow I guess the shoot gets canceled" the man said as he walked back to his car.
"Ma'am did you hear that? Now please let us do our work"
"No! I won't let anyone touch this swing got that?"
"Ma'am we have legal permission and now if you don't move back we will have to call the police"
"Call anyone I still won't let this…."
Before she could finish her sentence someone got hold of her hand and pulled her away.
It was none other than Arnav Singh Raizada.
"What the hell are you trying to do? Don't you see we have some work to do? If you are free then waste your time somewhere else, I don't like anyone wasting my time, because of you I have postponed my shoot to tomorrow and you are still arguing? Get out of this place or I will call the police right now" he shouted at her.
"Call the minister too, but as long as I am alive I won't let this happen got that?"
"Do you have an idea whom you are talking to?"
"I don't even want to know who you are, I am here for my swing, you are here for you shoot so better mind your own business, shoot somewhere else, this swing isn't getting out of here got that?" she replied back.
Arnav gave her an angry look just when the policemen arrived there.
They rushed towards Arnav
"Sir what's the problem" they asked
"This lady is the problem, we got legal permission to break this swing but she is interfering, will you please deal with her?"
"Sorry for the inconvenience sir, carry on with your work, we will deal with her" a police man replied
"You will deal with me later but for now I won't let you do this no matter what" Khushi replied angrily
"What the hell is wrong with you miss, what's in this swing, it's just a metal?" Arnav said
"It's not just a metal, it's a whole lot of memories for me, it isn't just a swing, it's a swing my best friend made for me, and to you Mr. superstar I won't let anyone break this got that!"
With that she walked back to the swing and started arguing with the men there.
A Cute smile curved up on Arnav's face as he looked at her.
"Khushi!" he said with a smile
"Sir what do you want us to do?" an officer asked
"Let it be, you may leave sorry for disturbing you, I will shoot somewhere else" he said
The policemen walked away as Arnav ordered the men to leave too.
Khushi looked at Arnav wondering that a man who wasn't ready to listen to anything a few second ago was now ordering for the swing not to be broken, was it a miracle or what?
Everyone left one by one and Khushi took a deep sigh finally after saving her swing.
She rushed back home knowing she had to face her mother and answer her thousand questions.
Another rush for ten minutes and she arrived home.
She stood near the door and prayed to God for help.
She closed her eyes and slowly pushed the door.
She opened her eyes and was left in shock to find Arnav sitting there.
Feb 4, 2015
Tere Liye... Part 3 (By Taanihalai) (Thanked: 107 times)
"You?" She shouted in shock
Arnav stood up and walked towards her.
"Yes me" He replied
"What the hell are you doing here?"
"My wish"
"Wasn't it enough that you wanted to destroy my swing, now why are you here? Do you also want to destroy this building I live in?"
"You guessed it right"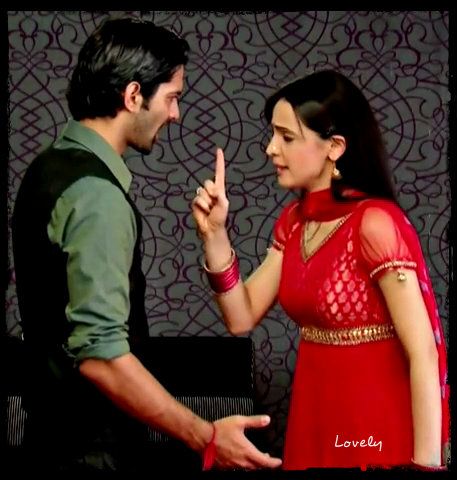 "Are you out of your mind? Just leave, Mom! Where are you?" she shouted
"No one is here, I have been waiting all alone"
"I said leave"
Arnav looked at her with a smirk and she was like getting lost in his eyes.
He walked towards the side table a picked clock that was placed there.
"Don't you dare touch that, what the hell are you really trying to do? And why the hell am I talking to you? it's the last time I am telling you to leave otherwise I will shout"
"Your best friend gifted this to you right?" he asked
"How did you know?"
Khushi looked at him suspiciously
"How did you know that? Who are you?"
"Who I am… well I am a human being"
"Oh really? I thought you must be some ghost, stop scaring me please give that clock to me, it means a lot"
"And the person who gave you this?"
"Why do you want to know? Mind your business okay"
"Relax Khushi"
"Khushi? How did you know my name?"
"You can remember the swing and go crazy to stop it from getting destroyed, you can remember this clock and shout at me but you can't remember the person who did all that for you" Arnav said
"Fatso?"
"Skinny!"
"Arnav!"
"Khushi!"
Khushi almost jumped in happiness.
She couldn't believe, her best friend, Arnav was standing in front of her after so many years. Since he left the town for studies he had like completely forgotten about her.
No calls no texts no letter nothing just nothing.
She thought in all this years he might have forgotten her.
But finally she was glad that he never forgot her.
They both hugged each other happily and broke it after a while feeling awkward.
"So you finally remembered you best friend" Khushi said
"I never forgot you"
"Liar"
"True"
"Then why dint you call me even once? You did not even contact me after you left"
"I am sorry for that, I just got busy with studies then this career all over a sudden, something I had never dreamt of"
"Yeah I watched some of your movies good job, but I am crazy right I watched your movies I knew your name but it never clicked my mind that it was indeed you"
"Maybe because when we were friends you knew I wanted to be a doctor"
"That's why I never gave this importance"
"Yeah"
"it feels so great to see you again, you have completely changed fatso"
"And you have also changed, I thought you would be the same skinny girl but I can see you are eating a lot, you will soon give me completion"
"Was that a compliment?"
"I guess"
"I hate you Arnav, you are still the mean one, who never says anything good about me"
"Really? You hate me? Then I guess now we are not friends, but you know what? Honestly you've grown to be beautiful"
"Really? Thanks" she blushed
"I thought you must have forgotten about me long back but I just realized you forgot nothing, you still remember our swing, you have still kept my gifts safe, I am impressed"
"You should be, you got a good friend like me"
"Yeah the one who shouts at me instead of welcoming me in her house"
"I am sorry for that, I didn't know it's you"
"It's okay, anyway where is aunty? I am sure she would be over excited to see me" Arnav said with a smirk
"Oh not again!" Khushi said
"Grow up sweetheart, she still loves me more than you"
"Keep on dreaming boy"
"Fine then let's wait and watch"
"Anyway sit here and wait for mom, I'll just be back right?"
"Okay"
Khushi ran to her room happily. She picked Arnav's childhood photograph that was on the table and started dancing around.
"I really can't believe it, you are back Arnav! Mom always used to tell me I am mad waiting for you as you would never come back but today I would prove her wrong Arnav, my love would prove her wrong, my wait wasn't in vain, I am just so damn happy I love you a lot!" she said happily swirling around She stopped all over a sudden seeing Arnav standing at the door.
"Arnav?"
"When did this happen Khushi?" he asked
Khushi stood there speechless, he heard what she said? what would she tell him? how would she explain this?
Feb 5, 2015
Tere Liye... Part 4 (By Taanihalai) (Thanked: 117 times)
"When did what happen Arnav?" Khushi asked
"I just heard you shouting I love you… so I am asking.. When did this happen? You are in love? How I mean with who?" he asked
"Oh that! I was like just shouting it for mom"
"Why for her?"
"Because I remembered some bet we had, she is soon going to lose it so I just love her"
"That doesn't make sense, are you hiding something from me?"
"Why should I?"
"Then what's all this?"
"I told you, you won't understand so let it be"
"Fine as you say"
Khushi's mother walked in and found her with a guy.
"Khushi who is he?" Garima asked.
"Guess" She said smiling.
Garima looked at Arnav not having any idea on who it might be.
"I don't know" she said
"Aunty it's me, Arnav"
Garima's eyes were full of tears, she couldn't believe that she was seeing him after all this years.
"Arnav! you came back?" she hugged him holding him tight into his arms.
"Yes aunty I did"
She broke the hug and looked at him.
"Oh my God look at you I mean you have grown so thin! What happened?"
"Mom he became an actor and we had no idea about it" Khushi said
"Don't over react Khushi, even my mom doesn't have an idea of this, I mean I did not tell her too, she still thinks I am studying" Arnav said
"What? How is that possible?"
"it's so simple, after I felt I never came back, no one had my photographs or anything, I grew up and my looks changed so I am sure you all must have watched my films, even mom and dad but none of you would have recognized me" Arnav explained
"Now my question is why dint you tell us?"
"I wanted it to be a surprise"
"Such a fake surprise"
"I know that's what you would say, so anyway aunty I will see you later let me go and surprise mom"
"Okay dear, but do keep coming here"
"Sure"
He bid them a good bye as left and Khushi and Garima started fighting over the bet they had.
Raizada Mansion
Arnav walked inside looking at each and every corner of the mansion realizing one thing, nothing had really changed in all this years.
The Raizada's were one of the richest family in this small town.
Now talking about Khushi she obviously belonged to a middle class family.
Khushi's parents and Arnav's parents have been friends since long and that's why Arnav and Khushi know each other.
In fact Arnav's parents treat Khushi as their own daughter.
Mr. Akul Raizada and Mrs. Ankita Raizada, the parents to Arnav were busy in their room having some discussions.
Anjali, Arnav's sister was deep asleep in her room.
"It's been all this years he hasn't come back, we have just been talking to him over the phone, I mean we don't even know how our son looks like" Ankita said
"I did tell him many times but he is the one who doesn't want to come and you know it I don't like forcing him" Akul replied.
"But what about Khushi?"
"I had told you earlier, don't make any promises to her"
"But I did and I want to fulfill it"
"And what if Arnav doesn't agree?"
"He will, he knows Khushi since childhood they have been good friends"
"I know that but people do change"
"What's wrong with Khushi, she is educated, she is mature she is beautiful"
"I am not saying there is anything wrong in her, all I am wondering is if Arnav would be ready to get married to her"
"Why wouldn't he be? Khushi has been waiting for him since long, stop arguing with me about this just tell him to come here once, let's get him married then he can do whatever he wants"
"Fine, I will talk to him today" Akul said.
They both headed downstairs and found Arnav looking around the mansion.
They obviously couldn't recognize him because when he left he used to be a fat chubby boy and he returned being a slim perfect handsome man.
"How can we help you?" Akul asked.
"Arnav's eyes became moist, he was seeing his family after so long.
He just rushed to his dad and hugged him while Akul was left in shock.
He broke the hug after a while and looked at him.
"I missed you a lot dad" he said
That's when it clicked both Akul and Ankita's mind that he was Arnav.
"Arnav!" Ankita shouted out of excitement.
"Mom, I missed you too" he hugged her.
"Arnav you are back? I can't… we were just talking about you"
"Oh typical mom, now please don't cry, am not going I am back, smile please"
They shared a cute family hug when Anjali shouted from behind.
"I am left out"
She rushed to them and hugged them.
"Bro wow you are back, wait oh my God, he is Arnav the superstar, bro you are an actor? No I am dreaming right? Mum pinch me please"
Arnav pinched her and she shouted.
"Ouch, does anyone pinch this hard?"
"Yes I do" he replied
"But wait I mean you seriously are my brother? I can believe oh my God I will go crazy"
"Yes my little sister I am your brother"
"But I remember a bit about you, you used to be fat what happened? Did anyone beat you up?"
"Yes that's what exactly happened"
They all laughed then sat together chatting about things.
There was happiness all over the Raizada mansion but did they have any idea that their happiness would just last for this day, the next day was on its way to snatch away everything.
Feb 6, 2015
Tere Liye... Part 5 (By Taanihalai) (Thanked: 116 times)
Everyone was happy in the Raizada Mansion.
They were really happy that finally Arnav came back.
They wanted to party to dance and what not.
Anjali was just happy, the actor she had always loved was none other than her own brother
That feeling was just too good.
She was busy having talks with Arnav as Ankita pulled Akul aside.
"What is it, why are you pulling me?" Akul asked angrily.
"Because I need to talk to you"
"Talk about what? Arnav is back after so many years let me sit with him and talk to him."
"Talk to him later, this is really important"
"Okay fine, tell me what is it?"
"Don't you think we should now talk to Arnav about Khushi?"
"What about her?"
"I mean about his and Khushi's marriage"
"What? Are you out of your mind Ankita?"
"What's wrong in that?"
"Nothing wrong but at least you can give him time, he just came today, let's talk to him tomorrow"
"Wow tomorrow? Doesn't sound bad great then we'd talk to him tomorrow itself, Oh my God I just can dream of his marriage now"
"Don't be so over excited Ankita, I told you before and I am saying it again, everything will happen as per Arnav's wish and if he won't be ready to marry her you won't force him got that?"
"Why won't he agree, he knows Khushi since childhood they have been good friends, I know he would never get a better life partner than Khushi"
"Whatever, now can I sit with my son for a while?"
"With pleasure"
Akul walked to Arnav and Anjali and they sat there making stories as Ankita cooked for them.
They sat together and had their lunch together.
"So Arnav I mean you forgot us completely, you refused us from coming there to visit you and neither did you come here why?" Ankita asked.
"It's so simple mom, I wanted this to be a surprise for you, in fact after my first movie I was to come here and give you the surprise but then I got so busy with other movies and finally we came here for shooting and I got a chance to finally surprise you all"
"I see" Akul said
"So when are you going to meet Khushi… I hope you remember her, your childhood friend"
"Yes mom I obviously remember how can I forget her and don't worry I already met her"
"What? Where?"
"Well that's a long story, anyway I am done and I am hell tired let me rest for a while then we will talk okay?"
"Okay"
He rushed upstairs to his room and jumped on the bed as he drove to sleep.
Khushi was really happy, she was just sitting in the hall thinking about Arnav only.
The telephone rang as she ran to receive the call.
"Hello"
"Hello Khushi it's me Ankita"
"Aunty, how are you"
"I am fine and you?"
"I am also fine"
"Now listen to me, you obviously know Arnav is back right? so I need you here within ten minutes okay?"
"Yeah but why?"
"It's so simple you love him right, you have waited for him all this years and now I don't want you to wait anymore, I have decided to talk to him about you tomorrow but you need to come here so that I can explain something to you so hurry up"
"Okay aunty I will be there as soon as possible."
She disconnected the call and rushed to her room, she straightened her hair in a hurry, put on some make up, eyeliner and mascara and took a final look at the mirror.
She rushed to Raizada mansion and within no time she was there.
She entered in shouting happily.
"Aunty! Aunty where are you"
Ankita rushed to the hall and shut her up as Arnav was resting in his room.
She took her in her room and locked it.
"So tell me aunty why did you call me here, and where is Arnav?"
"Khushi relax, stop being so over excited"
"Aunty over excited? No way this is just my love, my happiness you don't know how happy I am that he finally came back"
"I know and now the main point, I will talk to him about you tomorrow and I need you to be present here at that time okay? I don't want him to give me fake answers so when you will be here I will send you both to have a talk about it and I am sure he would tell you the correct answers, do you get me?"
"Kind of"
"Forget that just do as I say, and yes I got this for you"
She handed her a beautiful red sari.
"Wow this is so pretty but what is it for?"
"For tomorrow, put on that, I am sure when he sees you in this sari he wouldn't be able to move his eyes away from you."
"Okay" she replied as she blushed.
Just then they both heard Arnav shouting and they headed outside the room.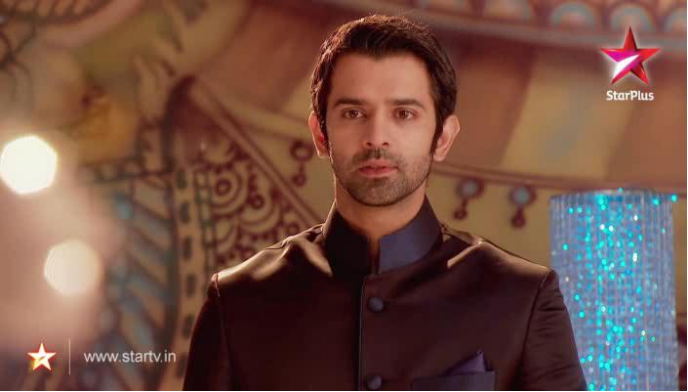 "Mom! Dad! Where are you?"
"I am here Arnav" Ankita said
"Where is dad?"
"He went out for some work, what is it? Do you need anything?"
"Mom I have to leave right now, I am going back to Mumbai"
Just on listening that, Khushi's heart almost broke down into million pieces.
She had always waited for him to come back and he did but he wanted to go back just after coming, why? He wanted to leave her alone again, he wanted her to wait for years again?
Jism paankh aankhon mein bharlu… Saans Saans mein shaamil karlu…
Iss dunia me jaan gawah… tujhe uss dunia mein haasil karlu…
Well she dint mind that too, she had waited before and for him she would still wait. All she wanted was he should be happy with her or without her.
Zindagi gawah kar bhi jo zindagi mile…
har Khushi gawah kar bhi jo ek Khushi mile…
Toh manglu tere liye… tere liye… tere liye…
"What? But why? You just came and all over a sudden you…"
"Mom I just don't have anything to explain, it's something urgent, I will be back within a day or two, for now I just have to leave sorry for this and bye"
He hugged her and rushed to his room to get his bag.
Khushi stood there feeling broken again.
She had just started dreaming again but her dreams seemed to be shattering into pieces again
Arnav came downstairs he stood for a while and talked with his mom but he did not even notice her?
She felt really hurt.
How could he just not see her? How could he be so lost that he did not even notice her, had she dreamt a lot, had she dreamt of something that would never happen?
Arnav rushed downstairs, he hugged his mom and walked away when he stopped at the door and turned back.
"Khushi… you are here? When did you come?" he asked.
"Just now"
"Sorry I am so tensed I couldn't… anyway I'll talk to you after I come back okay? Bye mom bye Khushi" he said that and walked away.
Khushi could just stare at him until he disappeared and then finally she broke down into tears as she ran out of the mansion.
Feb 10, 2015
Tere Liye... Part 6 (By Taanihalai) (Thanked: 108 times)
"Khushi" Ankita shouted
She just did not listen to anything, she was broken and she wanted to stay alone for some time.
At this moment for the first time ever, Ankita had a doubt if Arnav would accept Khushi.
She had always thought that being childhood friends, Arnav would never have a problem with Khushi but then she forgot that he had stayed away from her for so many years.
Maybe he might also be having a girlfriend.
Or he might be in love with someone else.
She was scared, for Khushi, she never wanted her heart to break.
And then what about her promise to Khushi?
Would she also break it incase Arnav had anyone else?
But why? Why was she thinking all this, he just left in a hurry he must have also been having some other work rather than just running behind a girl.
She brushed off the thoughts and walked to her room.
All they could do is wait for Arnav to come back and tell them what was wrong all over a sudden that he had to leave in such a hurry.
Khushi locked herself in her room as she hugged her pillow tight crying for what had happened.
Had she waited all this days for him so that in return he could just treat her like this?
Had she waited for him so that he could forget her so easily?
Only if he could come back once then maybe she would have told him how much she loved him.
All she wanted was now the end.
She wanted her wait to end.
Either with a good note or a bad note.
But she couldn't wait anymore because now it was hurting her.
His behavior was hurting her.
Yes they hadn't even talked well but the way he behaved just a while ago had shattered her completely.
At night when Akul arrived home Ankita told him about Arnav.
"He will return why are you so worried?" Akul said seeing Ankita worried.
"I am worried for Khushi"
"What? Where did Khushi come in between all this again?"
"Akul do you hate Khushi or don't you like her?"
"Why are you asking that now?"
"Because whenever I talk about her you get angry"
"I don't hate her, she is a good girl but what I hate is that you just decided you would get Arnav married to her without knowing what Arnav wants"
"Then talk to Arnav lets end this as soon as possible ask him when he is coming"
"Fine let me call him"
Gupta House.
Khushi had been in her room he whole day.
Her mother was really worried about her, Khushi had always been happy fun loving and full of life but today she seemed totally opposite of what she had been.
There was no surety if Arnav loved her or anyone else but she just couldn't control her feelings.
She just prayed and hoped that he would come back soon.
She was lying on her bed when her phone rang.
It was Ankita.
"Hello"
"A good news for you Khushi, we called Arnav and he said he is coming back tomorrow"
"What? Really?"
"Yes so please tomorrow be here before 10 o'clock in the morning"
"Why?"
"You forgot what I had told you today? You even left your Sari over here"
"I am sorry for that I was just hurt… but aunty what if Arnav has someone in his life?"
"He doesn't, I talked to him and I also asked him about it, he said he doesn't have anyone he had just gone for something else which was supposed to be a surprise for us all, and he would come back tomorrow and give us the surprise"
Khushi felt really light, she felt like a huge burden was taken out of her shoulders, she was happy again "Really aunty?"
"Yes, so be here tomorrow I will help you in getting ready then when he comes back we would talk to him about you"
"Thanks you aunty, thanks a lot, you have no idea what gift you are giving me"
"Well I am the lucky one here"
"How is that?"
"Because I am getting a beautiful gift, that is you as my daughter in law"
"Aww thank you"
"So anyway don't forget, be here on time okay?"
"Sure, see you tomorrow"
She disconnected the call and started jumping up and down happily.
She took Arnav's childhood pic and hugged it.
"Wow Arnav I can't believe this, I would soon get married to you, this is what I had always dreamt of, to be with you always. Whether you hurt me or keep me happy, I just want be with you"
She danced around happily lost in her own happy world.
Precap: Arnav is back.
Feb 11, 2015
Tere Liye... Part 7 (By Taanihalai) (Thanked: 103 times)
The morning was a perfect one like it had always been.
Khushi woke up early as she had to rush to Raizada Mansion after all Arnav was coming back today.
She was just so happy, finally all her dreams were going to come true, her wait was going to come to an end.
She rushed to the Raizada Mansion and found Ankita busy in preparations.
"Morning Aunty" she said with a smile.
"Now that's like my girl, always keep on smiling like this Khushi" she said.
"When is he arriving?"
"In half an hour, I just got a call from him"
"Wow"
"Stop getting excited and go get ready, he must be here anytime"
"But where do I?"
"In my room, everything is ready for you all you have to do is get dressed beautifully."
"Thank you aunty"
"Now come on hurry up"
Khushi rushed to Ankita's room and started getting ready.
She firstly got dressed in her red sari and then combed her hair.
She used some red make up and there she was looking perfectly beautiful.
A lot of time had passed by and everyone was just waiting for Arnav to arrive.
They all were waiting impatiently for him to arrive.
All over a sudden they heard the hooting of a car near the gate and everyone rushed outside the mansion.
"Khushi hurry up brother is here" Anjali shouted as she rushed outside the mansion too.
Khushi took a last look on the mirror making sure she looked her best and then she rushed outside the mansion too.
Everyone was standing there excitedly.
The black Mercedes stopped at the entrance as Arnav walked out of it.
They all were smiling happily, Khushi was like just overwhelmed, he finally came back.
She just stared at him continuously.
He extended his hand inside the car as a lady held his hand and walked outside.
Everyone was left in shock.
The only person who was smiling was Arnav's dad and no one else.
Khushi felt like for a moment someone had pulled away the floor beneath her feet.
She stood there still having no reactions at all.
Tears were just streaming down her eyes and she had no strength left to wipe them away.
Arnav greeted his parents as he introduced the girl to them.
"Mom, dad meet her, she is Niharika my girlfriend" he said
At this moment Khushi felt like someone had directly pierced her heart.
As the whole family was busy in introduction she silently walked out of the gate without letting anyone know.
"Hello Aunty, hello uncle" Niharika greeted them all.
"Hello dear" Akul replied
"So she is my would be sister in law, no bad huh" Anjali said
"Thank you" She replied.
"You must be tired, get fresh and then join us for lunch" Ankita said
"Okay mom"
"Anjali take her to the guest room"
Anjali took Niharika with her to the guest room as Ankita walked away from there.
"What's up dad? Why does mom look so dull? I thought everyone would be happy because of this surprise" Arnav asked
"She is happy Arnav, it's just that it happened all over a sudden, give her some time she would be fine"
"Are you sure dad?"
"Yes I am"
They both walked in as Ankita got the food ready.
They all sat together having lunch.
"Mom where is Khushi? dint you tell her to come here? Doesn't she know that I was coming back?" Arnav asked.
"Why are you asking about her?" Ankita asked
"Come on mom, she is my childhood friend she should know about this good news, in fact I guess it's fine she isn't here, I will give her directly a surprise of my engagement"
"Engagement?" Akul asked
"Yeah dad, we both have decided to get engaged, I hope you both don't mind"
"Why would we, it's your life do as we please does our opinion matter?" Ankita said
"Mom, why are you being so rude? Don't you like Niharika or what?"
"I don't like the fact that you had hidden this from me, Arnav I am your mother at least I should know everything about you"
"I am sorry mom, now come on start preparing for the engagement, I want it to take place tomorrow"
"What tomorrow? Arnav you aren't serious"
"I am, even Niharika is okay with that right?"
"Yeah" Niharika replied
"Okay fine as you say" Ankita said
"Till then I will go to meet Khushi and give her the good news, Niharika will you join me?"
"No, I am tired I'll rest"
"Okay then I will leave."
He rushed towards the car and drove to Khushi's house.
Garima wasn't at home and Khushi had locked herself inside her room.
"Khushi… hello is anyone there?" Arnav said as he walked in.
Khushi heard his voice and quickly wiped her tears away.
She walked out of her room and found Arnav standing there.
"Arnav, how comes you are here?"
"I came here to invite you"
"For what?"
"I am getting engaged"
"Really? That's nice"
"Yes and you have to be there, it's taking place tomorrow"
"Tomorrow? Sorry I can't make it"
"Why? Come on I don't want any excuses you just have to come"
"But Arnav i…"
"Khushi you are coming that's it, now bye I got a lot of preparations to make see you tomorrow"
He walked away as tears started falling down Khushi's eyes.
"I am sorry Arnav it all was my fault, I dreamt of being with you without asking if you also wanted to be." She wiped her tears and walked to her room.
Precap:
Engagement.
Feb 12, 2015
Tere Liye... Part 8 (By Taanihalai) (Thanked: 117 times)
Khushi had spent her night crying to herself.
She did not know what to exactly do, the one she had loved all this years, the one she had wished to be with all this years was going to get engaged to someone else and there was nothing she could do.
Why had she been so weak?
Why did she wait for him when she had no idea if she loved him or not?
Her heart was just full of regrets.
Next morning she woke up pretending that all was fine.
She obviously wasn't going to cry and show him that he had hurt her, neither was she going to create any scene in the engagement so that she could separate both Arnav and Niharika.
She got dressed well and walked out of her room.
Her mother was sitting tensed on the sofa having no idea on what was wrong with her daughter.
As she saw Khushi walking out of her room dressed so beautifully she wondered where she might be going to.
"Khushi… where are you going?" she asked.
"Mom! Don't tell me you don't know"
Garima looked at her like what was she exactly talking about
"Mom dint aunty tell you? It's Arnav's engagement today, come one hurry up we need to go"
"Arnav's engagement? With who?"
"With Niharika… the girl he loves"
"What? When did this happen?"
"Just yesterday he came back with her and said that he wanted to get engaged to her so they planned it today, now come on stop sitting here and get ready, we need to go"
"Khushi are you okay?"
"Yes I am okay what would happen to me mom?"
Garima stood up and walked towards her.
"Look into my eyes Khushi and tell me that you are okay, tell me that it doesn't hurt you even a bit knowing that he loves someone else."
"Mom now what topic is this? come on he is my best friend I am happy for him"
"Khushi stop lying to me, I am your mother, I have seen you dreaming about him since childhood, I have seen that intense love for him in your eyes, I have seen that happiness when he is near you and I also can see the pain you are going through today"
"Not really mom, I just realized it wasn't really love, it was just a stupid childhood dream which was left incomplete, I am happy for him yes you might feel like I am hurt… I am but not because I love him just because my childhood dream broke…
Mom he has just been my friend, he always will be, we weren't meant to be together… today he is happy and that's why I am happy for him because he is my friend.
This love and all is not my cup of tea, you know what I mean right I mean you always used to force me for marriage when I wasn't ready for it so I just thought of an excuse to keep the topic away that's it" "You know what Khushi, if it was love you wouldn't try explaining all this to me"
"Oh come on mom stop getting emotional, you know how Arnav is, he would kill me if I don't reach on time so come on hurry up we are getting late"
"Khushi…"
"Stop it mom, I am fine look at me I am happy what else do you need? Now come on get ready" Garima unwillingly walked to her room to get ready.
She obviously knew how much Khushi loved Arnav and she also knew that it wasn't easy for her to go through all this but she still was.
They both finally drove to the Raizada mansion where everyone was busy in preparations. Khushi greeted Ankita as Ankita greeted her back but without looking into her eyes.
She was also guilty for breaking her promise and for making Khushi dream of something like this. "Aunty is there any work for me?" she asked
"No Khushi you can just sit in the hall for a while before the engagement begins" Ankita replied "Aunty look at me, look into my eyes, tell me what's wrong?" Khushi asked
Tears rolled down her eyes as she turned her face up and looked at her.
"I am sorry Khushi it all was my fault, I really am sorry"
"Come on aunty what are you being sorry for, this was just a childhood stupidity I forgot about, I am not feeling hurt at all and so you also shouldn't feel guilty for anything, Arnav and I were friends and will always remain that"
"But…"
"No buts… come on sit there I will finish his work, you need to rest" she said as he pushed her towards the sofa.
She began doing all the work as she ran from here to there.
Finally she went to Anjali's room to help her in getting ready.
"So little princess are you ready?" she asked as she walked in.
"Yes I am almost done"
"Do you need any help from me?"
"No I am ready but maybe you can help bro, he has been calling me since long, will you please check what he needs?"
"You mean Arnav?" she asked
"Yes, please go to his room and help him otherwise he would kill me for not going to help him"
"Okay"
She walked towards his room slowly as her heart broke into thousands of pieces.
How could she face him after all this, how would she talk to him, what if she broke down and became weak?
She was so scared, she just prayed to God and knocked at the door.
"Can I come in?" she asked
"Come in" he replied
She walked inside the room as he breaths almost stopped, she felt so worst like no words could really describe how she exactly felt.
"Khushi… finally you are here, I have been calling this Anjali since long but she isn't listening and mom is also busy now only you can help me" he said looking at her.
"Tell me what help do you need?"
"This button of my Sherwani has come out, I don't understand why can't I just put on a simple suit, mum and Anjali are just too much, anyway will you put it back?"
"Sure, get it off and give it to me" she said.
"I am lazy for that, I don't want to take it out and put it on again, the thread and the needle is there on the table, just come here and sew it back" he said
"How can i… I mean…"
"You are my friend cant you help me in this?" he said
"Okay fine stop over acting"
She took the needle and thread as she walked towards him.
She stood there sewing the button as she felt extremely awkward.
All this was giving her intense pain which she couldn't even tell anyone about.
Standing this close to him was hurting her because she knew she had lost all her rights on him now.
They were just friends now not even best friends.
Her heart was slowly breaking as she continued doing her work.
Tears started rolling down her eyes and she couldn't even stop them.
"Are you okay Khushi?" Arnav asked.
"Yeah" she replied as she turned the other side.
Before she could walk away he held her hand and stopped her.
"Then why are you crying? What's wrong Khushi won't you tell me even?"
"I am crying because of you" she replied
"What did I do?" he asked
Khushi just looked at him as tears continued rolling down her eyes.
Feb 13, 2015
Tere Liye... Part 9 (By Taanihalai) (Thanked: 124 times)
"Khushi I asked you something, what did I do?" he asked again.
"You and your buttons, I got hurt while stitching it idiot" she replied
"So is that a thing to cry on?"
"Yes it is"
"You are crazy"
"I know anyway get ready and please get your hair well otherwise Niharika will run away"
"You want her to run away?"
"I wish she could"
"What?"
"I am kidding, come on now hurry up, everyone is waiting for you outside"
"Five minutes and I'll be there, anyway do me one more favor please check on Niharika if she needs something then please help her"
"Okay"
She walked out of the room and headed to Niharika's room.
"Can I come in?" she asked as she knocked at the door
"Come in" she replied.
She opened the door and entered in.
Niharika was dressed in a beautiful pink engagement dress. She looked really pretty, everything was perfect the way her hair was styled up, her hair, her make up just everything.
"Why would he look at me when someone pretty like her is with him" she whispered to herself.
"What? Did you say anything?" Niharika asked
"I was asking if you needed anything, by the way I am Khushi, Arnav's childhood friend"
"Oh so you are the one, he talks a lot about you at a times I feel like you are more close to him than me"
"Sorry"
"I mean since I have been with him, every conversation of ours has your name, and thanks I am ready I don't need any help"
"Okay then see you downstairs"
She walked away feeling awkward, since Arnav came back she felt like their friendship had changed he did not give much importance to her, at one time she thought he might have never remembered her after he left but according to what Niharika said she just realized that it was something completely different.
She was glad that he did not forget her easily but she was also hurt that he couldn't love her as much as she loved him.
She headed downstairs where everyone was ready they all were just waiting for the ceremony to begin. Niharika walked downstairs and finally The ring ceremony began.
Both Arnav and Niharika exchanged the ring as Khushi stood there trying to make her heart stronger.
She felt like it was tearing apart, she was completely breaking down but she couldn't even cry.
Everyone congratulated them as Khushi was standing in a corner trying her best not to break down.
Arnav saw her standing in the corner and headed towards her.
"Why are you standing here?" he asked
"Just like that, looking at you and how happy you are"
"I really am but you can increase it more"
"How?"
"Would you do what I tell you to?"
"I can do anything to see you happy"
"Then please sing a song today… I know you sing very well we even used to compete when we were kids, so one song for me today please"
"Sure"
She held his hand and pulled him towards Niharika giving his hand into hers and she finally started singing.
Tu pyar hain kisi aur ka tujhe chahta koi aur hain…
Tu pasand hain kisi aur ki tujhe maangta koi aur hain…
Kon apna hain kya begaana hain…. kya hakikat hain kya fasana hain…
ye zamane mein kisne jaana hain…
tu nazar me hain kisi aur ki tujhe dekhta koi aur hain…
Tu pasand hain kisi aur ki tujhe maangta koi aur hain…
Tu pyar hain kisi aur ka tujhe chahta koi aur hain…
All the couples who were present in the ceremony started dancing as Arnav and Niharika joined them too.
Only if Khushi could explain how she was exactly feeling at that moment but for his happiness she had to be happy although her heart was crying.
On one side two heart were becoming one when on this side one heart was breaking.
Pyar me aksar aisa hota hain koi hasta hain koi rota hain…
Koi paata hain koi khota hain…
Tu jaan hain kisi aur ki… tujhe jaanta koi aur hain…
Tu pasand hain kisi aur ki tujhe maangta koi aur hain…
Tu pyar hain kisi aur ka tujhe chahta koi aur hain…
Khushi walked towards her mother and hugged her.
Garima could understand her pain but still there was nothing she could do to make her daughter smile. She was so helpless.
"Khushi I wish you did not keep quiet, it's yet time tell Arnav about your feelings" she said
Khushi broke the hug and looked at her.
"Mom stop being selfish, for my happiness I cannot snatch someone's happiness and Arnav loves her to me so even if I tell him how I feel about it him wouldn't make any difference…"
"The there is only one way out"
"What?"
"Get married… I will look for a good boy for you, I am sure you would soon forget Arnav after that"
"Mom come on, you know I want to that, if it's getting married then I would get married to Arnav only which I know won't ever happen so please stop dreaming of my marriage, for me he is my life partner and no one else can take his place so it's better I stay single"
She walked away leaving her mother tensed and continued singing.
Sochti hoon main chup rahu kaise… dard dil ka yeh main sahu kaise…
Kashmakash me hoon ye kahu kaise…
Mera humsafar bas ek tu nahi dusra koi aur hain…
Tu pasand hain kisi aur ki tujhe maangta koi aur hain…
Tu pyar hain kisi aur ka tujhe chahta koi aur hain…
The engagement was over when everyone else headed home.
Khushi also left with Garima and Niharika and Arnav headed upstairs.
"So how was the arrangement and all I hope you liked it" Arnav asked
"It was good"
"And Khushi's song? She sand so beautifully right?"
"Yeah but…"
"But what?"
"I don't know why Arnav but I feel like Khushi has some feelings for you, like she loves you or something"
Arnav just looked at Niharika in shock.
Feb 14, 2015
Tere Liye... Part 10 (By Taanihalai) (Thanked: 126 times)
Chapter 10
"Are you sure?" Arnav asked
"Yes I am damn sure" Niharika replied
"What makes you think so?"
"I don't know but just by looking at her anyone can understand her feelings towards you, she is like an open book"
"But I never felt so, I mean I met her many times after I came back, she dint give me any hint"
"Why would she give you a hint come on you have to understand"
"But…"
"Arnav today when she was singing, the pain in her voice, and the sight with which she looked towards you, everything said only one thing, she really loves you"
"Not possible I mean I left this place in childhood since then we were never in contact"
"One sight is enough to fall in love Arnav and she knows you since childhood"
"Well if it is so then why dint she tell me about her feelings?"
"She obviously wont shout it like an idiot, maybe she wanted to but before she did she might have realized it's too late"
"Maybe, I'll talk to her about this tomorrow"
"And what if she accepts that she loves you?"
"I don't know"
"You don't know what? I mean what will you do? Marry her?"
"No stupid, I am engaged to you Niharika, I love you but she is a good friend of mine I would at least be with her as a friend"
"Yeah anyway I am tired I'll take a rest see you later"
"Same here"
They both headed to their rooms as Arnav was feeling disturbed, he couldn't understand what was that that Niharika saw and he dint.
Did Khushi really love him?
In any case he did not want to hurt any of them because both of them were important to him.
Khushi and Garima arrived at home and unlike what Garima thought Khushi did not lock herself in her room and cry.
She just entered in her room and began packing her clothes.
"Where are you going to?" Garima asked
"Why?"
"No… you are packing your clothes that's why"
"Mom I am going out with friends"
"Which friends?"
"Since when did you start asking me all this questions? You never asked before"
"It's because I am worried about you"
"Don't be I am going out with friends not my boyfriend and I guess you know and you believe that I don't have any boyfriend"
"I know Khushi but when did you plan all this?"
"Just today"
"Are you really going for an outing or you are just running away"
"Maybe you are right mom, I am running away because I am not strong enough to see him with someone else"
"But where will you go to Khushi?"
"Anywhere mom, just far away from this place"
"I am also coming with you then"
"No mom, it's my journey let me go for it alone, don't worry I am not going for forever, I would be back in a week, I can't leave you because of anything"
"Then why are you going?"
"I just need a break that's it, going to a new place and staying there for some time might just help me get out of all this, I hope you understand"
"Okay as you wish"
She finished packing her bag and bided her mom goodbye as she left to an unknown place.
Her mom did not know where she was going and she did not want to ask her questions too, all she knew was she would come back soon.
Khushi left on her mission to forget all the memories of her love as if it was going to be that easy.
Early next morning Arnav woke up with the decision of visiting Khushi's house.
He wanted to talk to her and get the answers to the questions he had in his mind.
He had his breakfast hurriedly and rushed out of the house.
He drove to Khushi place and stood at the door for a while gathering confidence.
He rang the doorbell as Garima opened the door.
"Arnav…"
"Hi Aunty, is Khushi in? I want to talk to her"
"No Arnav she is not"
"Okay when will she come back?"
"I don't know"
"What?"
"I mean she told me she is going out with friends she would come back soon"
"Okay I'll leave then, but she might have told you around when she would be back yeah?"
"Yeah she said after a week"
"Okay I'll talk to her then"
He walked away as his doubts turned into beliefs.
He did not know but everything that happened after Niharika told him about Khushi he just had a gut feeling telling him that Niharika's words were true.
Garima's eyes and facial expressions said a story which was hidden behind the truth on why Khushi had left.
He knew there was some other reason behind Khushi leaving and not outing with friends because as far as he knew her, she would never go anywhere when he was here.
She loved spending her time with him and then she left all over a sudden?
His doubts were getting clearer but still he had to talk to Khushi and confirm everything
But the confusion was, what would he do?
Disclaimer: The views expressed above are member's views and this website does not comply with it. The views expressed may not be factually correct. Incase of any issue please contact us/report it to us.