In the Disguise
Oct 21, 2013
In the Disguise (By Suparnasetu) (Thanked: 66 times)
Khushi is a school teacher. She always loves kids. She is from a middleclass family who lives with her mother and younger sister Kripa. Khushi is like a happy go girl who loves all and loved by all in her locality. But there is only thing that she hated more that is rich. She hates the entire luxurious thing. She hates all the rich people. Everyone knows about it. She had many proposals from many rich families but she refused all. According to her all are spoiled brats. Her father left her mother and went behind a rich girl just for money. Her elder sister committed suicide because her boyfriend left her after making her pregnant who was also a rich spoiled brat. To her they only know how to spend the money in a wrong way and made fun of the poor. If anyone asks her what kind of husband she wants her single answer "I don't want any prince. I want my husband a well educated, self respected person who respects all kind of people. Who will love her, trust her and respect her and her family. And he must have a true heart. There is no need to be rich to have it all."
This was the life of Khushi Kumari Gupta. Everything was going well in her life. But one day.........
It was a cloudy afternoon and Khushi was coming from her school by bus. She wanted to reach home quickly before the rain started to fall but the traffic of Delhi wasn't allowing that. She was sitting near the window. Suddenly the lady beside her got down two stoppages before her stoppage and the sit was occupied by a person of late twenty. The bus was little bit crowdie as it was afternoon. Suddenly the bus made a jerk and the person fall on her.
Person: Sorry..
Khushi: It's O.k.
Person: Hi I am Arnav.
Khushi: I am Khushi.
Then the stoppage came and Khushi got down. To Her surprise Arnav also got down and it started raining. Both Khushi and Arnav ran towards the shed to save themselves from the rain.
Arnav: I hate this wather.
Khushi: Why?
Arnav: It's don't let us do any work smoothly. And you...
Khushi: I like it no no I love it. It makes me feel like it is here to sweep all the impure things from the world. It brings such a pure felling that I can't make you understand.
Arnav: You are strange.
Khushi: No you are strange. You are the first person who hates rain. BTW are you new in this locality? Today for the first time I am seeing you here. Or are you here in someone's house?
Arnav: Are you talking as if you know everyone here.
Khushi: Of course. I born and brought up here.
Arnav: Oh. Yes I am new here. I am the paying guest in Kamla Masi's house. I came here yesterday.
Khushi: Oh. That means you are my next door neighbour. Now come. Rain has stopped.
Arnav: O.k. let's go.
Khushi and Arnav started walking.
Khushi: BTW what are you doing?
Arnav: Walking with you.
Both laughed.
Khusi: I mean what are you doing for livelihood?
Arnav: I know. Just kidding. I am searching for job. Completed graduate in business management. And you?
Khushi: I am a school teacher.
Arnav: Oh. See we reached. Bye. See you.
Khushi: Bye.
Both entered in their respective house.
When Khushi entered her house he saw her mother is in Kitchen and her sister was watching celebrity news. It was showing some news on some business tycoon who left for US today morning for god knows for how many days
Khushi: Kri what you get in these news? They also show the news if any of the celebrity goes to their washroom. What is new there?
Kripa: Woho Jiji . It is not some celebrity. It's ASR. Owner of AR designs one of the topmost fashion house in India. The most eligible bachelor of India. But you know he is damn conservative, arrogant and rude. No one has seen him live in TV. Just one photo and it stole everyone's heart. His full name is Ar...
Khushi: Kri Kri have I asked you about his biography? No Na. Then why are you eating my head. And conservative....my foot. I know them very well. They are conservative for the outer world. Who knows how many girlfriends he have? Now leave it and help Amma in the kitchen. Go....
************************************************************************
How was that.....
Oct 27, 2013
In the Disguise (By Suparnasetu) (Thanked: 66 times)
Khushi went to her room to fresh up. After freshen up she went near the window and saw Kamla masi's house. She smiled thinking about her meeting with Arnav and to her surprise she saw the closed window of Kamla masi's house opened and there was standing the person of her thought.
Arnav: Hi.
Khushi: Hey. So you are staying in this room.
Arnav: Hmm. How do you know?
Khushi: This window has been closed for last 2 months. That's why.
Arnav: I am happy that I got a known person here. I was being bored last night. Now I can talk to you.
Khushi: Why don't you have any family?
Arnav: My parents died in a car accident when I was 12. I only have a sister who is married.
Khushi: Oh I am sorry.
Arnav: It's O.k. What about you? Is it your house?
Khushi: Hmm. My nana and nani gave it to my Amma during her marriage. I am here with Amma and my sister Kriya.
Arnav: And your father?
Khushi's face stiffed.
Khushi: He left us for some witch.
Arnav: I am sorry.
Khushi: Don't be. I have no relation with him. He is none to us.
Arnav: Hey relax. I am sorry for making your mood bad.
Khushi: huh.
That's when Khushi heard her Amma is calling.
Khushi: Hey Amma is calling. Bye.
Arnav: Bye.
Khushi went to the dining room and saw the table was set. They all sat.
Khushi: Amma you know there is a new Paying guest in Kamla Masi's house.
Amma: Is it? When?
Khushi: Yesterday. I met him today at bus.
Kriya: Oh It's him. I hope it's your prince....
Khushi: Chup saitan. I am not waiting for any prince. And if he was the prince he would have a palace. Why would he stay here in Laxmi Nagar being paying guest.
Kriya: Is there any rule that prince must have a palace?
Before Khushi can tell anything Amma stopped them.
Amma: Both of you stop. Khushi, what is his name?
Khushi: Arnav.
Kriya: Really? You know ASR's name is......
Khushi: Kriya stop talking about that ASR. You know I don't like talking about these person.
Kriya: But I am the biggest fan of ASR. I so wish I would have at least one dress designed by him.
Khushi: Why is there any shortage of your dress? Or is there any rule that if you have any dress designed by him you would never need to buy one?
Amma: Both of you stop. And Kriya you have only two weeks for the board exam so go and study. No need to watch TV anymore. And Khushi, after cleaning the table go and help her regarding study.
Khushi: O.k. Amma.
At night Khushi was standing near the window and saw Arnav's light room was off.
Khushi: May be he slept. After all looking for job is not easy. You have to walk a lot. What, Khushi ,stop. Why are you bothering about him?
Khushi sighs and went to her bed. Her Amman and Kriya shares a single room. It's not like that Khushi minds sharing room. But it's Kriya who prefers to stay with Amma.
Next day Khushi was standing in the bus stop waiting for the bus when Arnav came there.
Arnav: Hi.
Khushi: Hey.
Arnav: So going to school.
Khushi: Hmm. You?
Arnav: Going to business.
Khushi: Business?
Arnav: Looking for job.
That's when a car passed them and the muddy water near the road was thrown toward them by the car tyre covering them with the mud totally.
'Hey Devi Mayia' 'What the....'
*****************************************
Dec 17, 2013
In the Disguise (By Suparnasetu) (Thanked: 57 times)
Both of them looked at each other and laughed.
Khushi: These rich people. Never see who are outside the damn car.
Arnav: Yeah. But that are not their fault. By sitting in the driving seat one should see what is in their front not what is in their side.
Khushi: Yeah you are right. But how do you know about this?
Arnav: I am a licensed driver of Indian Government.
Khushi: Oh . But then also these rich spoilt brats are good for nothing. Only waste money.
Arnav: They get money after so many hard works.
Khushi: No their father does and they only know how to spend them in a wrong way. They can use what is necessary and give the rest to the poor and needy people. BTW why are you so much concerned about the rich? Why are you supporting them?
Arnav: Ahh... Khushi I think we are standing here like a sculpture. And you are being late for the school. So I think we should go and change.
Khushi: Oh yeah. Lets go.
Both went to their respective house for change and then went to the bus stand again together.
Khushi: So in which company you are trying?
Arnav: Nothing particular. Actually I am trying for a job for the first time. And so I don't know what to do. And I want to do something different. Not that the job sitting behind a huge desk, barking on people, always masking a rude face so that people do a perfect job....
Khushi: Wait wait wait, you are talking as if you are boss of a people and fade up of doing all these.
Arnav: Woh ..... Khu....Khushi actually I saw my boss of my previous job. He was quite rude.
Khushi: So you had a job. But you left that?
Arnav: I didn't....I mean I couldn't go with my boss. So I left. And now I am looking for a job other than that boring job.
Khushi: Oh. So you want a job which is something different from other usual job in office.
Arnav: Yeah.
Khushi: Then I think I can help you. Arnav: Really......
But before he could finish the bus came and both of them boarded on the bus.
*********************************************
Disclaimer: The views expressed above are member's views and this website does not comply with it. The views expressed may not be factually correct. Incase of any issue please contact us/report it to us.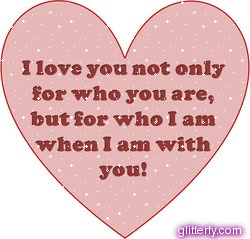 "None but ourselves can free our minds."