ArHi FF | Birds of Paradise
Sep 7, 2012
breathing desires in breathless love (By Yelhsa) (Thanked: 59 times)

Hi there ,
This is a pending story of mine , dont know if you're still interested in reading it ?
anyways pending things annoys me the most so im continuing it and will continue further on your response :)
Some points to be noted !
# The story was started when i had literally no sense of writing !this was one of my basic attempts in writing something in my entire life of course apart from School Essays and if you're wondering why the fudge i wrote if i had no sense in writing ? Its because i read so many wonderful stories here and the hidden writer in me woke up and the next thing i knew i was typing this on my laptop and This may contain many typos and errors , Please excuse me here .
# This story has a different elements in it and one cannot resemble it to the on-going ones I'm currently writing so please give it a chance .
# About updating the story , I've so much in my plate already so it the thing is , i'll update it very irregularly please no complains on it as i'm currently writing few on-going ones .
# You can imagine that the story has started after Shyam's truth is out and Sheetal's Track has not been added , its simply after Shyam was thrown out of RM .
# It is renamed , The previous name of the story was 'Breathing Desires in Breathless Love' quite lame ? I know !
# You can get the blog link by simply mailing me here : yelhsa.hpesoj@gmail.com and if you liked this then check out my other work in my index .
Link of Index : http://myeduniya.com/Entertainment/TvSerials/?revid=40842
Thank you
Cheers !
Yelhsa
Scroll down for Episode : One ..
Feb 10, 2013
ArHi FF : "Breathing desires in Breathless love .." Part : two (By Yelhsa) (Thanked: 60 times)

Episode : One
The Episode starts with a middle age lady running behind her two naughty grand kids who stole the prasad of their upcoming pooja .
Lady : Hello Hi Bye Bye ! Come here you two !
But her command fell on deaf ears as the giggling kids bumped into another lady of 24 who glared at them making them freeze and look down at their tiny feet knowing that now a long lecture is coming up for them but maybe today was their lucky day that the lady was called by her husband
Man : Payal can you come here ? i need your help .
Payal : Yes akash but just give me one second
Akash : Ok sure I'm waiting for you in our room
As Akash disappeared into one of the room , Payal glared at them and crossed her arms against her chest before demanding answers
Payal : So why are you guys making your Dadi run behind ?
The Kids looked at each other wondering what should they answer before continuing staring at their feet and mami ji caught up with them
Mami ji : Payal Bitya they have stole the prasad
The Kids hurriedly put the stolen laddoos in the empty thaal payal was holding and ran away , Mami ji just shook her head with a smile and got herself busied in some decoration task and payal's face soften seeing their innocence . everything has changed since the fateful night , one night that changed everything in everyone's life here making payal much more stronger and harder to coop up with the situation and hold her already falling relations and family .
Payal went to their room for helping out in any mess Akash has created as she was ascending she saw Anjali descending the stairs holding her Six years old daughter Khushi's hand .. khushi ? yes khushi the mini version of her mami maybe thats why she has been pampered and mostly by her mama Arnav .
why her name is Khushi ? well you'll know abt it soon ..
Introducing Khushi Anjali Jha

Anjali smiled at payal which she returned before disappearing into her room , Anjali went down and sat next to nani who was squinting to read something on a paper . Nani looked up and called khushi and settled khushi in her lap and stroked her head lovingly , Khushi who was used to these types of affection happily snuggled in her arms .
A four year old boy came running down and called to khushi
Boy : Khushi come ! my papa has brought some yummy sweets lets go ! he is called you too
Khushi jumped out of her badi nani's arms and asked that boy
Khushi : Arush , Has he brought yummy jalibees for us ?
At that Arush Happily nodded together they zoomed past anjali and nani to akash's room .
Introducing Arush Singh Raizada (Payal and Akash's Son )
Nani : They are raizada parivaar's life after ..
Anjali kept her hand on her nani's shoulders for some comfort which Deviyani singh Raizada gladly took and she continue to stare in empty space still can't believe that one fateful day can snatch away everything ..every single one even though it has been 4 years
After few minutes everyone gathered in living room except a lonely soul , Arnav Singh Raizada .
As they sat on white sheets and the priest started the chanting some holy words to start the pooja for a peaceful and happy life even knowing that its impossible to get over the wounds of fate but one is allowed to live and create illusions isn't he ?
Meanwhile in the lion's Den correction please ! A sad and defeated Lion's Den who was currently staring at stars trying to gain enough courage to look at them and find her .
As he did he remembered her words .
When i'll die , i'll become a star third from the right shining brightly ...
and he finally found that special star which blinked twice maybe indicating that he has found the right star which made tears weld up in his expressive eyes
One Day i'll slip from your fingers and run so fast that you won't be able to catch me ..ever ...
.. and how right she was , she always was ..breaking promises wasn't her habit it was his ...
Feb 10, 2013
The Summary for Readers :) (By Yelhsa) (Thanked: 55 times)
Episode : Two
As the pooja ended everyone retired to their rooms . Arnav came down after a heart to heart talk with the Star
While descending the stairs , his phone rang .He quickly picked it up not wanting to disturb the family members
Arnav : "Yes Aman ? "
On Other side aman was praying to all the gods in Hinduism to save him from the coming anger of his boss , with a great difficultly he finally managed to collect some courage as he sensed his boss attending his call
Aman : "ASR , Mr.Rhindsons & his clients have demanded conduct the meeting at Pa..ris .."
He quickly pulled the phone away from his ear not wanting to be deaf by the yelling of his boss but surprisingly there was only silence on the other end clearing his throat , he was about to say something..
Arnav : "You very well know that I won't step in that particular land ever then why are you even asking ? "
Aman was surprised by his calm tone .He have expected him to shout , yell or anything for even suggesting about paris , well who don't know that how much ASR hate paris after her death ...
Shutting all those thoughts , he tried to pay attention on the words
Arnav : "Cancel the second clause in our contract & tell them that we can conduct the meeting in Delhi itself or the contract is over "
Aman : "Sure ASR ..thanks"
Click ! the call got disconnected . while walking towards kitchen , he couldn't help but to remember that fateful night ..the cursed night ..when he lost his happiness forever ..his khushi
~~~ Flash Back ~~~
It has been 14 hours since she called him and demanded answers for his irrational behavior ...
Since he has badly ripped her soul ..
Since he has killed his own happiness ..
Nothing in this world can remove the feeling of helplessness in his heart
No amount of money ..no soothing words ..nothing at all !
Carefully he descended the stairs and was heading towards the gate , when he saw his di looking at him with a helpless emotion and was staring at nothing trying hard to control the building sob .
He rushed towards her , thinking that she might be missing her Creep Husband
Before he could even say something , she burst in tears and started sobbing helplessly ..
Anjali : "Please bring her back chote .We all miss her please ? We can explain her about the situation no ? "
Di thinks that its easy for me to live without her ?!
Spend each and every moment with a burning chest of gnawing guilt ? Knowing that I have killed my own happiness and I'm once again the reason of her pain and tears and never ever I'll lead a happy Life with my very own Soul mate ...
Arnav : "Di , I cant ..you know why I did that , don't u ? "
Sinking more in the chair .She buried her head in her hands...
Anjali : "You don't expect me to forget do u ? How can forget that your life is all destroyed by me?"
More tears escaped from her eyes making his heart ache in pain as he saw her body racked with sobs
Arnav : "Enough di ! its was my fault I couldn't protect her , its all my fault because of that we both are
suffering ..Di she is better without me .."
He shut his eyes tight as his own words stung his soul knowing how brutally the fate has been written for both but maybe one day she will find her happiness which will be without me .
Khushi can never Live peacefully and happily with him . He is just a Curse on her and their blissful life
Brushing his thoughts aside , he took his laptop bag and went towards the door .He was almost there when his Cell rung
Arnav : "Hello ? "
Person : "Is this Arnav Singh Raizada ? "
Arnav : "Yes and How can I help you ? "
Person : "Mr.Raizada, I'm Jeff ! The Police Head Commissioner from Paris "
All type of Worst thoughts swirled in his mind , he forced them back with great difficult and listening attentively to Jeff
Arnav : "Yes ? "
He said urging Jeff to conitue , he felt him Sigh on the other end knowing that whatever it is , Its definitely not good ! so he braced himself for the upcoming storm and closed his eyes but little did he knew that the storm was too big to handle ...
Jeff : "Mr.Raizada , Last night we had a terrible accident here on the main road to Eiffel tower .."
No please , please don't let it be what ever cr*p I'm thinking !
Arnav : "Y...es."
Jeff : "I'm sorry to say but your wife Mrs.Khushi kumari Gupta Singh Raizada was one of the victim who died on the spot .You can come here to take her body , I'm sorry Sir .Please accept my condolences .."
The phone slipped out of his hand , he sat down with a thud it was too much to bear
Died ? Noooooo
He screamed and wailed as if the burning chest wasn't enough when Life gave him a big scar on his heart for the rest of his life ..Anjali rushed there scared because of the twisted helpless situation
When she saw him in an instant she knew that he has lost his happiness forever , her heart broke in million pieces seeing his brother's same condition as it once was when their parents died ..
She ran and hugged him trying to control his soul scattering wails and sobs and her own .
That Day not only Khushi Kumari Gupta Singh Raizada died but also the happiness that once use to surround Raizada Mansion ...
~~~ One Month Later ~~~
Her funeral passed .He stopped eating any thing..
He kept roaming and wandering around the familiar places , hoping to bump into her or her falling into his waiting arms or listening to payal sound or smelling her jalibee's aroma ..
But nothing that sort of happened as if She never existed ...
His Di once explained to him that he shouldn't skip meals and his medicines , khushi would be upset and she would be restless and we should never make a dead person restless ..to which he bickered that she is not DEAD ! she is alive and if she wasn't then he would have died along with her cause their heart beat as one , he believed ..
After that day he started taking proper meals for her sake and then he started drinking
Nani explained to him that khushi wont like him drinking Alcohol
After that day he stopped drinking and drown himself in work immensely shutting the world outside cause he world started and ended with khushi .If she is not here then the rest of the world ceased to exist for him ..
No one tried to explain him anything cause they knew that all he is holding on ..
How many times he brought jalibees , hoping to see her one day and it went wasted always ..
How many times he brought channay for her hoping to please her but resulted same with nothing
How many times he brought bangles for her , hoping her to wear them but was gifted with silence as she wasn't there to adorn them on her wrists
How many times he tried to escape from this lonely world but something unknown always pulls him back ....
That's how he spent all those days praying for her , hoping for her , cherishing all those moments that will remain nothing but memories ..
~~~ Flash Back Ends ~~~
Srcoll down for Episode : Three ....
Feb 22, 2013
Next part ..... (By Yelhsa) (Thanked: 47 times)
Episode : Three
Early in the Morning he received a call from an embarrassed Aman informing that the Clients agreed on conducting the Meeting in Delhi itself .Arnav just dismissed him by ordering to re-check on their presentation and the account details .
He took a quick shower before dressing him like a Greek God and running downstairs with his Laptop Bag and files he was about to go when Anjali called him from Kitchen telling him to have his breakfast to which he silently agreed . She silently served him his toast and Coffee and he gladly drank it thinking about the upcoming meeting and Khushi ...
Her memories erupted in his mind like volcano so suddenly just like flood ..All her smiles , Tears and hugs and love came like a movie flash back sweeping away the dullness in his heart and swirled trying to remove all the sadness and emptiness he never knew memories could be this power but then he also didn't knew one day He will be sitting staring at nothing with un-shed tears in his eyes remembering his beloved ...
As he remembered how they use to laugh and cry together , giving in and soothing each other's pain or would just silently listen to other's rant about things that went out of control or would kiss each other so hard that one will forget all the miseries , tensions and doubts enveloped in mind .
But then they will remain sweet and blissful memories forever he wont get any chance of making some new with her nor could he rewind his life and enjoy his all being with her carelessly again , that's all he have sweet painful soul tearing memories that's what he is holding on .. and will hold till he breathe .
How he wish he has a library of them so that he could cherish them by reading and looking at the pictures again and again or imagine the next moments with her if only the fateful day wouldn't have occured ..
The un-shed tears blurred his vision , he hardly sipped the coffee and ate the toast so lost with her thoughts in his mind he slowly wiped them thinking that Anjali is too busy to notice but he found out how wrong he was when he heard her murmuring a poem for him .
Anjali : "A beautiful garden now stands alone,
missing the one who nurtured it
But now she is gone,
Her flowers still bloom, and the sun it still shines,
But the rain is like tear drops, for the ones left behind,
The weeds lay waiting to take the gardens beauty away,
But the beautiful memories of its keeper are in our hearts to stay,
she loved every flower even some that were weeds,
So much love she would plant with each little seed,
But just like her flowers she was part of Gods plan,
So when it was her time he reached down his hand,
He look through the Garden searching for the best,
That's when he found Khushi, it was her time to rest,
It was hard for those who loved her, to just let her go,
But God had a spot in his garden, that needed a gentle soul,
So when you start missing Khushi , remember if you just wait,
When God has a spot in his garden, She'll meet you at the gate.... "
He hastily turned out and left without touching anything else on the table and quickly sat in his car , leaning back he let out of the tears he was holding since morning ...
Why is it I feel a warmth around me like your presence is so near,And I close my eyes to visualize
your face when you are not here ? I endure the times we spent together and they are locked inside my heart for as long as I have those memories we will never be apart , he silently promised and questioned .
He started and Engine and started driving towards his office but then there was a long line of Cars probably traffic jam , he let out string of curses of those stupid drivers who were fighting and bad mouthing each other in the middle of road . He glanced to right and found a temple not an ordinary one this temple has endured all the loving moments of them too , there was one last he could remember ..
~~~ Flash Back ~~~
The Wind blew gently caressing her cheeks as she tucked a lose strand behind her ear before pouting and pleading
Khushi : "Arnav ji please come na ! its just for blessing for our new life .."
Khushi said while placing a loving hand on her stomach
Arnav's heart swelled with love for the women .He loved with his whole heart and the one who will bear a small Raizada in 9 months .. He can do anything for her and their little life
Arnav comes out and held her hand and carefully led a smiling khushi to the old chap who was blessing people with a orange yellow read threads to tie on their wrists . Arshi moved forward and took the special thread which was for protection and to prevent an evil eye on them .
Khushi gently tied it on his hand and he did the same to her
What she did next surprised him .She moved forward and kissed him on both of cheeks
Her own cheeks turned pink gracefully and a loving smile was playing on her prefect pink lips
It reduce the pain in his heart ..whenever he see her smile and knowing that he is the reason of it .
They went back to their car and khushi put her head on his shoulder and Arnav gathered her close claiming and telling the other admiring eyes that she was his ..only his ..
Khushi : I cant wait for our baby !
She smiled widely while snuggling happily into his warm chest .
Arnav : Even me , I cant wait to see is that papa's champ or papa's princess ?
Both smiled not knowing that life has a bad habit of keep happiness for a short span of time ...
~~~ Flash Back Ends ~~~
Her memories never failed to bring Deep gnawing ache in his heart he exhaled deeply before speeding off as he saw the Road was once again cleared .
After a while when he was near to his office .He saw the front road was blocked by a car ,
It was black Mercedes and the owner wasn't inside .
He counted till 10 in backwards to reduced his anger and then appeared a girl carrying some gifts in her hands as she looked up
He was speechless ...
Scroll down for Episode : Four
Mar 3, 2013
Episode : 4 (By Yelhsa) (Thanked: 37 times)
Episode : Four
As the girl lifted her face , he was speechless ! he was baffled for a while ..she ?!
Only one word escaped from his mouth
Arnav : "Jeevika ..? "
Introducing krystal d'souza as jeevika tacker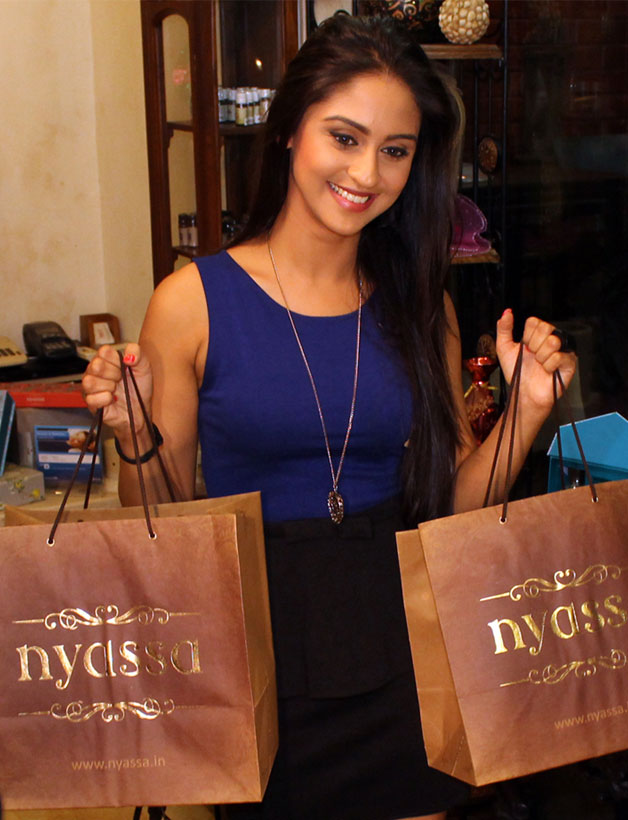 Even Jeevika was surprised to see Arnav here
She hurriedly put her gifts on the car bonnet and hugged him
As Arnav returned her hug , he started questioning her even before greeting her with a proper 'Hi'
Arnav : "Jeevi ..what are you doing here ? I thought I'll never see you again ..i mean not here in India ..its ..just I never expected you to be here ..at the place you hate most "
His questioning session was cut short when he saw her laugh
Jeevika : "Oh Arnie ! you look cute when you are confuse .."
She said pulling his cheeks in a teasing manner but she dropped her hand as soon as they heard a male voice behind him
Man : "Hey Mate ! "
Introducing Karan tacker as Viren tacker
Arnav saw his friend Viren standing there with some bouquets
Arnav and Viren shared a friendly hug before Arnav resumed his unfinished questioning session
Arnav : "What are you guys doing here ? You should have told me .I would have come to pick you from airport ! "
Jeevika : "Arnie don't worry karan picked us up and .."
She trailed off and slapped her forehead and she saw arnav narrowing his eyes in anger then he folded his arms against his chest and said
Arnav : "I guess you guys have a lot to explain "
Jeevika : "Umm yep today is .."
Viren : "Karan's wedding . " he completed
Arnav : "What the hell ?! And that b*stard didn't even informed me ! that's we call true friendship I guess .." he said angrily
He felt hurt as his only best friend didn't even think of telling or contacting him over these 6 years since he got graduated from Harvard .
Jeevika : "We tried but we .."
Viren : "Couldn't contact you ! he is so .."
Jeevika : "upset that you wont be able to attend ."
Viren : "His wedding but now destiny has .."
Jeevika : "Another plans so see Arnie we met again now .."
Viren : "You can attend it ! and karan's gloomy face .."
Jeevika : "Will be lit up as soon as you come now .."
Viren : "Dude don't get angry and come and pull his ears , kick him , shout at him or whatever you .."
Jeevika : "want ! please ? Please he'll be .."
Viren : "Happy to see you ! " as they both completed each others sentences Arnav bit back the smile and replied
Arnav : "Some habits die hard "
Jeevika blush where viren scratches his head with a boyish grin
Arnav : "So what are we waiting for now ? I've to see that lucky girl who managed to stole my friend's stone heart "
They smiled and rushed up to their respective Cars
Viren and Jeevika were driving at front while Arnav was following them
As they pulled up near an old church they got down .
Arnav : "Why are we here ? Shouldn't we go to temple ? "
Viren : "No actually the girl is Christian and her father wanted the wedding to be held at church "
Arnav nodded and they make their way inside and saw a very tense looking karan pacing and a very annoyed priest muttering something
Introducing Karan wahi as Karan Sharma
As Karan saw Arnav , He ran to him and hugged him literally lifted him from the ground
Arnav : "Hmm so u know me ? " he said sarcastically
Karan : "Oh Dude I'm so damn sorry ! we didn't knew that you are in Delhi I tried at lucknow but they told us you left and they don't know where ! "
Arnav : "But you are still not forgiven "
Karan : "Don't worry I soon will " he winked at him and Arnav chuckled
Arnav : "Where is that lucky girl ? "
Karan : "Don't know mate .." he said and started pacing back and forth again , trying to call her on phone
Priest : "Son , I've another wedding to attend within 15 minutes then I've to conduct a mass so please hurry up " he said annoyed with all the waiting business
Karan : "Sorry can we wait for some more time . she is on her way "
Arnav : "What happened Karan ? "
Karan : "Actually my mate is a little crazy , she wanted her dad to be here before she comes with her sister then she send her sister early as she wasn't ready now I don't know where she is ! " said frustrated
10 minutes later …
Priest : "Son only .."
Karan : "I know father ! just 10 more minutes "
Another 10 minutes passed by ..
Karan : "Arnav please sit down you are standing since you came "
Arnav put a comforting hand on Karan's shoulder and then he sat on one of the wooden benches
Suddenly a gush of wind touched Arnav's face ..
and Jasmine smell emerged ...
His Heart picked up its speed and stomach did some flopping ...
Jeevika : "There she is ! " she exclaimed
Arnav looked up and saw karan's bride entering the Church in her white wedding gown, carrying a familiar fragrance with her which almost seems to match Khu-
"Khushi ?! "
Scroll down for Episode : Five
Apr 23, 2013
Part : Five "Mystery ! " (By Yelhsa) (Thanked: 39 times)

Episode : Five
He couldn't believe his eyes ..
Is it really khushi ? My khushi ? He thought but then he saw her run to karan and hugged him saying sorry continually
Karan pulled back and his nostrils were flaring listening to her silly excuses of coming late for their Wedding and making him wait for irrational reasons ..
Karan : "Enough ! " he yelled and she immediately stopped her blabbering .She widen her eyes with astonishment .
Karan : "Krystal this isn't any of our date that you can turn up late and its chalta hai ..its our god damn wedding ! Don't you have a little sense to show up early ? or come up with Kate ? But no ! why will Ms.Krystal D'souza use her little brain or do something sensible ?! "
Arnav saw khushi(krystal) Wince slightly when karan yelled and her eyes filled with rage and lips trembling slightly …and he knew that he couldn't take it anymore ! This was Khushi and he can't tolerate anyone yelling or shouting at her apart from him .
Why no one is interrupting them ? He glanced at jeevi and viren both were chatting happily and khushi's father and her sister was laughing at some joke viren just told them . why can't they make Karan and khushi stop arguing ? he thought amused and annoyed at the same time
He was about to intrude when khushi's (Krystal's) voice bloomed in the whole Church making it shiver ..
Krystal : You Mr.Karan Sharma listen carefully ! I had enough I'm not going to marry a jerk like you !
Karan : Hey do you think I care ? Go and do whatever you want even I don't want to marry a girl so pigheaded !
Arnav smiled from inside maybe they wont get married but the next moment snatched the little hope brewing inwardly .
Krystal : Between where is that priest ? Karan looked there and here not finding the priest ..
"I think he ran away ! what the F* ! " he swore , kyrstal glared at him .
"Karan ! For heaven's sake this is church you cant use these types of words here ! " she scolded
"Ummm sorry I didn't mean to " Replied Karan sheepishly
"Guys are you still getting married or no ? " teased Jeevi
"No ! " both shouted together
"Come on guys you both know that you cant live without each other now be good kids and get marry " said Viren placing his arms on both Karan and Krystal .
Arnav boiled from inside listening about it and then an idea flashed into his mind , he calmly put forward his suggestion like a business man.
Arnav : Mr.D'souza I think it would be great if we held the wedding at Rm in an Indian style , my nani would be glad meeting karan after all these years ..
Mr.Dsouza : RM ?
Arnav : That's our Mansion , What do you think ?
Mr.Dsouza : "well whatever karan and Krystal wishes " , he replied smilingly at him
"Yay ! an Indian wedding I've always dreamed of " shouted krystal excitedly and Arnav smiled seeing this but his real motto is to check whether she is krystal or khushi ? and if she is khushi then he has to bring back her into his life ... and if not ..? Well He wouldn't go there .
"Yeah I too have no problem " said karan sincerely .
They went outside the church and decided to go to Karan's house to bringing their clothes and everything after all they are going to stay in RM but Mr.D'souza and Kate refused saying that they would stay at their own house and they trust krystal to stay with Raizada's .
After getting all the clothes , Jeevi and Viren and Karan went in one car and Krystal in her black Mercedes and Arnav in his BMW .
As they drove , The wind calmly blew making him lost in his thoughts as he felt his heart mumbling ..
Is it truly selfish to want you back again?
I could not calm your mind, I could not ease your pain;
I thought my love would be enough to keep you here with me;
But now I know that was never going to be.
I loved you, I disliked you, we argued and we kissed;
Your face, your touch, your scent forever I shall miss;
To hold you in my arms again, my soul no longer lost;
I'd pay the price and gladly have no worry to the cost.
They say that life gets better and time will ease the pain;
They're fools who cannot see the truth, it can never be the same;
No daytime and no nighttime just hour on hour on hour;
And time has no more meaning now life's not sweet it's sour.
Some think we have a life-force or a soul some others say;
If I had one I know it died that dreadful, dreadful day;
Sometimes I know I hurt you, I know that was so true;
But please forgive me for those wrong
For I'll always Love you !
The heart was mumbling a unknown melody as his mind decided to travel back in time when it all happened ...
~~~~ Four years Before ~~~
Arnav was sleeping peaceful and blissfully with the love of his life in his arms .The sun rays peeked from the curtains making both love birds stir .
He opened his eyes and saw khushi gazing at him with all the love in her eyes , all the love for him ..only for him . he smiled and cradled her closer to him .It still feels like a dream how in the world he has got so lucky ?
He lovingly drop a kiss on her forehead and she closed her eyes taking all the love from the single kiss and smiled
Khushi : Arnav ji ..
Arnav sternly : Arnav !
Khushi : Huh ? Arnav ji ?
Arnav rolled his eyes mentally : Call me Arnav .
Khushi with glintly eyes : Or what ?
Arnav smirked smugly : or ..
He dipped his head and kissed her softly on lips making her all breathless
Khushi screamed shocked : Arnav ji !
Arnav again dipped his head and kissed her a little hard this time
Khushi breathlessly tried to protest : Stop it Arnav ji !
Arnav again dipped his head and kissed her passionately
Khushi : Ughh Arnav ji !
Arnav smirked again : Looks like Mrs.Raizada likes getting kissed first thing in the morning
Khushi cheeks flamed and she blushed crimson .
Khushi : Arnav !
Arnav again dipped his head and kissed her lovingly this time
Khushi with her mouth open asked totally baffled : Why did u kissed me this time ?
Arnav grinned : Well that was a thank you kiss and if you didn't close your mouth I won't mind kissing you again
Khushi blushed and pushed him and ran to washroom .Arnav laid back with a smile on his face
….Few minutes later….
She came out wearing a red saree making Arnav fall in love with her all over again ..The delicate fabric covered her feminine Curves gracefully . her hairs unbounded and was brought in front , some simple bangles were adorning her wrists and some earrings her earlobes . A Ruby Necklace was placed carefully on his swarm milky neck and His mangalsutar proudly hanging outside , screaming his claim .
She was looking absolutely ravishing ! making him desire to have her early in the morning but as he saw her glaring as if reading his devilish thought , he grinned disappearing into bathroom .
khushi makes her way downstairs for pooja .
After attending pooja , she went inside kitchen for making breakfast . jiji and jija ji has settled in US with their two year old son Arush months back and they promised to visit RM next week and Aarav was adopted by Di as she wanted to have a kid for herself that will drive away all the memories of shyam from her heart and mind . Nk has shifted to Sydney with Lavanya so it's only Arshi , Anjali Aarav Nani and a new servant remaining as mami ji as gone to New York with Mama ji for sometime .
She stopped thinking abt these things as the tea soared and she gently poured it in kettle .
…………..in Arshi Room……………….
Arnav stepped out from shower and got dressed up , he checked his mail and saw a mail with the subject 'Alert ! ' , getting extremely curious he opened it only to get scared out of his wits .
Dear Arnav ,
Where is your wife ? Didn't she came with your bed tea till now ? Hahahahahaha
She wont even come !
Your sincerely ,
Evil
He panicked and rushed downstairs and saw di and nani engaged in some discussion but khushi was no where .
"Khushi ! Khushi ! Khushi ! " shouted Arnav
Nani and Anjali got startled and asked
"Whats the matter arnav ? Why are you yelling ?! "
"Di where is khushi ? " asked Arnav
"Khushi ? She is here only check kitchen or temple ! " said Anjali worriedly seeing arnav in his panic mode
He checked kitchen from outside and checked temple too she wasn't there , he ran upstairs and grabbed his car keys and rushed downstairs
"Chote what happened ? Where is khushi bitya ? " asked a hell worried nani
"I don't know im going to find her nani , she is totally fine and nothing will happen to her " it seems like he was assuring himself more than nani .
He was about to go when the new servant Murli stopped him
"Sir come ! you need to see this ! "
"I don't have time for this things murli !" yelled A rnav
"No Sir its Khushi bhabhi .." before he could complete his sentence , Arnav ran inside the kitchen and the sight which welcomed him scared him to death ...
There laid Khushi with eyes closed and breathing uneven and blood pouring out from her pale wrist ...
****************
This Update is dedicated to Rama for being an awesome reader ! Love u !
- Scroll Down for the Author's Note ! -
Jun 28, 2013
Part : Six (By Yelhsa) (Thanked: 33 times)
Episode : Six
Arnav zoomed inside kitchen and saw Khushi unconscious and her pale slender wrist have a small slash which was bleeding . He lifted her up in his protective arms and took her to their Room , after carefully lying her down on bed as if she is made up of a glass He called and ordered the Doctor to come this instant , few minutes Later Anjali brought him upstairs .
Doctor : Mr.Raizada please leave the room , I need to do some checkup .
Arnav reluctantly left the room with other members .
*****Few minutes ****
Dr : Mr.Raizada I have some news for you .
Arnav : What It is ? She is fine ? What happened ?
Dr : She is pregnant Mr.Raizada .
For few moments He stared at the Doctor with Disbelief , He couldn't believe that he and Khushi has manage to make a small life , Their own baby ? Suddenly he felt his heart in his throat . He couldn't speak nor thank for the immense happiness .
Dr : But She is anemic so you guys have to take extra care of her , Make sure you give her the iron tablets on time . There are more chances of miscarriage too so be extra careful
Arnav who was rejoicing few minutes ago now stared at the Doctor , Scared and panicked ! Khushi and the baby means everything to him .
Arnav : Is it normal ? Khushi will be alright ? and baby ?
Doctor : Yes Mr.Raizada , Its totally normal many women goes to the same condition , just make sure you take extra care of her .
Arnav nodded and rushed inside while Anjali escort the Doctor and Nani ji called Payash and everyone informing them about this good news .
*****
Arnav saw her sitting up and leaning against the headboard , He sat next to her and gently took her hand in his and kissed it .
Arnav : I can't begin to tell how happy I'm …
Khushi smiled : Yes I know ..I cannot believe it either .
Arnav : What do you mean cannot believe it ? After all the awesome things we did ..
Khushi blushed and slapped him lightly on the chest : Arnav !!
*****Few months Later *****
Khushi : If I had one more spoon of this yucky soup I'll burst !
Arnav shoving a spoonful in her mouth : Shut up Khushi , Its spinach Soup which is good for you and the baby .
Khushi making faces : I'll throw up now if I had any more
Arnav ignored her and shoved another spoonful : You will have it all Khushi .
Khushi rushing inside the washroom : Oh my God !
After throwing and cleaning up she came and lied on the bed , Sleep invaded her instantly .
Nani ji knocked on their door lightly and Arnav kissed her forehead before opening it .
Nani ji : Arnav bitwa even though I know you don't believe in this all but for khushi betiya and the baby please go to the temple , there has came an old chap , kindly go and take his blessing .
Arnav : But nani ji …
Nani ji : For khushi betiya ?
Arnav : Alright Alright !
****Few months Later***
Arnav was working on his laptop when his phone rang .
"Yes Aman ? "
"Uh S..Sir ..Please come to Arnahi Hospital , Ma'am met an accident " Said aman from the other end .
Khushi ..
Accident ..
Their Baby ?!
The Thought of something happening to Baby and her paralyzed his heart , he took the Car keys and dashed ...
***
Sorry for updating Late but was experiencing Writer's Block !
Please Comment and let me know !
P.S I never said It will be a easy story !
Love :
Yelhsa
Jul 8, 2013
Episode : Seven (By Yelhsa) (Thanked: 40 times)
Episode : Seven
It was all my fault , He thought as he drove madly towards the Hospital ..
If only he had refused that day ...
"But Arnav I'll be fine Sach main " Said Khushi pouting as he shook his head once again .
"Bitwa Its just the matter of few days , Why are you getting Upset ? " asked Nani ji as she caressed Khushi's head .
"Nani .. Khushi is in her 7th Month and we ought to be more careful ! and you know how clumsy she is ..so it wouldn't be good if she went to her maternal home " argued Arnav .
"But Bitwa Khushi is our Child , we wont even let her step out from her room " Said Garima .
"Aunty ji , I Trust you and bua ji but Its Khushi I can't trust …" He instantly regretted the choice of his words when he saw Khushi flinching and the unshed tears in her dove eyes .
She stood up and walked out of the Room silently , Leaving Arnav in Remorse .
….
"Khushi , Sweetheart you know that I didn't mean that " He said as he sat beside Khushi on their bed .
"..you just reminded me that you cannot trust me ever " She said sniffing .
"Khushi I didn't mean that , I meant that You are careless when its comes to your health ..I'm sorry I just reminded you of shyam didn't I ? " He said , His firm jaw clenched as the Traitor's Name .
"I..I .."
"Shhh Lets go and pack , You are getting late ..Bua ji is probably waiting downstairs " He said as He went towards their cupboard and started taking out her Clothes .
"You ..mean I'm allowed to stay there ? " She asked uncertainly .
"Hmmm but only a week ok ? and if you need anything I'm just a Call away " He said as he placed a loving kiss on her forehead .
It was obviously a bad Decision , Why did he let her go ?His heart was thumping with Fear ...
As He reached at the hospital , He got out of his Car and ran inside then yelled at the poor nurse …
He finally got to know her Room number he was greeted with her Sobs , suddenly dread filled his insides , Raw fear gnawed his Heart as He entered , The unfamiliar smell of Loneliness and Loss hit him and He knew something was very wrong …
He came besides her and wrapped his strong arms around her , as he hauled her closer He kew what exactly was wrong …
They had lost ..
Lost their Little angel ..
Their baby …
Her Flat stomach was the sheer evidence of it , The Fear which was gnawing his heart away turned into Pain , Something so unbearable . Tears came next so together they sat crying and mourning for the lost .
Words were not needed , The hearts screamed it all …
A moments later His Cell phone beeped indicating a Message but the Mourning couple ignored it , A messaged which would have filled them nothing but more pain .
Dear Arnav ,
Aww gone ? The baby Gone ?
Got to fill my men's pockets now , They did a great job didn't they ?
Your Sincerely ,
-Evil
***
A/N
I'm extremely grateful to those who commented ! But I highly insecure at the lack of response , Can you just leave one word of comments if nothing much ? Cause I don't want to continue something that no one likes to read !
More Suspense , Twists are coming ..
Who is 'Evil' ? Was he the Reason of Khushi's Miscarriage ?
Stay tune !
Love :
Yelhsa .
Disclaimer: The views expressed above are member's views and this website does not comply with it. The views expressed may not be factually correct. Incase of any issue please contact us/report it to us.
Dear Saeeda1, can't reply your message so please mail me.