Jab We Met - 3
Jun 14
Jab We Met - 3 (By Angel23) (Thanked: 139 times)
Prologue..
A man walking with attitude and arrogance on his face through the airport suddenly stopped, when his phone rang.
He picked it up, "Haan Aman bolo!"
"ASR don't even commit the mistake of coming home! They're planning to get you married to Sheetal today itself.." Aman said in hurry, "I've already booked your ticket to Chennai.. HP is right in front of you with the ticket.. All the best!"
Arnav turned and really found HP with a toothy smile staring at him, with the ticket on his hand.
Arnav took the ticket and gritted his teeth, "Dammit!"
"All the best bhaiya!" HP said. Arnav glared at him, "I'm not going on a mission for you to say All the best, HP!"
"Running away from your own marriage is like mission itself bhaiya!" HP said amused.
Arnav glared at him, "What the.. Just go away from here!"
HP went running to escape from his bhaiya famous anger, while Arnav stare at the crowd near his car waiting for him.
"Good job Aman!" Arnav smirked, "You gave me one solution to all my problems, now by travelling on train to Chennai, I will not only escape this forced marriage but also these media people never ending questions.."
****************************************************************
Railway station..
As he got in the train, he was welcomed by a terrible voice that belonged to one mad woman singing on the train, and those kids were cheering and dancing with her as if she's the singing sensation!
"Ek Garam Chai Ki Pyaali Ho
Koi Usko Pilaane Waali Ho
Chaahe Gori Ho Ya Kaali Ho
Seene Se Lagaane Waali Ho
Mil Jaaye To Mit Jaaye Arre Hum
Tararum Pum…."
The girl sang loudly swinging her hair and making the kids giggles and dance madly with her.
"How was my show?" she asked giggling, as she took a seat at the opposite side of his.
"Yeh show tha kya? (Was this a show?)" Arnav asked staring at her weirdly.
"Haan.." she nodded her head with a proud smile, "Difference was only that those big wala shows na, they're done in stage while my is on train but you must admit, both shows brought a smile on audience's face.." she ended chirpily.
"Difference is that they're professional singers while you're.." he was cut off by her. First time in his life, someone dared to cut him while he's talking.
"I'm a rising star.. I know!" she said proudly.
Arnav rolled his eyes; already he was irritated that his family went on against his words and planned a surprise marriage for him, that too with Sheetal. Luckily he has Aman, who always comes in time to save him. He imagines the shock on their face after getting to know that he ran away from this marriage and how the media will spread this news in no time, but then it's good for them to learn to not take decisions for him. He's ASR and only he writes his own destiny.
"By the way, my name is Khushi Kumari Gupta.. and yours?" she asked extending her hand with a sweet smile on her face.
Arnav just looked away staring at the people walking here and there with their baggage.
"Tangaballi?" she asked raising her eyebrows.
"What the.." he frowned.
"My bad luck that I met with Tangaballi on the train before meeting my Rahul!" Khushi pouted thinking.
The travelling ticket examiner came to them and asked both, "Ticket?"
Arnav showed his ticket, then it was Khushi's time. Khushi gulped, then smiled sheepishly looking at Arnav, "Tangaballi!" she called him.
The ticket examiner widened his eyes and step back, scared of Arnav. Arnav looked at him with serious face, "What the.. I'm not Tangaballi ok!"
"You're not less than him Sir ji!" the examiner smiled nervously, then wiped off his sweat. Arnav's look was quite dangerous.
"I don't have ticket!" she cried.
"What the.." Arnav uttered. Khushi looked at him irritatingly, "Now I don't agree with Meena when she asked Rahul where he bought that bakwas dictionary! At least he just had one word missing from his dictionary, bakwas is your dictionary that is only filled with this "What the.. What the..".
"What the.." Arnav almost shouted glaring at her.
"Kahan se kharidi aisi bakwaas dictionary Sir ji? You're in a mess now.. If you keep saying What the.. What the.. how will we understand what you want to say?" the ticket examiner said.
Arnav glared at him, then looked at Khushi, "How can you come in a train when you don't have ticket? Where do you want to go?"
"I don't know where I want to go, that's exactly why I don't have ticket na!" Khushi said.
"What the.." Arnav uttered, the examiner and Khushi looked at him with the dialogue of bakwaas dictionary running on their minds.
"I don't have bakwaas dictionary ok! You both have bakwaas minds.." Arnav said angrily.
"Tangaballi!" Khushi pouted. The examiner took one more step back, gulping.
"You have to leave this train girl.. We can't let you go without ticket!" the man said shaking his head as no.
Khushi buried her face in her duppata and started crying like baby, "You're all so bad.. look at me.. I don't have money neither a place to live... and you're arguing with me for a train ticket?.. Hey DM.. this is how the world has become.. very bad!"
Arnav rolled his eyes, "Oh God.. Where am I stuck?"
He took money out of his wallet and handled to the man asking him to let her stay, the examiner thought it's better take this money without making confusion, what if Arnav is really Tangaballi?
"It's okay.. You can stay, don't cry girl.." the man patted her back and left from there.
Khushi looked up and smiled brightly, "Did you saw how great my acting is? He really believed I'm crying and felt for me.."
Arnav shook his head and grabbed his phone.
"Bolo na.. How was my acting?" Khushi asked him cheerfully.
"Bakwaas!" he replied still his attention was on his phone, he was watching a video that Aman sent to him.
"Bakwaas is not my acting, but your dictionary ok!" Khushi replied frowning.
"Breaking news.. Now we only we got the news that ASR ran away from his marriage, his family is devastated and we the bride is very much hurt!" the video played.
"Coward!.. Such a big man he is and ran away from his marriage, instead of saying a big NO!.. I'm sure if it was you Tangaballi, then there was no need to even ask, from your eyes only one gets its answer.." Khushi giggled.
Arnav glared at her, "He's not a Coward!"
"Do you know him?" Khushi asked casually playing with her dupatta.
"I'm ASR.. Arnav Singh Raizada!" Arnav gritted his teeth.
Khushi stopped playing with her duppata and widened her eyes, "Yahan Tangaballi, the villain and wahan, ASR the coward.."
This plot is running on my mind from past days and I couldn't help but write. Hope you all like it.. I will update most the on going stories, but it will depend on what you guys want to read. Do tell me which story, I should update next.
Jun 16
Chapter 1 - Families worried (By Angel23) (Thanked: 119 times)
"By the way, why are you wearing suit in train?" Khushi asked, as she leaned her head on the window.
Arnav glared at her.
"Oh sorry, I forgot you ran away from your marriage!" she giggled, then widened her eyes, "Wait! Were you going to marry in church?"
"I came back from London.. I was in the airport!" he said.
"But you know.. Mostly girls run away from their marriage.. first time ji I'm seeing such a strong man running from his marriage.. Reason must be STRONG one as well!" Khushi said trying to control her laughter.
Arnav rolled his eyes, "Stop interfering in my life ok! I know what I do, and I don't think I should be explaining you why I ran away.. It's my life!"
"Okay okay sorry ji.. I know it's your life.. I was just trying to talk with you since you're quietly in your place, I thought you're not comfortable with your suit in train na (Khushi pressed her lips to suppress the smile on her face) .. I also know that Our business is our business, none of your business!!" she said dramatically.
"What the.." Arnav frowned.
"I'm getting tired of this what the of yours.." Khushi said boringly.
"Then don't talk to me, you will not get to listen it.." he said.
"I'm hungry.." she said caressing her tummy, and stare at him with cute puppy face, "The train is about to stop for a while, but buy something to eat for me!"
"What the.." Arnav glared at her, "Don't you have money to buy your own food? Did you come here by sleepwalking?"
"Our business is our business.." she didn't even complete her sentence, as the train stopped and Arnav stood up and went from there.
Khushi giggled, "Our business is our business and it's your business too!"
**********************************************************
Sheesh Mahal
The huge living room of Sheesh Mahal was filled with its family members with angry and tensed faces. The servants were walking here and there cleaning and removing all the flowers and other decorations silently, but some of them gossiping about the shocking act by the elder son of RM.

"I can't believe this! Chote ran away from his marriage.. How could he do that?" Anjali, the elder daughter and sister of Arnav said.
"He can do anything; after all he isn't less than any hero! Come on guys, its Arnav Singh Raizada we're talking about. Owner of AR fashion industry, famous all over the world for his intelligence, good.. no extra good looks, money.. Currently on top of the world he is!" said NK, son of Manorama and Manohar Singh Raizada with jealously tone.
(NK)
"Oh shut up NK.." his brother, Akash frowned, "The question is not what he did, but how he got to know that we're planning his surprise marriage.."
(Akash Singh Raizada)
Aman, who was helping the servants, stopped hearing that, he gulped, "DM I helped Arnav and now it's your time to help me!"
"Stop discussing all this now, what happened already happened. But I also want to see till when my dear grandson will keep running away from this marriage, at the end he will marry Sheetal Kapoor only!" said Nani smirking.
Aman sighed in relief and quickly escaped from there, "Nahin Nani, your grandson is very smart.. He will find a way to stop this marriage!"
While Sheetal sat silently relaxed, she knows no matter how much Arnav tries to escape, in the end he will be hers only.
***********************************************************
Arnav walked to go back to train cursing Khushi, "Here I thought I would get some days of peace in Chennai, but looks like troubles love me a lot.. Here I got one in form of a mad chatterbox woman! Never I met with someone who talks so much nonsense in one minute.. And Aman, I'm never going to praise him now, he's the one who saves me from one trouble and lands me in another one.."
He stopped talking when he felt the train moving, he looked up and widened his eyes seeing the train actually going, "Dammit!!!!"
"Hey Tangaballiiiiiiiiiiii.." Khushi shouted.
The passengers on the train stood up in fear. Khushi looked at them and smiled sheepishly, "Please sit down.. He's not the real! If he was real one, do you all think I would be shouting like this?"
"Get on train baby!" she shouted smiling. The passengers start smiling shyly as Khushi openly called Arnav 'baby'.
"Hey.. It's Rohit Shetty movie Chennai Express's music.. Advanced minds!" she said staring at them sarcastically. And they looked away embarrassed.
"You thought like that na.." said one girl to a boy next to her. The boy shrugged, "Pagal ho kya? I know it's music from a movie okay.."
"Liar.. I saw you smiling!" she said arguing.
Arnav started running as fast as he could with the snacks and bottle of water on his hand. Khushi extended her hand like SRK in filmy way, "Faster Tangaballi.. Run like you ran away from your marriage!"
Arnav glared at her while running, the passengers were cheering for him, shouting, "Come on Raj.. your Simran is waiting for you! Come on Raj!.. Come on Raj!"
"Okay think a dog is behind you.. Now run to save your life..Dog nahin, think Lion!" Khushi shouted extending her hand more.
Arnav finally caught her hand and she pushed him, he got in the train breathing heavily.
"You did it!" Khushi clapped her hands smiling brightly.
"YOU.." Arnav pointed his index finger to her angrily, "Do you know I would have missed my train because of you?"
"What's the big deal in it? Most Bollywood actors also missed their trains and my Salman ji even race with train in Sultan.. Who are you to get angry on this?" she pouted.
"We're not living Bollywood here dammit!" Arnav shouted, "Here if I missed my train, then there's no way back ok! I would be stuck there waiting for another train!"
"But you didn't miss na.." she whispered. Arnav gritted his teeth but preferred not to reply; otherwise she will utter nonsense, after that he won't control himself.
"And now I'm doubt if I'm in the right train or not, this looks like mental patients train than normal people!" he said loudly and went to sit.
"He is real Tangaballi only.." Arnav heard them whispering among themselves and rolled his eyes.
"Can I have snacks?" Khushi asked pointing to the snacks on his hand meekly.
"Sure.. Why not? I really worked hard to get these for you, so you must really eat it!" he said handling to her.
"Thank you!.. You're really sweet ji!" she said chirpily and took it from his hand. She was about to take the snack to her mouth, but dropped it suddenly and shouted, "Aaaaaaaaaaaaaaaahhhhhhhhhh.."
The passengers also had some kind of fear on their faces. Arnav looked at them, then at Khushi, "What happened?"
She pointed with trembling fingers, "The Real Tangaballi!"
Arnav peeked behind him to see, and saw three men that looked the typical goons of Bollywood, the lead with a knife on his hand, and his two friends behind him with sticks scaring the people near them.
Arnav leaned back and sighed hard, "Where am I stuck man?" he thought.
Khushi jumped to Arnav's seat, she wrapped her arms around his tightly and leaned her head on his shoulder frightened.
Arnav got startled by her sudden move; he gulped feeling strange that she was so close to him. He never felt like this for any girl, he closed his eyes inhaling the scent of her hair, she smell so good a kind of vanilla scent.. it was driving him insane.
Rabba vee.. Rabba vee..
***********************************************************
Gupta house:
"Aye NK.. Where did this girl go without informing us?" Buaji held her head in worry.
"I think we should inform police.. I can't sit here waiting for her, God knows what happened with her.." Shashi said worriedly.
"Nahin Bauji!" Payal quickly stopped him, "I know.. I know where Khushi has gone!"
"Kahan?" they asked curiously.
"I mean I don't know exactly.. woh.." Payal stammered, how she would explain that her sister only said she would travel by train but doesn't know where destiny would take her to.
"Hey girl.. Say something! Can't you see how much worried your father is?" Buaji shouted.
"Haan Payal.. bolo na.. Where's Khushi?" asked Garima pressing Payal's shoulder.
"She said she would somewhere by train!" Payal said looking down.
"WHAT?" the three freaked out.
"Somewhere means?" Garima asked.
"She doesn't know herself Amma.. Khushi just wanted to be alone after the disaster that happened in her life.."said Payal.
"That's okay.. but how could let her go alone Payal? She's your young sister and you should make her understand not support her in this childish decision.. She doesn't have money neither a place to stay, where will she go all alone? Didn't you think about this?" Shashi asked.
"I'm sorry Bauji.." Payal looked down sobbing.
"Hey DM please protect my daughter wherever she is.." Garima prayed.
*******************************************************************
"Hey.. stop crying girl or I will cut your throat.." said the lead goon pointing the knife to Khushi. Khushi looked at him frightened; she sobbed silently and tightened her grip on Arnav.
Arnav suddenly felt anger inside him; he looked up angrily at the goon and held his arm piercing his skin with his nail, the man hissed in pain and the knife fell from his hand. Arnav stood up and in seconds twisted the goon's arm brutally. The man shouted in pain.
His two friends came running to him, "Bhai.. what happened?"
Arnav left him and sat normally as if nothing happened, while the goon cried like baby, "This man broke my arm.. ahhhh.. I need treatment.. I will lose my arm.. Go and call ambulance!"
Khushi wiped her tears and her face lit up.
"Didn't your Salman teach you how to beat up these typical goons? Did you teach you only to cry?" he asked to her.
Khushi nodded sideways smiling, "He taught me but I don't have six packs like him na!"
"But you have hands and that's enough to teach these filthy men a lesson.." he said raising his eyebrow.
Khushi stood up and went to that goon, she slapped him hard on his cheek, then turned to Arnav smiling brightly, "Like this??"
Arnav nodded his head hiding the smile on his face. She's cute, isn't she? His heart commented, She's mad and will always land you in trouble.. Stay away from this girl! His mind retorted.
And ASR thinks practically, so his mind won this time also!
Khushi slapped the goon once again, "I was only training with first slap, now I'm punishing you for scaring me!" this time he cried and said sorry for his mistake.
Jun 17
Chapter 2 - A new bond! (By Angel23) (Thanked: 139 times)
"We have reached in Chennai!" the examiner shouted for everyone to start moving. It was already night, Arnav took his bag and walked to leave, when he noticed Khushi looking down with fallen face.
"What happened? Do you want to stay here and go back with them?" he asked to her.
Khushi nodded sideways, "I'm scared now!"
"Scared of what?" he frowned.
"Woh.. I don't have money with me na.. Where will I go now? I don't even know Chennai properly.. What will I eat?.. What if I find a real Tangaballi here then what will I do without you?" she pouted, "I'm such a dumbo! I came here without thinking anything and here I thought I could manage!"
"See how life isn't Bollywood!" he crossed his arms and raised his eyebrow, "And you're really a dumbo! There's no doubt of it.."
He took his bag and start walking, Khushi stare at him going, she gulped, "DM please protect me!"
Arnav turned to her, "What are you waiting for? Let's go dammit!"
Khushi's face lit up, she smile then pouted, "I won't go if you shout like this, pyaar se bolo!"
"Come if you want, otherwise good luck with the real Tangaballi!" he shrugged and start walking. Khushi followed him hurriedly, "No wait!.. You get angry so easily!"
"Looks like you haven't heard of me yet!" he said.
"Nahin, who are you?" she asked with confused smile, "But your name came in news na.. that video you showed me.."
Arnav looked at her, "I didn't show the video to you, your curious eyes reached there!"
"Haan haan, same to same!" she shrugged, "If you came in news, then you must be a big person, hain na? Underworld Don!"
Arnav glared at her, Khushi raised her eyebrows, "Nahin? Then Police officer? (she giggled mockingly).. Nahin, nahin.. Police are not that coward to run away from their marriages!"
"I think it's better to leave you alone here, no?" he asked.
"I'm just guessing na, why are you getting angry? Now you made my mood off, you tell me only who are you?" she pouted walking with him.
"Arnav Singh Raizada.." he rolled his eyes.
"Naam maine bhi suna hai na.. (Even I heard the name), that reporter said your name very loudly it got right in my mind, what do you do? That's what I want to know.." she asked.
"Why do you want to know? Do you want to marry me?" he frowned.
"No, no, no.. Who knows you will run away from our marriage also?" Khushi giggled.
"Khushi just stop talking about this matter.. You think it's funny that I ran away from my marriage! I didn't even know that my family planned this marriage for me; do you even imagine what is spending a life without someone you don't want to? Everything is not funny as it seems! I had already said this before, and now I'm saying it again.. Don't interfere or even comment on my personal life, it has nothing to do with you!" he said seriously.
Khushi gulped; as he started walking she followed him silently.
"I'm the CEO of AR.. fashion industry.." he said. Khushi smiled, "Wow! You're a business man! I already knew it.. Suit suit ahn! Not bad.."
******************************************************
"Wow.. such a beautiful place! Is this yours?" Khushi asked excitedly.
"This belongs to my Dadi!" he said knocking the door.
An old lady opened the door with a sweet smile on her face, as soon she saw her grandson her eyes widen in surprise because she wasn't expecting him at all, since he has his business that keeps him busy she never ask him to come, she doesn't want to stress him but today he came on his own. She's very happy today.
"Chote!" she pulled him into a tight hug. Arnav also hugged her back with a small smile on his lips, he too missed his Dadi so much, he wants to stay with her all the time, but his work doesn't permit him to, he even asked her to come and stay with him in Sheesh Mahal, but she doesn't get well with Nani and Mami. Hence to avoid fights, she preferred to stay away and in some place where she finds peace.
Khushi watched their hug with a warm smile on her face.
"Maya.. Come here quickly.. look who has come.. My chote!" Dadi shouted smiling with tears in her eyes.
"What?" another lady came running to them, Khushi looked at her awed, she was so beautiful.
"She's my aunt Maya!" Arnav turned to Khushi. Khushi widened her eyes in shock; she was so beautiful and young to be called aunt.
"And who is she?" Dadi and Maya asked curiously.
"She is.." Arnav stood thinking who Khushi was for him, a stranger who he met on his way to Chennai and felt pity because she was alone and had no money neither place to stay.
"I knew it.." Dadi smiled brightly with moist eyes, "I knew it you didn't come here just like that.. She's our bahu hain na? You came to show her to us.."
"Kitni pyaari hai.. (She's so lovely!)" Maya smiled and patted Khushi's shock.
Arnav and Khushi, both widened their eyes in shock. Arnav tried to explain, "Dadi she's.."
"Maya what are you waiting for? Go and bring puja thali.. we need to welcome them.." said Dadi smiling. Maya nodded excitedly and went from there.
Dadi turned to Arnav, "Couldn't you inform at least your Dadi that you're getting married? I didn't need an invitation card, just you could have called me and say this.. I would become very happy just to know that.."
"Dadi I .." he said. Dadi shook her head and patted his cheek, "It's okay beta.. You don't need to say sorry.. And why should we stay sad for something that already happened?"
"Offo.. Nothing happened between us.. Yeh Arnav bhi na.. Why doesn't he open his mouth and clear this already growing confusion?" thought Khushi biting her nails nervously.
After Maya welcomed them, the four walked to the living room. Dadi and Maya were happily walking behind them and appreciating the new couple while Arnav and Khushi were with tensed faces.
Khushi glared at Arnav and gestured him to say something, Arnav glared back at her gesturing her to wait.
"Arnav bro! How is it going? You well or not?" came Pinky, she's maid of this house but Dadi and Maya treat her like family, she worked for them for many years.
"I'm fine Pinky!" Arnav shook his head at the way she tries to speak English with him, since she knows he went to study abroad and became big business man, she thinks he's British now and only talks her English with him.
"Bro you took phere with her.. Desi girl? Pinky thinks you marry White-white ladies.." Pinky said, "Bothways (Anyway) congrats ji.. congrats.."
Maya glared at her, "Don't scare her with your terrible English! She's Pinky, she works here as maid but is more like family.."
"Thankiu ji .. Thankiu!" Pinky said emotionally. Arnav face palmed hearing her 'thankiu'.
"What is her name Chote?" Dadi asked Arnav. "Khushi.." Arnav replied.
"Beautiful name just like her.." said Dadi smiling staring at Khushi, she's already fond of Khushi.
"Khushi ki meaning Happiness hain na? She brings happiness in Bro's life!" said Pinky giggling. Dadi and Maya smiled.
"It's good ji you bring Khushi (happy/good) news here Bro.. Tum bhi happy and now Dadi ji bhi happy.. You know.. Dadi ji got Dil (Heart) attack five days ago.. Doctor says to take care of her.." said Pinky.
"Pinky!" Dadi glared at her, then turned to Arnav, "I'm fine now beta.. It's nothing to worry!"
"What? How can you even say that to me Dadi? Heart attack? And you didn't even called me to inform about this? I would have left everything and come to you.. Why Dadi?" Arnav looked at her worriedly.
"Loh ji.. Bro we called very much times.." Pinky said. Dadi glared at her again, "Pinky shut up!"
"Then why wasn't I informed at home? No one said anything to me, neither Di.." Arnav frowned.
"She said she called but her balance was zero na.. Then how could you know? That's why I call her pagli.. She doesn't know what she does.." Dadi smiled.
She held both Arnav and Khushi's hand, "But now you both are here na, I'm very happy.. I'm not sick at all now.."
She looked at Khushi then frowned, "Bitiya.. Where's your mangalsutra? Sindoor? You have to wear them bitiya.."
"Woh.. I forgot to wear them in hurry.. Arnav ji doesn't have patience na.. I left them at home itself.." Khushi faked a smile.
Arnav controlled himself from saying "What the..", he furrowed his brows at Khushi for continuing this lie.
Khushi gestured him to keep calm. After hearing about Dadi's health, she got scared what if Dadi discovers this is a lie, she's not Arnav's wife and get a heart attack again. She was so happy to see her grandson married and Khushi didn't have heart to snatch that happiness from her.
"It's okay bitiya.. Pinky will go and buy for you early in morning.." said Dadi and kept looking at both with a cute smile on her face. She was admiring the newly married couple.
"We're got so hyper with this news that we forgot to ask them what will they have!" Maya said and stood up, "So tell me, what you both want to eat or drink?"
"Aunt this is not fair na.. You called this my home also and treating me like guest!" Arnav complained.
Maya bit her tongue smiling, "Sorry! But I won't let you both go without eating.. So go and freshen up, me and Pinky will serve dinner then.."
"I will also help.." Khushi stood up. Dadi nodded sideways, "Nahin bitiya.. first time you came here, let us take care of you.. go and freshen up with Chote, you both must be tired.."
Khushi gulped then looked at Arnav, "Main aur Tangaballi in same room.. Aye DM.. What's happening in my life?"
Maya and Pinky smiled teasingly. "Don't be so shy.. He's your husband!" Maya said and pushed Khushi to go with Arnav.
"Aye aye.. Diabetes bro got sugar in his life in form of his wife!" Pinky said. Dadi and Maya rolled their eyes.
******************************************************
Arshi's room:
Khushi was looking around the room. She wasn't seeing herself sleeping with Arnav, a stranger to her. Now she was repenting coming to Chennai all alone, she should have listened to her Jiji's words, she did not like this new twist in her life.
"What are you waiting for? Let's go and take bath together since we're husband and wife, right?" Arnav asked sarcastically.
"What? NO!" Khushi screamed. Arnav glared at her, "Don't scream dammit.. What will Dadi and Maya aunt think?"
"I know I lied.. but my lie can save your Dadi's life.. think if she gets to know that we both aren't wife and husband, then she will be hurt and it can affect her health, that's why I didn't say the truth.." Khushi said.
"You have a point, but this lie isn't going to help either.." he said.
"Oh ji.. Stop thinking like a business man, think emotionally too.." Khushi said, "Did you saw the happiness in her eyes? Is it right that we should snatch it from her?"
Jun 19
Chapter 3 - The real marriage! (By Angel23) (Thanked: 145 times)
While having dinner, Khushi was chatting nonstop with Maya, Dadi and Pinky. Arnav was getting irritated, "Khushi shut up! Don't you have manners? You shouldn't speak while eating!"
Khushi pouted, then looked at Dadi, "Did you listen to what he said Dadi? You shouldn't speak while eating and what he did now? Didn't he just spoke to me? Now who has manners and who hasn't?"
Arnav rolled his eyes. Maya and Dadi giggled, "She's saying right Chote!" said Dadi.
"Dadi unbelievable.." Arnav shook his head, "She has just turned my words into her favor.."
"That's intelligence Tangaballi.." Khushi said proudly smiling. Arnav widened his eyes to her, while Maya and Dadi looked at Khushi confused.
Khushi bit her tongue, she completely forgot she has to behave like Arnav's wife and now called him Tangaballi.
"Tangaballi? What's cooking? You calls your zindagi partner like this?" Pinky asked rubbing her chin.
"Oh I get it.." Maya laughed, "I'm sure Khushi has seen Chote's worst side first time, that's why she calls him Tangaballi.. and I won't blame Khushi as everyone see Chote as villain only!"
Dadi smiled, "Oh, so this is the matter.. Don't worry, as time passes by you will see that my Chote isn't that bad as everyone thinks him to be.. He's very good at heart!"
Khushi smiled thinking, "Dadi ji is right! This Tangaballi seems to be very bad but if he was that bad then he wouldn't have bought food for me and he almost missed his train because of me, still he saved me from those goons and then he took me to his Dadi's place. Who would have done so much for a stranger?"
"Now keep quiet and eat your food otherwise you will end up bringing problems with your parrot's mouth!" he whispered to her gritting his teeth.
Khushi widened her eyes, she looked back at her food and muttered, "He is really a Tangaballi and nothing can ever change this!"
********************************************************
After Arshi went to sleep, Maya, Dadi and Pinky were still watching daily soaps.
"Dadi ji.. no misunderstand Pinky but Pinky feels kuch na kuch wrong with Bro and Bro's wife.." said Pinky with suspicious tone.
"Matlab?" Maya asked.
"Means both don't behave like husband and wife.." said Pinky.
"Pinky stop it! They're newly married and might be feeling shy and awkward with us.." Dadi said, "You better stop watch this serials, they're making you think like them!"
"Nahin Dadi ji.. It's my favorite drama ji .." Pinky cried. Maya laughed shaking her head.
**************************************************
Arnav's room:
"Aaaaaaahh.. my back hurts so much.. I think by sitting almost one day in train I broke my back.. aaaaahhh.. why are you punishing me like this DM?" Khushi cried in fake pain, she slowly sat on the bed. Then stole one pillow from there, "And look at my fate ji, now I've to sleep on floor.. Floor is so cold!"
"It's cold na and it's good for you back, since you broke your back who knows this coldness freeze your back!" Arnav said.
Khushi pouted, "Bakwas theory! I don't know how big big people like you can think of impossible things like this.."
"And I don't know how small small people like you can overreact like this! You want to take the bed na, then say it directly.. What's the need to do drama like this?" he argued.
"Wow.. You're so intelligent.. You got the hint easily.." Khushi smiled and jumped to the bed, hugging her pillow.
Arnav shook his head, "With such bakwas acting like yours, even a dumb person can understand it.."
He went to switch off the lights, Khushi shouted, "No! Don't switch off the lights please, I'm scared of darkness!"
"I can't sleep with lights on Khushi!" he whined. Khushi thought she can't take advantage of him anymore, already he helped her to get a place to stay, gave her food and now she took his bed and he without fighting accepted to sleep on couch when it's his Dadi's place not hers, it would be too much to ask him to not switch off the lights.
"Okay.." she nodded her head and closed her eyes tightly.
Arnav noticed she was even sweating in fear even before he switched off the lights, he sighed and kept the lights on.
Khushi slowly opened her eyes and saw the lights still on; she looked at Arnav laid on the couch, staring at the moon through the window.
She smiled faintly and closed her eyes to sleep.
********************************************************
Sheesh Mahal..
"Mahi.. Mahi come here now!" Anjali gritted her teeth, holding her 3 years old daughter meal on her hand and running behind her.
"Mahi no eat.. Mahi wants Arnav mamu!" her daughter whined sobbing.
"Mahi I've no idea where your Arnav mamu is!" Anjali shouted, "You better not make more angry than what I'm now.."
"Chill Di.. Why are you venting out your anger on your Angel?" said NK with a smirk on his face, then lifted Mahi, "Arnav mamu has loads of work baby, and can't you play with your NK uncle for a while?"
"When will Arnav mamu leturn? Mahi miss him a lot.." she asked with fallen face.
Anjali rolled her eyes, "I wonder if she's my daughter or Arnav's!"
NK laughed, "Hey calm down Di.. I know you're angry because we missed this opportunity, but that doesn't mean we should start showing our real faces to the world.. Arnav is not here, but his few and loyal friends are.. Be careful!"
Anjali nodded calming herself, "I wonder how you control yourself!"
"Because I'm like a lion that waits for the right time to attack!" he smirked.
"NK mamu.. chocolate?" Mahi extended her hand. NK shrugged, "I don't have chocolate baby.. Next time, I will buy for you!"
"Arnav mamu always gimme chocolate.." complained Mahi looking down sadly.
"Looks like she's the only one who truly loves Arnav in this house!" Sheetal arrived smirking.
******************************************************
Dadi's place..
"Did you both sleep well?" asked Dadi. Arnav and Khushi just nodded their heads.
"By the way, Chote you didn't told us how you met Khushi?" Maya asked curiously.
"In AR.." Arnav curtly replied, then gulped his juice not meeting Maya's eyes, he hates lies and now he's lying.
"Haan haan, we met in AR.. I was walking with my Jiji, we both were searching for clothes to wear in our friend Preeti's wedding.. that shopping was so big and since it's normal for big big people like Arnav ji to roam around these expensive place he was there also to buy this exact suit he's wearing today Maya aunty.. look at coincidence (Khushi giggled) .. then he was in hurry and bumped with me.. phir kya.. pyaar ho gaya!" ended Khushi chirpily.
Arnav glared at her while Maya and Dadi were confused.
Arnav faked a smile, then patted Khushi's cheek softly, "Isn't she a Comedy piece? When she first came in AR, she thought MY COMPANY.. (Khushi widened her eyes in shock) was a SHOPPING MALL because she saw designs there, beautiful outfits exposed and all that.. That's why I married her; I needed someone to make me laugh all the time!"
Now Dadi and Maya giggled.
Khushi smiled with crying face to him, she whispered, "Sorry!"
"I was already expecting something like this from you!" he smiled back sweetly hiding the glare he wanted to send to her.
"How was I supposed to know that AR is your company name?" she whispered.
"I told you yesterday.." he said. "Opps.. Yeah.. you did but I forgot it.. itna chota sa naam (such a short name), it fled away from my mind.." she smiled sheepishly.
"Of course, important things will run away from your mind because it's already filled with bakwas things!" he glared at her.
"Pinky arriving!" Pinky shouted smiling. Dadi smiled, "Did you found mangalsutra and sindoor for my bitiya?"
Pinky nodded, and handled it to Khushi, "Here it is Khushi ji.. Pinky herown (herself) selected this beautiful mangalsutra for you.. and sindoor is red only, I couldn't find other rang (color).."
Khushi nervously took it from her hand faking a smile.
"Wear them bitiya.." Dadi smiled. "No, I've a better idea.. Arnav you make her wear it, we didn't witness your marriage but we can see it now in a simple way!"
Arnav and Khushi looked at each other shocked.
"Haan, Maya is right!" Dadi smiled, "Let's go to the temple.. You will marry her here again!"
Pinky happily took them to the house mandir, and made both face each other. She snatched sindoor and mangalsutra from Khushi's hand and hand it to Arnav.
Arshi were just looking at each other numb.
Maya patted Arnav's shoulder bringing him to real world, he looked at her then at Khushi questioning her through his eyes if he should do this or not. Khushi nodded her head slowly.
Arnav slowly filled her maang with sindoor. Khushi closed her eyes, she doesn't know if she's doing right or wrong, but if DM is watching this and letting it happen, means she has thought something. It's destiny!
Arnav tied mangalsutra around her neck, he also doesn't know what is happening in his life, what did he had to find this girl, but one thing he knows his heart isn't refusing her as he did to Sheetal.
While Pinky, Dadi and Maya keep smiling staring at them. Khushi's eyes filled with tears staring at Arnav, her fresh past flashed in her mind.
"Milkwala!" said Pinky hearing the knock of the door. "I won't spare him for not coming yesterday!" Dadi pouted and followed Pinky to open the door. Maya also left the couple alone for sometime.
When they left, Khushi also walked to leave. Arnav pulled her back with force that she crashed with his chest, "Kya hua? Why are you crying? Didn't you accept me to do this? Why are there tears in your eyes? I didn't force you to do this Khushi.."
"Leave me Arnav.." she pushed him back, "It's not because of this I'm crying!" she said looking down and left from there.
Arnav frowned thinking, what else could be the reason for such a happy go lucky girl like her be crying? There was so much pain in her eyes, that's disturbing him now.
11 hours ago
Chapter 4 - He is not what he looks like! (By Angel23) (Thanked: 125 times)
Arnav's phone rang, he picked up in no time after seeing Aman's name flashing on his screen, "Yeah.. Aman.."
"Have you reached in Chennai?" Aman asked worriedly.
"Yeah.. it was quite an interesting journey in my life!" Arnav rolled his eyes, "And as always you land me in trouble!"
"What? Maine kya kiya.. I was the one who saved you from Sheetal the Cheater!" Aman said childishly.
"And guess what.. I found one mad woman on my way!" he rolled his eyes.
"That's okay na.. at least that mad woman isn't with you now and you're in your Dadi's place who is equal to heaven.. Why are you blaming me?" Aman pouted.
"I'm with that mad woman and for now she is my WIFE!" Arnav said.
Aman who was walking through the corridor of AR, held the wall to support him from falling, with shocked face, "What?"
Arnav started narrating everything that happened from the time he caught that train.
"But.. think from the good side ASR.. if she's your fake wife, you can present her to your family and save yourself from getting married to Sheetal.. Nani will stop forcing you to marry Sheetal, mark my words!" Aman said.
"Aman I will fire you next time you utter nonsense like this!" Arnav frowned, "Don't forget that she's a woman and I can't use her then throw her away.. She also has her family na, what will she answer to them? How can I play with someone's life like this? .. To stop this marriage, I will find another way!"
"Okay.. Sorry Laad governor!" Aman murmured.
"Aman you're fired now.. Who calls their boss 'Laad governor'?" Arnav asked with wide eyes.
"It's my habit now!" Aman chuckled, "I will go to Sheesh Mahal in afternoon okay, then I will call you as Mahi wants to talk with you, she is missing her mamu!"
"Okay.." Arnav nodded, reminding of his baby, it's not only her even he's missing her, he badly wanted to reach home and just give many kisses on her chubby cheeks. He even bought her favorite chocolates but his family ruined everything.
***************************************************
At living room..
Maya sat beside Khushi and patted her shoulder softly, "Kya hua Khushi? Sitting here quietly doesn't suit you.."
"Nothing.." Khushi replied shaking her head, and quickly brought a smile on her face.
"It's okay.. when you feel comfortable to tell me then you can come to me anytime.." Maya smiled understanding that Khushi wasn't comfortable to share what's worrying her.
"Do you want to go outside and get to know more about here?" Maya asked. Khushi nodded her head excitedly, "Yes!"
"Then let's go!" Maya stood up readily.
"Where?" Arnav came there and asked to Maya. Maya chuckled, "Calm down.. I'm not kidnapping your wife ok.. Just want to show her around!"
"I will go with you both!" he announced.
Maya nodded, "I just want to take my purse in my room.. Arnav you go and take the car with Khushi.."
Maya went, Arnav walked near Khushi, "Are you okay now?"
Khushi was surprised with his question, that's exactly what she wanted to hear from her family members and she would be fine, but unfortunately that wasn't what she heard. She was just reminded once again that she's an orphan who will spoil her Jiji's life with her childishness. After reaching in this house, she felt loved by all family members, they're always asking what she wants to eat, what she wants to watch, if she's feeling well, if she wants to rest or not, such question she's isn't habituated to.
Khushi nodded her head slowly, "Ji.."
"Wow.. Parrot became person now! Or did you realize that you're married now and you must behave properly now like those typical bahu who only smile and nod their heads! I would really love if you become like that.." Arnav purposely made fun of her, to see if she comes back to her normal way. Yeah, now he's getting used to the Mad Woman!
Khushi pouted, she was about to reply to him but Dadi and Maya returned.
"Dadi you're not going anywhere.. You need to rest!" Arnav said seeing her so excited to spoil her health now, if she goes outside then no one can put a stop on her feet, she will keep tiring herself.
"Nahin, today you're not going to stop me because I want to go out with Khushi.. I wonder when I will get this chance again, so let me enjoy to the fullest now.." said Dadi smiling.
"But Dadi.." Arnav wasn't sure about this.
"It's okay Arnav ji.. If Dadi ji is insisting then we should take her with us and don't worry, I will take care of her and make sure she doesn't tire herself.." said Khushi blinking her eyes assuring Arnav that she's with Dadi.
*************************************************************
They enjoyed the whole day visiting the most beautiful places in Chennai. Starting from Covelong beach, Dadi only sat watching Arnav, Khushi and Maya chatting and walking on sand.
"Chote.. Khushi.. Stand here.. I want to take pictures of you both.. I will keep with me.." Maya smiled. Arnav and Khushi looked at each other awkwardly, then posed maintaining the distance between them.
"Come on yaar.. you both don't need to feel shy.. Stay closer!" Maya giggled sensing the awkwardness between them.
"Chote hug your wife!" Dadi shouted teasingly. Maya giggled and nodded her head, "It's your Dadi's orders Chote.."
Arnav whined, but they kept forcing him to hug Khushi. He had to wrap his arms around Khushi's waist, Khushi gulped shivering, his touch had some strange effect on her. Her heart started beating faster, and she looked down unable to look into his eyes. Arnav pulled her closer to him, and due to the soft wind her hair came on his face. He closed his eyes inhaling her scent, he wanted to stay in this position now for more time. This girl had some magic on her, whenever he comes close to her, her vanilla scent is like sweet poison to him.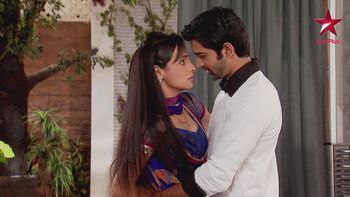 Rabba vee.. Rabba vee..
"Perfect!" said Maya breaking their moment. Khushi quickly pushed him feeling shy and Arnav was like why his aunty had to spoil this moment.
"Dadi just look at them!" Maya walked to show Dadi their picture. Khushi looked at Arnav, "I'm hungry!!"
"You're always hungry! Is that news now?" he said sarcastically.
Khushi pouted and crossed her arm, "You're my husband and it's your duty to take care of me.. And that's news.. No, breaking news!"
Arnav rolled his eyes, "Are you seriously going to use this to blackmail me now?"
Khushi blinked her eyes smiling, "What do you think?"
"I'm not going then because no one blackmails me.. I'm Arnav Singh Raizada!" he said with attitude.
"Okay then.. I'm Khushi Kumari Gupta who is PLEADING you to buy something for me because my tummy will explode now if I don't eat something!" Khushi said joining her hands with puppy face to him.
"That's better.." Arnav smirked and walked away. Khushi crossed her arms and frowned, "Laad governor kahike.."
Arnav groaned hearing someone else apart from Aman calling him by that name, how much he hates this name, even 'Tangaballi' is better for him. Now Khushi also started calling him Laad governor.
Arnav returned, the scene in front of him brought secretly a smile on his face. Khushi and Dadi putting their feet on the beach water giggling, as Maya clicked their pictures.
Rabba vee.. Rabba vee..
**********************************************************
Then they went to Kapaleeshwar Temple and after praying and showing to Khushi, Arnav took the responsibility of taking their pictures. Dadi took Arnav and Khushi to a known priest and Arshi took blessings from him. Their lie was now taking a serious turn where they even got married, his family involved and now taking blessings from the priest.
After visiting temple, they went to Semmozhi Poonga Park. Khushi was awed by the place; she just loved the butterfly garden.
Arnav secretly took her pictures; he also doesn't know why he was doing this. He couldn't understand why he was being 'good' which is not one his famous behavior with women, he is always rude and arrogant towards women, because he thinks them to be gold diggers, they just want throw themselves on him because of his money and status. But with Khushi it's different, although he behaves like ASR to her, but he does things that ASR wouldn't to any women like leaving the train to buy food for her, fighting with that goon for her, taking her with him to his Dadi's place, let her take his bed, let the lights on just because she's scared of darkness, he remembers the shoot with model Lavanya in London, she was complaining about the cold and was shivering through the shoot but he cared less. Then her tears disturbing him, how many times girl cried in front of him because he rejected them and he just didn't feel anything towards them, but Khushi's tears affect him like she's his own. And now taking her pictures secretly, why? What does she mean to him?
"Not bad!" Maya whispered staring at the picture of Khushi. Arnav got startled, he quickly hide his phone and looked at her, "What?"
"Khushi's pictures.. kitne cute ho tum Chote.. I never ever in my life thought I would see your romantic side.." Maya said and pinched his cheek.
"I'm not romantic.." Arnav whined, "And I was just taking pictures of Dadi, Khushi came in front ... that's why.."
"Are you lying to your aunt who raised you ahn? Lying to me is equal to lying to your mother and you know that a mother always knows when her children lie to her.." Maya said.
Arnav looked away, "Fine I was taking her pictures!.. But don't tell her.. (Maya looked at him suspiciously and Arnav getting her look explained).. I want to surprise her one day!"
Maya smiled, "Okay.."
********************************************************************
Dadi's house..
Khushi walked out of the bathroom, drying her hair with towel. She looked at Arnav talking over the phone in a sweet tone.
"Mamu will come soon my baby.. yes yes.. I bought your chocolates.. Hmm.. I love you too.. Don't trouble your Mumma!" Arnav smiled talking with his cutie pie.
"He does look like khadoos but he isn't!" thought Khushi smiling.
"What are you smiling like a mad person?" Arnav walked to her.
"Why? Is there any rule that stops me from smiling? I can smile anytime I want to.." she glared at him.
"Oh, you can smile in front of me but can't cry!" he raised his brows, purposely touching the topic to know why was she crying today morning.
Khushi looked away, playing with her duppata. Should she tell him about her problem or not? She's scared to share with him, who knows he will also judge her like other including her family did.
"My princess shares everything with me and I will always solve her problems, you can try also!" he said, he's not good at consoling or giving advices, he goes straight to action!
Khushi looked at him, still not sure if she should say or not, after debating with her mind and heart, she decided to tell him, if he can do so much for her, she should trust him also.
"Woh.." she was about to start when suddenly a girl came inside their room and shouted, "Arnav!!!!!!! How could you do this to me?"
Khushi looked at her, then at Arnav with who-is-she look? Arnav rolled his eyes annoyed, "Do you still live here?"
"I live here because I keep waiting for you.." she cried widening her eyes, "And you married someone else, how could betray me knowing that I'm waiting for you? And who's that girl? I won't spare that girl.."
The girl's eyes spotted the room to find Khushi, Arnav's wife and when she finally saw Khushi, she was surprised and shocked with Khushi's beauty but still the anger overpowered her and she took heavy steps towards Khushi killing Khushi already with her eyes.
Arnav came in front of Khushi blocking the girl's way, "Don't even dare to hurt her Arushi..Have you gone mad?"
"Haan, I love you and you know that.. still you married this girl!" Arushi said.
"Because I don't love you! I already said so many times to you and you don't listen to my words.." Arnav said frowning.
"Oh, so you love her!?" Arushi asked glaring at Khushi, "What does she have that I don't?"
"Arushi behave yourself!" Dadi said strictly, "Did you forget how to talk and behave with others?"
Arushi frowned and looked away.
"Just put some sense in her mind Dadi.. she wanted to attack Khushi, this girl is going out of control!" Arnav said.
Dadi widened her eyes and walked to Khushi, she patted Khushi's cheek, "Are you okay bitiya?"
"As long as I'm here, I won't let anything happen to her.. She's my responsibility.." Arnav said.
Both Khushi and Arushi had tears in their eyes, Khushi because she felt overwhelmed with the loving and caring side of Arnav and Dadi, while Arushi because her heart broke hearing what Arnav just said now.
"Khushi why are you crying?" Arnav asked with worried tone, he quickly made her sit and Dadi handled him glass of water for Khushi.
"Did you see what you did with her? You scared my Khushi bitiya.." Dadi scolded Arushi.
"Kya hua?" he asked softly making her drink water. Khushi nodded sideways coming out of her thoughts, "I'm not crying.. woh.. these are tears of happiness.. I mean.. you all are so caring towards me.. isliye.. I couldn't control my tears.."
Dadi smiled, while Arnav sigh in relief then hit her forehead, "Buddhu (Idiot).."
"Ouch.. How dare you beat me?" Khushi opened her mouth in big O shape.
"You deserve that.." he said, "Who cries for stupid reasons like this? I should ban all Bollywood movies now, or else you will become really mental watching it.."
"Aww.. Dadi dekho na.. he's making fun of me!" Khushi whined. Dadi caressed her hair, "Don't worry.. I will twist his ear later.."
"Why later and not now?" Khushi pouted.
"Because Dadi can't see me in pain.. and she won't do it, she's just saying this to make you feel better.." Arnav said smirking.
Khushi widened her eyes while Dadi smiled cheekily. The three laughed seconds later.
"Hey ladki.. come here.." Arushi's mother came and start dragging her outside, "I'm sorry Dadi ji.. she's mad.. I refused her to come here but as soon she got to know that Malik got married.. she start behaving like mad.."
"Ma.." Arushi whined.
"You better control her Bela.. I won't tolerate if she does something that hurts Khushi.." said Dadi.
Bela nodded, her eyes went to Khushi, she smiled, "Namaste.. Malik's wife is very beautiful!"
"Namaste.. Thank you!" Khushi too smiled staring at her, but seems like Arushi didn't like this at all. She glared at her mother and left from there.
***********************************************************
It was night and they were in the garden enjoying hot tea and snacks. Arnav sat beside Dadi and Khushi with Maya.
"Chote was always serious and obedient kid.. He loved his books and loved to play basketball.. He always made his mother proud by being number one in school.." said Dadi patting Arnav's cheek.
"Acha? Wasn't his father happy for him?" Khushi asked. She noticed the three's look changed.
"Sorry.. I just asked because you didn't mention his father Dadi ji.. I shouldn't have asked.." Khushi said.
"No, since you're a part of our family then you must know.. I just thought Chote already told you about it.." said Dadi.
"You know na Dadi I don't like talking about him, that's why I didn't say to Khushi.." Arnav quickly said saving Khushi, who gulped not knowing what to answer. She doesn't even know a bit of him.
"It's that Chote's father and his mother had love marriage, but as time passed, his father started changing, he didn't give same attention and time to his mother, his business was at loss and he started drinking, slowly he became an alcoholic and also used to beat his mother, who never said anything to us. One day, another woman came in his life, she start to help him run his business and Chote's father started having extra marital affair with that woman, his mother got to know it and she couldn't handle this truth, she didn't want to believe that her husband betrayed her and committed suicide leaving her Chote and Anjali bitiya, his sister with me.. And that woman convinced his father to leave his kids and go with her to New York, she promised to give him the best life and make him rich, so he went with her. Chote and Anjali lived with me for some years, then left to Delhi for Anjali's college and they started to live with his Nani and her family. Then Chote went to study in London and started his business, thanks to DM, he's very famous, rich and successful man.. That's all I wanted, for him to stand on his own and not depend on anyone.." said Dadi emotionally.
Khushi gulped, her eyes brimmed with tears. How painful his past is and still he lived his life, and became such a big business man and here she's running away from just one problem. Imagine how hard was to bear that his mother committed suicide after being tortured by his father and his father left him when he was so young.
Arnav looked away, controlling his tears. For a moment the four became silent.
"You're still very lucky to find such loving family Arnav ji.." Khushi broke the silence, "From both sides, hain na?"
"Yeah.. Here I have my Dadi and Maya, and there, my sweet Nani, my loving and extra caring Di, my cousin brothers, Akash and NK, Mami who's crazy like you (Khushi pouted), Mama who can't speak in front of his wife, she doesn't let him utter a word (Maya, Dadi and Khushi giggled), my little munchkin Mahi she's adorable and Aman, he's my PA and my true friend, I trust him a lot.." said Arnav.
"Seems like Chote doesn't give time to Khushi at all.. Isn't she supposed to know about your Nani's family already? Doesn't she live with them, why are you talking like you're introducing them to Khushi?" asked Dadi suspiciously.
Arnav was tongue-tied now, he didn't know how did it escaped from his mind that they both are acting, he end up talking with Khushi normally.
"You're right Dadi ji.. I don't much about his family there because Arnav ji didn't had time to introduce me to them, we got married and with marriage functions I had no time to talk properly with anyone, then after marriage, next day only Arnav ji had to leave for London for his work and he took me with him, so I didn't got time to talk with them.." said Khushi saving Arnav this time.
Dadi seem convinced, they continued chatting about Arnav's childhood. Khushi got to know about Arnav's love for plants and painting.
Later Maya showed the pictures she clicked to Arshi, both kept staring at it. They really looked like so much in love couple. This was the picture Maya clicked when both were much comfortable with each other, Khushi was shy in all the pictures with Arnav.
"And who is Arushi?" Khushi asked curiously to know what relation she shares with Arnav.
"Arushi.. her mother used to work for us when Ma was alive, and she liked me since then, she grew up and whenever I used to come here to spend holidays, she comes to me, wanted to play with me and I always got irritated with her.. Now she keeps claiming to be in love with me and does crazy things to gain my attention.. but I doesn't have any feelings for her.. I don't know who told her to wait for me.." Arnav said irritated.
Disclaimer: The views expressed above are member's views and this website does not comply with it. The views expressed may not be factually correct. Incase of any issue please contact us/report it to us.