IPKKND - AR§HÏ STÖRY
May 28
IPKKND - AR§HÏ STÖRY (By Eljessica) (Thanked: 94 times)
IPKKND - AR§HÏ STÖRY PART 1.
Hi Guys, this was my first story in Myeduniya that I always feel was poorly executed at the time hence this is my retake so hope you like it. Feel free to leave your comments below as your feedback helps a lot in making necessary improvement and changes where needed. Hope you Enjoy! Thank you, Guys.

Being a big fan of IPKKND and EHMMBH, so I'm going to tell a story of Khushi and Arnav making a combination of both series. In this story, Shaym is out of picture, he is already in jail, as they have find out he already been married twice to two rich woman divorced them after having all their possessions in his name. Anjali was quite disturbed knowing this at first, she is now doing very well and is pursuing her dream by joining AR Design as an apprentice designer after her divorce. Today, Anjali is very happy about her Chote's wedding which finally happening in her presence along with the whole family which did not last long...
The story start from Khushi and Arnav second marriage, when Arnav came to know about Garima's truth from Dadi and Khushi is waiting for Arnav to show up.
On the other hand, Arnav is once again facing the biggest dilemma of his life. Making his decision Arnav and Dadi arrived to the wedding hall after three hours, where Khushi has been waiting impatiently and was on the edge of her breaking point.
Seeing Arnav, Khushi immediately got up from the mandap and run towards Arnav only to be stop by Dadi, who started telling everyone Garima's truth removing their family traditional bracelet from Khushi's hand saying that this marriage is over.
Khushi along with all the Raizada's, Gupta's and Vadhera's, who was present there was shocked by this statement and they were all waiting for Arnav decision when he slowly walk towards Khushi gently lifting her head with his hands making sure that she is looking straight in his eyes, he could see her tears continuously coming from her eyes which now very red and so was her face. He finally say Khushi, I love you very much, even more than my life and I want to marry you but please give me some time to sort my emotions please, I hope you understand, why I'm doing this again please forgive me one last time. I promise you that I will make everything okay, please try to understand my emotions, SORRY... I need sometime to process everything.
Khushi was just standing still after hearing this, she wanted to say so much but nothing came out. Payal, Garima and Buaji run to Khushi, telling her at least now tell them the truth, please.
Arnav (losing his cool): What, truth now, is there more to your story that I'm unaware of... Khushi, what truth are they talking about. Talk to me dammit. Speak up.
Seeing his fun-loving little sister broken and helpless condition, Viren Vadhera, is now very angry and shouted at Arnav, "Can't you see that she is broken by what you just told her."
Arnav (very angry): Who the hell are you to even tell me how I should talk to my wife. And by the way I don't remember inviting you.
Virat: Wife??? Did you just said wife?? If you don't remember, you just told her that you need sometime before getting married to her just a few minutes back. Now, she is your wife. Great!!!
Arnav (losing all his cool, now very angry): Who the hell are you now? Don't you say one more words else...
Virat: Else what? What are you going to do??
Khushi (finally gaining control of the situation): Bhai!! Virat!! Stop!! I know you care for me but it's my life, I not only your little Princess anymore, but also his wife. Please try to understand. Please, just let me handle this. (Khushi was speaking in fluent English with Viren and Virat.)
All the Raizadas was shocked seeing Khushi speaking in English so fluent and was even more stocked by her statement as they could not understand anything. Even, Arnav was speechless.
Yep Guys!! There are some twists in this story, Khushi is in fact Viren and Virat sister, Dr. Khushi Singh Vadhera.
Actually, Vanshika Singh Vadhera has three children:
Ø 1. Viren Singh Vadhera married to Jeevika
Ø 2. Khushi Singh Vadhera married to Arnav
Ø 3. Virat Singh Vadhera married to Madvi
Viren: Sorry Princess! Not this time.
Virat: Yeah! Not this time, Sissy. Sorry! I agree with Bhai.
Vanshika and Swamini Bua said together, we too.
Khushi: Mum! Bua! But! No buts, Jeevika and Madvi said together.
Khushi: Bhabhi and Madvi, You too.
Dadaji: Khushi! You know how much we love you, we took risk for you once not anymore. Sorry.
Khushi: Not you, Dadu... now of all people.
Viren: Princess, you now going to Chandigarh with us, no more arguments. That's final.
Khushi:

Bhai! That's not fair. I can't believe this. I can't come with you, I'm married and I love him.
Viren: No, you are not married to him. Not any more, he just denied to marry you even his family don't accept it for heaven sake...
Khushi:

Bhai! What do you means that I'm not married to him. I am still legally married to him.
Viren: No, you are not legally married to him. I have read your marriage contact and seen your marriage certificate, you are not legally married to him.
Arnav: That's impossible! How can that be? I know for a fact that we're legally married.
Khushi: Yeah Bhai!

That's impossible unless you did something. I can't believe this. Did you...
Viren: Come on, Princess!! I didn't have to! It is simple, not Rocket Science, your name is not Khushi Kumari Gupta as you been calling yourself lately, but Dr. Khushi Singh Vadhera remember.

By the way how did you manage to be one of the top student Oxford University have ever known and one of the finest Cardiologist in India. I wonder...

What were you thinking when you were signing those papers?

You really love him, don't you? Do you think he loves you as much as you do. Do you? Does he know how much you sacrifice to be with him? That Shyam... That creep could have killed you yet no one would have known. Why do you love him so much?
All the Raizadas was shocked to know that Khushi is actually a cardiologist and come from a very respectable wealthy family.
Khushi: I just don't know Bhai, I just love him very much, even when he hurt me. Sorry! I can't help it.
The Raizadas was very surprised to see this side of Khushi who is expressing her feelings for Arnav in front of everyone confidently.
Arnav: I didn't know that you love me so much that you even left your family and career because of me. I have no words. I really love you but I don't know how to express my feelings for you. Sorry, for every thing.
Viren:

LOL!! I finally understand how you come to love each.... you are both weird. You are really made for each other....
Khushi:

Bhai! Does that means that I can...
Virat:

Not so easily, Sissy! I can't believe that you are really in love...

Ohho!! I've never, seen that coming from our ice queen cardiologist. What was that you use to say, love is the cause of all trouble.
Khushi: Shut Virat! That's not true, Love is actually the booster and courage to overcome all trouble.
Virat: Wooh! You have definitely change....
Vanshika: Now, will you three please stop discussing among each other pulling each other leg, walking towards Arnav, you are making everyone more confused by the minute.
******** TO BE CONTINUED SOON *******

HEY GUYS, I'LL BE BACK WITH PART 2 SOON, HOPE YOU ENJOY THIS STORY, PLEASE LEAVE YOUR COMMENTS BELOW.
THANK YOU!!!

Jun 16
IPKKND - AR§HÏ STÖRY - PART 2 (By Eljessica) (Thanked: 70 times)
IPKKND - AR§HÏ STÖRY - PART 2
HEY GUYS, I'M BACK WITH IPKKND - AR§HÏ STÖRY - PART 2, HOPE YOU ENJOY!!

Vanshika: Arnav Beta!! I am Khushi's Mum actually. Garima used to work for us as Khushi nanny and Khushi is very close to her and call her amma. Payal and Khushi are very close too, as they grew up together and they more like sisters and share everything. They always like to sleep together as Khushi is afraid of dark, because of the accident in which I lost my husband. It was very dark that night and Khushi was in the car with my husband, lucky Khushi was safe sound but I lost my husband. However, since that time Khushi is afraid of dark and speeding car; she also reluctant to drive by herself at times so she has her personal driver.
Beta, I know that this are little things but they are important in order for you to understand my Khushi. Khushi was always studious and top all her class. She never had much friends, Payal and her two brothers Viren and Virat were her best friend. She was always reserve type of person maybe because of the accident until she went to Oxford University, after her return I could hardly recognized her, she turned into a remarkable friendly free going independent woman; who enjoy life to the maximum as it comes to her, using the moto " KAL HO NA HO". She also developed a great interest for watching movies especially bollywood ones.
She also started believing strongly on density and that everything happen for good reason. She always try to be happy and started making others happy, until now I don't know the reason why or how she changed, but I am happy to see the woman she become; I'm proud of her and I know that her father will also very proud of her. She always think her father became a star now and always look after her, I don't know where she got that idea from, but this is what she been believing since the accident. She was one of the finest Cardiologist in India, when her career was scattered due to the false publicity. Her life were changed again.
Actually, it was Payal wedding and bridegroom ask for dowries at the very last moment of the wedding, which she could have easily pay but wasn't willing to do so as it will hurt Payal and she also wanted to make sure that the man who could for dowries at the very last minute of the wedding, will be trustworthy enough for her sister to spend her life with.
Therefore, she decided to go to meet him at his work place which was Shesh Mehal, but unfortunately or fortunately she walked into the room where your model getting ready for ramp walk and mistaken her for one of your model and send her to the ramp walk but by mistake she lost her balance and fall into your arms.
Vanshika (continues talking about Khushi): But you mistaken her for one of your rival bad intention to destroy your fashion show, so kept her in Shesh Mehal for the night, hence this end up cancelling Payal wedding and Khushi was not happy with that. According to her, she met you again by destiny; when both you got in a fight again and being very angry with her you send the picture of Khushi falling into your arms to be shown none stop on all the channel in Lucknow and as her practice were based there, she lost most of her clients and also the hospital didn't want her to work there as their reputation were also going downhill so her career came to an end in Lucknow.
I don't know why, but Khushi always like to live a simple modest life hence choose to stay with the Guptas instead and live to their expectations, in terms of manners, dress code, food choices, language, culture and also lifestyle. She also developed a great liking of Indian food such as bol-gape, rasgula, jalebi and chanai and also enjoy cooking them.
After the television incident her living in Lucknow turn bad to worst, where people wanted to take advantage of her. That was when she meet Shaym who saved her life from some goons and later help her to get a middle class job in AR Fashion, as she did not want to practice medicine while helping the Guptas simply because she want a job according to their class as their daughter and she didn't want to draw attention. She didn't know that AR was your office till she met you; let me inform you that if she had known its your office before signing the contract she wouldn't have come there ever.
On many occasions, we told her to come back to Chandigarh but she never listen, saying she is happy and I guess because she always love you but wasn't aware. If she wanted she could have gone anywhere on earth, in order to start a new life, money was never a problem for her all she had to do is use her bank account or credit card, but she always wanted to be independent. As for her career, like I said she could have gone and start again anywhere, but she chose Delhi of all places, which she always refers it as her destiny.
After that event, in Lucknow she started referring herself as Khushi Kumari Gupta, instead of Dr. Khushi Singh Vadhera, in order to save our family reputation or to keep her Identity anonymous I think. Again, because of destiny as she says, she had to continue using the same name, because she started loving her new life and was happy to live among you all. In a short term, you become more than family to her. She didn't know how to tell you the truth, and decided to do so today before her marriage, as it was her greatest decision and also happiness in her life but it didn't happen as she planned.
Today, her life is on the same turning point once again, which I'm sure she will blame on her destiny, but it's her life and her decision now, we'll support her, on anything she chose that her decision and we are taking her to Chandigarh with us now. That's final.
One more thing Beta [Son] I know that she must loves you very much more than you can ever imagine, because it is impossible for her to miss raksha-bundan festival not once but twice, she never did that before no matter where she was or how important work she has and she even came one day before her exam one time before when she was in Oxford University. Only these two times she only send the rakki for her Brothers with a sorry note and gifts. We didn't even see her for one and half years, as she always say that she can't come and we have only communicated through Skype, email and telephone, even when she was in Oxford University, she will always come on especially event, but not this time, we'll only receive a sorry note and gifts. Even for her Brothers' wedding she only stay for sometime and left saying that she has to go. Now, truly tell me beta do you love her?
Arnav who was very shock

by the whole event finally says, "Yes, Ma I love your Beti [Daughter] more than my life, but sometimes I find it very hard to express my feelings for her and end up hurting her, but I never ever imagine that she could love me that much.

Why do you love me that much Khushi?
Why... I don't even deserve you.
Why did you sacrifice so much just because of me...The great ASR! Laad Governor! Who doesn't even know what love is?
Why.. Khushi...
Why...
All you had to do was just tell me the truth, why did you go through all this...
Arnav says walking towards Khushi and lifting her head gently so that she could only look all in his eyes. Why...
Khushi was shock

to hear Arnav calling her mom, Ma and speaking so softly to her that tears was coming through her red eyes and no words. She just hugs Arnav and whispered I love you very much from the day I felt into your arms at the very moment I have looked into your eyes I have known that I'm yours and you are mine.
Breaking the hug, looking in his eyes, Khushi: You, Arnav Singh Raizada, change my life in so many ways, ways that I can't even describe.
From that very first day I've known that no matter what I do, I won't be able to change my feelings for you.
No matter how hard I try and no matter where I go, so I decided to happily putting my life into the hands of destiny, and just decided to go with the flow.
In the long run, I guess (smiling)

it's was the best decision that I ever made.
Looking at it from where I'm standing now I'm happy that I made that decision, but I'm very sad for all the sacrifice I had to make throughout this journey. I don't know how I've stayed away from my family for so long, I can't even imagine or describe that but I can tell you now that you was the only one driving force behind that. I just can't live you, Arnav.
My day is incomplete without seeing you. I feel incomplete when you are far from me. I love you as you are with all your flaws, which is your anger.
Actually,

I love seeing you angry, I know it's weird,

but that's the truth. That's why I try my best to drive you nuts at times...
I find you cute

when you are angry, ready to break everything at times, as it's so remind me of myself when I used to be angry at home in Chandigarh before going to Oxford. You don't even have any idea how similar we both are in so many ways, only if you had known me as Khushi Singh Vadhera, even before I became a doctor, only then you could have known how similar we are especially when it comes to anger. We've both suffers lost in our younger age, but yours were much harder than mine, I had my whole family to support me on my every steps.
Mom, I know that you didn't understand why I was so reserve, studious and angry person at that time until I went to Oxford University, it was only because I feel guilty that Dad is not with because of me, that I was the reason for the accident. Sorry Mom.
Vanshika was shocked

to hear that and said hugging Khushi quickly, no beta that's not true. How could you think that... Actually, the car brake failed and that was the cause of the accident not you. I never thought that you felt responsible, I wish I had known before...
Khushi: I know that now Mom, don't worry. I understand that now. Mom actually when I was in Oxford University, one day when I was driving my car brake was failed and it was very dark that night and I was alone, it was as if I was reliving that accident with Dad and that was when I realized that I was not the cause of Dad's death, and that the car brake failed and also remember Dad telling me no matter what happened my little princess I will always be looking after you no matter where you are, even if I'm not here I will always look after you by being the brightest Star in the Sky, always remember that my lovely little princess.
Dad had also told me that, always be happy no matter what and make those happy, that's why your mom and I called you Khushi because the moment the nurse put you in my arms, you brought lots of happiness in our life and I want you to do the same in your life.
Dad also told me that everything happen for a reason maybe it does not make sense at that time but in its own time you will see that it was for the best. At the time, maybe it's hard, painful, terrible and unfair, but time itself will make it soft, painless, bearable, fair and fruitful. That was Dad's last words to me mom she cried out hugging Vanshika. All the Vadheras has tears in the eyes. Viren and Virat came to hug Khushi and Vanshika together, saying it's okay.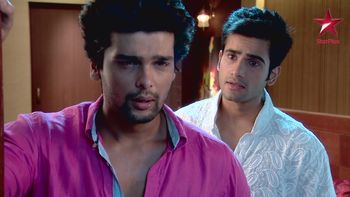 Khushi continues saying that luckily that night she was driving at 40 km/h and her car hit a tree, which stop the car and came out without any scratches and went she had looked up in the Sky, she had seen the brightest Star smiling at her. On that very moment Mom, I understand that Dad was looking after me and remembered everything that Dad told me that night. Hence, at that very moment I put everything Dad told me into practice and restart living the life, as Dad wanted me, his little princess to live and it proved to be the best strategy to live my life.
Arnav, Khushi says stopping in front of him looking in his eyes, Arnav shocked seeing Khushi looking into his eyes and addressing to him as Arnav with no ji, without saying anything he looked at Khushi in the eyes and listen what she is going to tell him.
Khushi:


Arnav, the first time I had looked into your eyes I have seen my old self in your eyes. There is a depth in your eyes that speak more than words, you are only hard from the outside and once someone gets to know you only then they can know how soft and loving you are in the inside. And I can see that soft and innocent Arnav, behind the great mask of ASR that you always put.
Arnav!! you are a great man who have lots of respect for me. You love me and care for me very much but can't show them and I understand that and also respect that. I don't know how I forgot that my name is Khushi Singh Vadhera not Khushi Kumari Gupta, and that I'm not legally married to you until Viren Bhai pointed it out. Really I don't know how I forgot that and keep on addressing myself as Khushi Kumari Gupta Singh Raizada.
Actually, Arnav, I really want to thank you for respecting all my feelings and caring for me as your wife even though it was not legal and also during our contract marriage. I know you had a strange way of showing your feelings, care and love and I understand why you did what you did. I know that you are not proud of the decision you made before but let me tell you that I have forgiven you for all your wrong decision you taken; please forgive me for taking the wrong decision too. I know it will have been much better and easier if I would have told you the truth, but I could not bring myself to do so. There was times when I wanted to scream at you telling you the truth but could not. I really wanted to tell you the truth today before our wedding but didn't expect it to come the way it did. Anyhow you know the truth now, and I am very happy about that. I love you Arnav.
******** TO BE CONTINUED SOON *******

HEY GUYS, I'LL BE BACK WITH PART 3 SOON, HOPE YOU ENJOY THIS STORY, PLEASE LEAVE YOUR COMMENTS BELOW.
THANK YOU!!!

Jun 17
IPKKND - AR§HÏ STÖRY - PART 3 (By Eljessica) (Thanked: 53 times)
IPKKND - AR§HÏ STÖRY - PART 3
HEY GUYS, I'M BACK WITH IPKKND - AR§HÏ STÖRY - PART 3, HOPE YOU ENJOY!!

Arnav: I love you too Khushi. Actually, Khushi, I have always love I think from the very first time you had fallen into my arms. The very moment my eyes met yours I must have fallen for you but as usual my ego did not allow the great ASR to express his feelings instead force him to challenge you, in order to see to what extent you can go before you come to the breakpoint, I have to admit that you are a very strong lady that is very hard almost impossible to break. I'm sorry Khushi. I have always love you for the amazing woman you are, not for who you are. Really it never matter to me whether you are rich or poor, believe me I was only using that as a defense tool for myself.
Bending down on his knee before Khushi, extracting a Diamond ring from his pocket, holding Khushi's right hand; he finally says will you give me the honor to be your husband, will you marry me legally this time forever.
Khushi: Yes, with pleasure.
On hearing this Arnav happily put the ring in Khushi's ring finger and hug her.
Arnav: I love you, Khushi always have. There are many times I wanted to tell this but each time something bad happen even on that day on the terrace I wanted to propose to you. However, I saw Shyam embracing you and you telling him to give Di divorced, I was so heart broken thinking that you betray me and Di, Khushi in my life I have seen so many betrayals due to money that why I never believe in love before I met you.
(Taking a deep breath, emotionally) Khushi, I used to think my parents love each other but on that day... Khushi, it was Di's wedding that day we were all very happy, one minute, I was teasing Di the next minute, I saw my Mum crying and running towards her room with my Dad following crying; then I saw them arguing for the first time and suddenly saw Mum killing herself with a gun followed by my Dad. While I was frozen with shocked not being able to save them. (Crying) Khushi, I never used to be that hard before, actually I used to laugh a lot happily and freely, I was a carefree and fun-loving young guys but what happened that change everything.
Anjali (crying and hugging): Chotey! You never told any of us that you saw... Is that why you are so affected.
Arnav (crying): I never been able to talk about it, Di, till today, sorry.
Khushi (walking towards them): Arnav, Di; I am sorry, I should have tell you the truth about Shyam earlier, I wanted to but could not because I didn't want Payal wedding to break again because of me. But, I wasn't aware about Mum and Dad. However, Amma didn't know that Dad was married.
Anjali: Don't worry, Khushiji, it's all in the past now. It's time to be happy now. Thank you for giving me, my Chotey back, hugging Khushi and Arnav. I'm happy for both of you.
Arnav: Khushi! I was angry thinking you betray me and wanted to break Di's wedding, knowing you deep down I knew you can't do something like that, but my past keep coming in front of me laughing at me and I also could not afford to lose Di and you like I have lost Mum. I guess I love you so much that I couldn't accept to see you with anyone else. That's why I make you sign a contract marriage instead, on Akash and Payal wedding day, blackmailing you being well aware that was my only chance to make you mine. Nevertheless, believe me that was only an excuse if you know me you must have known that I wouldn't have done that to Akash. When you sign the contract silently I thought you really don't know me well, you must love Shyam. I'm sorry for forcing into a contract marriage.
Khushi: Arnav, Seriously, did you really think that I can love someone as boring as Shyam, really. Sorry Di, no offence!!!
Arnav (smirking): Boring, huh! So, does that mean that I'm exciting. Woah! That's a first.
Khushi (smiling): Of course, you are exciting. Arnav, you are more like a mystery that I enjoy solving, I guess.
Arnav: Seriously Khushi, mystery??????

Huh!!! Is that why you had put juice in my shoes.
Khushi (laughing):

Mango juice! Seriously, Arnav when you were putting your didn't you feel it was wet you continue and came downstairs.
Arnav: What do you think???

I didn't know who will do that… I wear it because I clearly knew it was your job.
Khushi: Ohhh! So, you wanted us to laugh…

Aww!!! How sweet of you!!! My Cutie Pie!!!!

But, you should have seen your face.
Anjali: Really!!!

Chotey!!!! Cutie Pie!!! Hihihi!!!!
Mamiji: Hello Hi Bye Bye!!!! Arnav Bitwa!!!!

Cutie Pie!!!
Madvi: Seriously, Khushi mango juice. How hilarious...

Arnav: But, Khushi... I'm still finding hard to believe that you was one of the best student of Oxford University and that you are a cardiologist.

I don't know why, but I always wanted to marry someone who did her studies in Oxford University since I was studying in Harvard University, but after meeting you I forgot all about it that until Viren mentioned that you did you study at Oxford University. How was it.. there tell me, did you have many...
Khushi quickly said smiling, I know what you want to ask, moving her eyebrows... What do you think?

Arnav: I know you didn't have any boyfriend. But you must have broken many hearts, I'm sure. So tell me...
Khushi: Making her mouth into O shape says, how would you know that I had boyfriend or not. Actually, I can't even count how many boyfriend I had... Let's see… Khushi was acting as if she was counting how many boyfriend she had... smiling.

Arnav:

LOL... I can tell you that you had none...
Khushi: Laad Governor!! How would you know?

Arnav: Khushi! You know actually I can assure you that you had none with fact if you want, Arnav softly whispered in her ears while Khushi was blushing. Arnav, enjoying this again whispered in her ears, Khushi you know you are blushing, what will everyone thinks what we're talking about... and one more thing last night was very special for me.
On hearing this, Khushi was more red than ever and open her mouth in bigger 0 shape. While, Arnav was enjoying very bit of that moment.
Khushi: Laad Governor!! I'm warning not to say one more word... Arnav continues to laugh at her. Okay... Okay... By the way how many girlfriend you had? Let see...
Arnav was shocked by that statement and said many. I'm sure you know one of them as Lavanya, remember...
Khushi:

Yep! Of course, how can I forgot, Lavanya, let me refresh your mind, if you can't remember, Lavanya was only your girlfriend for name just to stop girls to come near you, the great ASR and also to stop Di and Nani from getting you married. You never been able to love her or anyone because you because you always love me, and your eyes was always searching for me. Am I right...What happened now, enjoying the look in Arnav's face...
Khushi (continues): Yeah! For Lavanya, you were her boyfriend she tried very hard to get your attention as much as she can, but fail to do so at times. As for the marriage, you only accept because you were angry with yourself as you could not control your emotions that Diwali night, when you nearly end up kissing me. Khushi continues without realizing what she just said, and by the way last night... Khushi stopped suddenly realising what she was going to say in front of everyone, when she heard Virat saying Sissy, adult theme are not meant to be spoken before your little brother... and give my Jiju a break will you...
Khushi: Shut up Virat! (Knowing that he was just pulling her legs) Seriously, Virat, you of all people talking about adult theme, Woah! I'm must say I'm impressed.
******** TO BE CONTINUED SOON *******

HEY GUYS, I'LL BE BACK WITH PART 4 SOON, HOPE YOU ENJOY THIS STORY, PLEASE LEAVE YOUR COMMENTS BELOW.
THANK YOU!!!

Jun 22
IPKKND - AR§HÏ STÖRY - PART 4 (By Eljessica) (Thanked: 31 times)
IPKKND - AR§HÏ STÖRY - PART 4
HEY GUYS, I'M BACK WITH IPKKND - AR§HÏ STÖRY - PART 4, HOPE YOU ENJOY!!
Arnav: Since it's already late it's better if you stay with us tonight, it will also give us time decide when and where to perform the wedding as it's already too late now.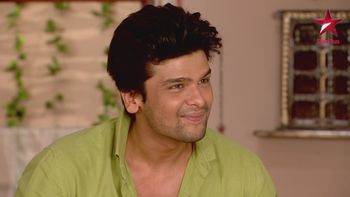 Virat:

Nice move Jiju!
NK: Impressive move, Nannav mere Bhai.

You naughty boy!!!
Anjali to Vanshika: What do you say, Auntyji? Please, stay with us, we have a lot to talk and home without Khushiji doesn't feel good.
Khushi: Mom please...

Vanshika: Jeevika! Madvi! Is it Okay with you two?
Jeevika and Madvi together: Of course, Ma. Anything for our Princess.
Swamni Bua (hugging her): Now, Happy. I missed you, Khushi.
Khushi: I missed you all. I'm very happy to see all of you. Thank you.

Khushi and Arnav together went to sink everyone blessing and hug Viren, Virat, Jeevika and Madvi. They both take Mansi and Janvi in their arms.
After sometimes they were all settled in the living room discussing about the wedding while the two love birds were busy in their room.
=============================================================
In Their Room:
=============================================================
Arnav: Khushi I'm sorry, for being late again today, but it was Dadi's fault this time. She kept on telling me the same thing over and over again until I was angry. I was even more angry when she stopped you from coming towards me, even more when she removed our family traditional bracelet from your hands and much more angry when she declared that our wedding is cancel. When I told you, I needed some time I never meant that we are not going to marry today, I only met that I needed sometime to cool down and I more angry when your brother shouted at me. I'm sorry, Khushi.
Khushi: It's Okay, Baby! I do understand. Khushi says kissing Arnav on both cheeks.
Arnav: Woah! I really need to get used this persona of yours, its very new to me; it's like, I hardly ever know you. I'm having shock after shock... First, Cutie Pie and now Baby. It's not that I'm complaining in fact I love it.
Khushi, I was thinking that after marriage, we can move to Chandigarh if you want, we'll be close to your family as they missed you and love you very much. You're all very close and happy together. I know how much you missed them too but I never known that you were sad. I still can't think how many sacrifice you done for me. Even Di is more settle in her life now. I'm happy to move out in order to start our own family now. You can also continue with your career there if you want. So what do you say?
Khushi: Arnav, I like staying here, but I also miss home a lot as I wasn't fair to them by away for so long without meeting them. However, I have one condition...
Arnav: So, you want to stay here once in a while, I'm okay with that...
On hearing that, how much her husband must know her, Khushi was very happy and kissed Arnav passionately on his lips, placing her hand in his hair encouraging him to deepen the kiss, Arnav immediately took control holding her waist. Their tongue were doing sensual fight, when they reluctantly break the kiss in order to breathe.
Arnav breathing heavily said I'm not complaining but I really need to get used of the new you. Woah! I have to admit Baby that was... AMAZING!!!
Khushi: Thank you, for everything, Arnav. Thank you... I'm sure you will love Chandigarh... But, I will miss everyone here. Please promise me that will to stay here at least once monthly. Please.... Making puppy face...
Arnav: After such an exotic spicy kiss like that, I must be really stupid not to agree with you, don't you think... He softly whispered smirking at her... Anything for you, Baby... Anything... (He says hugging her) I love you, he whisper in her ears before kissing near her ears following by trailing of kisses along her soft creamy neck.
Khushi: Enjoying the sensation, simply say Love you too...
Loving the effect he is having on her, Arnav continues his torture; moving his hands up and down her petite back.
They were completely lost in themselves, when they heard a knock on the door. Holding Khushi in his arm, he simply said coming, it was HP telling them that they are needed downstairs.
Arnav quickly told HP to tell them that they are coming and whispered to Khushi, this why I telling you we need to move out as quickly as possible, there no privacy here...
Khushi (laughing): Okay Husby, we'll move out after marriage, now let's go downstairs please...
Arnav: Husby, huh... I like that...

But where has Arnavji gone. How did you manage to speak so much Hindi without any English in it, while for the last few hours you have mostly been speaking in English. I have to admit that I was shocked to hear you speak English so brilliantly for the first time. Honestly speaking, you nearly give a heart attack there.
Oh!! Now, I understand how you've managed to do all the work assigned to you while working at AR Fashion and the mobile recording was not necessary just a trick. What a fool I was whilst you were enjoying the moment. I have to admit that you are a very good actress.
Khush (laughing):

LOL! I have to admit that was really fun, I did enjoyed working at AR Fashion especially with La and her two buddies. You really had to work hard in order to win that challenge because I can assure you that there nothing wrong with that report.
Arnav: Actually, I was impressed, but it never crossed my mind that you were this well educated. Now, I have to admit that appearance is deceitful at times and I have to admit that you are a very good actress indeed.
Khushi: I guess I just incorporate characters easily and go to such a depth that I forget my own personality at times, this what always happened to me during high school when I was doing drama and eventually I end up winning all the drama competition. I think that what happened to me when I called myself Khushi Kumari Gupta, everything just came naturally and I just go with the flow and rhythm, I guess. But, speaking Hindi without any hint of English assimilated I have to admit that was hard word and I had to practice for hours with Payal at times. And of course, your eyes helped me a lot...
Arnav: My eyes... How come...

Khushi: Because the moment I look into those depth in your eyes, I just become confident that I can do anything. It reminded me so much about my old self, the loner that I used to be even after being surrounded by so many people who love and support me in everything I chose to do. I don't know how, but deep down, I always knew that I was the only one person that can change those depth in your eyes and bring out that soft Arnav that you kept hidden inside the solid steel hard rock ASR the great that you project to the world.
Arnav, I have always love your eyes, it tells me so much about you beyond any words you spoke and I have always seen the love that you have for me, no matter how much you fight to hide it, I can read it in the depth of your eyes, she proudly says placing her hands in his hair gently forcing him to look into her eyes when they were disturbed by a loud, Woah!!
They were surprised to see Anjali, Akash, Payal, NK, Viren, Virat, Jeevika and Madvi standing outside the looking at them happily.
Virat: Woah! Woah! Sissy, I never knew that you're so romantic, you have really proven today that you are my sister.


Viren: I have to agree with you, Virat, she's most definitely our sister.

Jeevika and Madvi together: We have to agree too...
Akash: I can't believe that... unbelievable!

Anjali: Yes, Akash, simply unbelievable!
Nk:

No way.... Khushiji is that really you....
Payal: Yep! That the true Khushi.
Arnav stepping apart: What the...
Anjali slightly slapping him: No, what the... Chotey... We been waiting for you two for more than half an hour now.
Arnav: But Di...
Anjali: No buts, Chotey... let's go and you too Khushiji....
NK: Nanav mere bhai, I'm sure you are not going to like what the bure (old) have decided for you.
Akash: NK bhai... Not bure (old), bare (elders).
Arnav: Why? What's happening now...
Anjali: Let's go down, Nani will tell you what's they decided... They're all when together...
Nani: Chotey!! Khushi Bitiya!! We have all decided that your wedding will take place in one month time in Chandigarh in the Vadhera Estate, as Khushi Bitiya family want to host the marriage. And tomorrow, they are going back to Chandigarh and Khushi Bitiya will be accompanying them. After all, she been away for so long and they missed her.
******** TO BE CONTINUED SOON *******

HEY GUYS, I'LL BE BACK WITH PART 5 SOON, HOPE YOU ENJOY THIS STORY, PLEASE LEAVE YOUR COMMENTS BELOW.
THANK YOU!!!

Disclaimer: The views expressed above are member's views and this website does not comply with it. The views expressed may not be factually correct. Incase of any issue please contact us/report it to us.