Bigg Boss Fame Veena Malik Turns Pak TV Anchor, Rants Against PM Modi's Israel Trip
Jul 7, 2017
Bigg Boss Fame Veena Malik Turns Pak TV Anchor, Rants Against PM Modi's Israel Trip (By Telly_News) (Thanked: 1 times)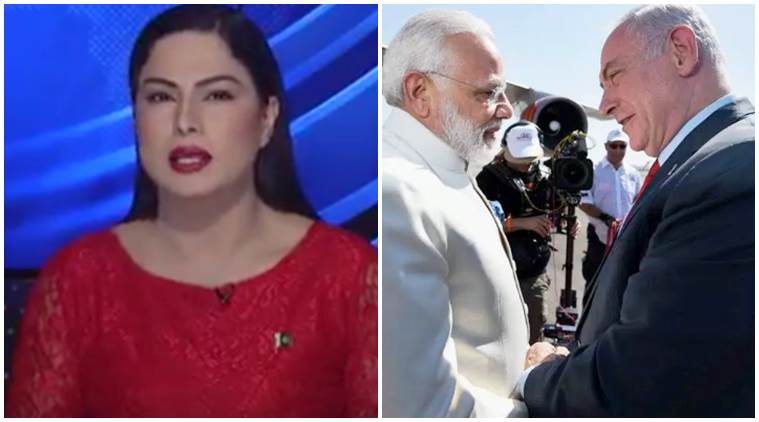 Prime Minister Narendra Modi is on his historic trip to Israel and while this is hitting headlines, former Bigg Boss contestant Veena Malik who is now working as a news anchor of a Pakistani channel seems to be upset with PM Modi and Israel's PM Benjamin Netanyahu's meeting! Yes, once again the queen of controversies, Veena is in news. Rather, she is reading news in a video where she is seen going on a rant against Indian Prime Minister Narendra Modi and Israel's PM Benjamin Netanyahu, and criticising their meeting.
Veena is currently working for the Pakistani channel called Pak News. In a video, shared by the channel on their Twitter page, she is seen hosting a news bulletin and her anger over the historic meet being the Indian and Israeli's PM is apparent. She even goes on to say that the two world leaders are meeting and planning to destroy the lives of thousands of Muslims.
Pakistan is closely watching Prime Minister Narendra Modi's visit to Israel as it can have serious implications in the region, a media report said. And this very news video of 'now' news actor Veena Malik is a proof of it! The Express Tribune reported that Pakistan officially does not comment on bilateral visits of other heads of governments and states, but it is closely following Modi's trip since it can have serious implications on strategic stability in the region.
Veena is thus seen calling the two nation, India and Israel as 'evil nations' who just aim to affect Muslims. Well, such words from this former Bigg Boss contestant is shocking and so it is to see her back on television in this avatar. Veena has done a number of projects in India, which gave her visibility for sure, though she was more into controversies. Looks like, even as an anchor, she loves being surrounded by controversies.
Watch Veena Malik's video as a news anchor on a Pakistani channel here:
By The Indian Express
Disclaimer: The views expressed above are member's views and this website does not comply with it. The views expressed may not be factually correct. Incase of any issue please contact us/report it to us.