ARSHI - PRESS CONFERENCE - OS
Apr 8, 2017
ARSHI - PRESS CONFERENCE - OS (By Eljessica) (Thanked: 40 times)
Press Conference: 
Reporter: Hello Ladies and Gentlemen!! We are here with some existing news about our most eligible bachelor, the king of fashion, Arnav Singh Raizada aka ASR.  I'm sorry to say that I'm going to break many hearts by announcing that Arnav Singh Raizada, is officially taken and happily married to his gorgeous wife Mrs Khushi Vadhera Arnav Singh Raizada, who are in conversation with us right now:
Hello Mr and Mrs ASR!! It's an honor to have you both in our studio today!!
Arnav: Hello Everyone!! Thank you, for having us.
Khushi: Hello Everyone!!! Actually, the pleasure is all ours!!! Thanks, for receiving us as your guest today!!
Reporter: So, what's the story behind your married being a hidden affair?


Arnav: My wife was not that keen to be the center of attraction. In fact she is not into the celebrity thing neither am I!!! We wanted to stay low-key as we did not see the point to be public as we like our privacy. Our family is quite traditional and like our privacy. 
Reporter: So, Mrs Khushi are you a Model? Oh!! Yes!! Your are in fact the model that fall into ASR arms two years back, isn't it!! 

Khushi: Yeah!! I'm the same girl that had fallen into his arm in the Lucknow Fashion Show, but I am not a Model, actually that day I had gone to Sheesh Mahal for another work but they though I was a model and send me to the ramp, taken by surprise I was about to fall, just to be caught by my prince charming!! It was our first meeting!! However, I'm also a Housewife and a Businesswoman running a Catering Business.
Reporter: Whoa! So you are a Businesswoman too!! So was it love at first sight!! 
Arnav (laughing): Actually, it was War at First Sight!!
Reporter: Oh My God!! ASR!! Are you laughing!! This is the first time we are actually seeing you smiling, happy and laughing!! 


Arnav: Yeah!! The credit goes to my lovely wife; she is my happiness, my Khushi!!

Reporter: So, You were saying it was war at first sight!!

Khushi: Actually, Both of us had a big ego; never agree with each other, we keep on fighting whenever we meet. We were like cats and dogs!!

Reporter: So how did you fall in love!! 
Khushi: Actually, my Jiji, Payal, fall in love with his Brother, Akash, when we were trying to help them to get together and finally we started falling for each other.
Arnav: Then, I realize that she is the one for me and I practically blackmail her to get married to me as I did not want to lose her. I could not lived without her another day without claiming her as mine so end up marrying her on the same wedding day as my Brother, Akash and her Jiji, Payal, which was last Valentine Day. So, we are getting married again this Valentine Day, officially and all media are invited to cover whole event. 

(Arnav kneeing in front of Khushi with this rare Argyle Pink Diamond in a heart-shape adorning this lovely Platinum and White Gold Ring in his hand): Khushi!!

 I want to tell you today, before everyone that I am very sorry for stealing you from your family like I did, but the true is that I love you very much and can't live without. Khushi, you are my smile, my happiness and my life. I had marry you hastily because when you love someone as much as I do, marriage is the only thing left to do, losing you was not an option and a day without making you mine was unbearable. And I want to marry you again for our family and for the world to know that you are mine and only mine. So, Mrs Khushi Vadhera Arnav Singh Raizada, do want to marry me again??
Khushi (Smiling with tears in her eyes): Yes!! 

 I'll marry you again and again, Arnav!! Because you've changed my life without even trying, and I don't think I could ever tell you how much you mean to me. I can't imagine how my life would have been without you in it. You have no idea how good it feels to wake up every morning in your arms, knowing you are mine and I am yours. I love you, Arnav!!
Reporter: Woah!!! So romantic!! I must say who would have thought that ASR could be so romantic!!
Okay!! Let's a play game to see your compatibility!! So, I'm going to say a word and you will each need to write whatever come into your mind in your given notebook without consulting each other. Ready!!
Arnav and Khushi (together): Ready!!!
REPORTER WORD: RAINY NIGHT
KHUSHI ANSWER:
FIRST HUG
ARNAV ANSWER: FIRST HUG
KHUSHI ANSWER:
ROSE - DI
ARNAV ANSWER: ROSE - DI
REPORTER WORD: CANDLE LIGHT DINNER
KHUSHI ANSWER:
ARMCHAIR
ARNAV ANSWER: ARMCHAIR
REPORTER WORD:

 

FIRST DANCE
KHUSHI ANSWER:
TERI MERI
ARNAV ANSWER: TERI MERI
REPORTER WORD:

 

FIRST KISS
KHUSHI ANSWER:
AMAN
ARNAV ANSWER: AMAN
Reporter: OMG!! Did you share you answer among each other you answer are exactly the same!!! Awesome!! It's like you are reading each other's mind!!! I'm a little curious here, did you first kiss this guy name, Aman!
Arnav (laughing): Oh!! No!! Never!! Actually, we nearly kiss for the time, but my PA, Aman call me before it happened, disturbing our moment!! I'm still waiting for Aman, to have a girlfriend!!
  Khushi (laughing): Well, I don't think it going to happen any time soon though; as he is always so busy follow following your order, Laad Gorvernor!! Poor Aman!!
Arnav: Oh!! Ho!! So, now Aman!! Is poor Aman, Now!! And me Laad Gorvernor!! 

 But, last night, you wanted to sent Aman to Kenya!! And, now he is POOR Aman!!
Khushi: Of course!! I wanted to sent him to Kenya, who knows he might find his pair in the wildlife as his ASR, always keep him busy here and he keep disturbing us at the wrong time…
Reporter: OMG!! Kenya!! How hilarious!! 

 LOL!! You are such a lovely pair!! Okay, now some question time!!!
Ø So, Mrs Khushi, what his favourite dish!!
Khushi: He loves pasta, less spicy food and anything I cook
Ø What her favourite dish?
Anvar: She loves Jalebi, any sweets ad street food, spicy food and internation cuisine including pasta. In fact she love eating and food is my biggest completion.
Kushi: Aww!! Arnav!! And my competitor is his laptop, Bluetooth and his PA, Aman.
Ø His hobby when he is free?
Khushi: Gardening
Ø Her favorite Hobby?
Arnav: Cooking
Ø What does he do when he is Angry?
He cuts his plants when he is angry.
Ø What about her, what she does when she is upset?
Khushi cooks Jalebi when she is upset.
Ø Khushi: Does he have any favorite color, he like you to wear?
Actually, he does not mind what color I wear. But, he most like to see me in red as it's his favorite color. 
Reporter: Woah!! You are definitely made for each other!! Now, we are going to have a little gol gappa completion between you two. What's say? Hope you love Gol Gappa!!
Khushi: Actually, Arnav can't eat much spicy food, and he can at most eat Gol Gappa!! So, sorry we won't be able to have competition, but I'll definitely eat some. 
Reporter: Oh!! Khushi!!! I must say you are so cute and caring!! You are very lucky ASR!! That's why you married her quickly!!!
Arnav: Yeah!! I'm absolutely very lucky to have Khushi as my wife!! She is such a Gems!! And she is unquestionably Mrs. ARS in all sense!! My Perfect Match!! Despite, coming from such a well to do family, in spite having all these servants at home she likes cooking all my meals personally, by the time I wake all my thing are all ready from my shoe to tie, from files to my car key, from my tea to breakfast, my medications; everything, sometimes I wondered how would live even a minutes without her, she even brings me fresh lunch everyday and even personally clean our room. There is simply nothing I could ever asked more than her, in fact sometimes I feel I don't deserve her.
Khushi: And sometimes I feel if I real deserve you, you know all needs and wants before me, you even know my pain before me. You always wipe my tears before it touches my cheeks!!
Reporter: Woah!! So profound love, simply make for each other!! 


Khushi: Woah!! These are really nice Gol Goppas!! Have some, feeding Arnav!!!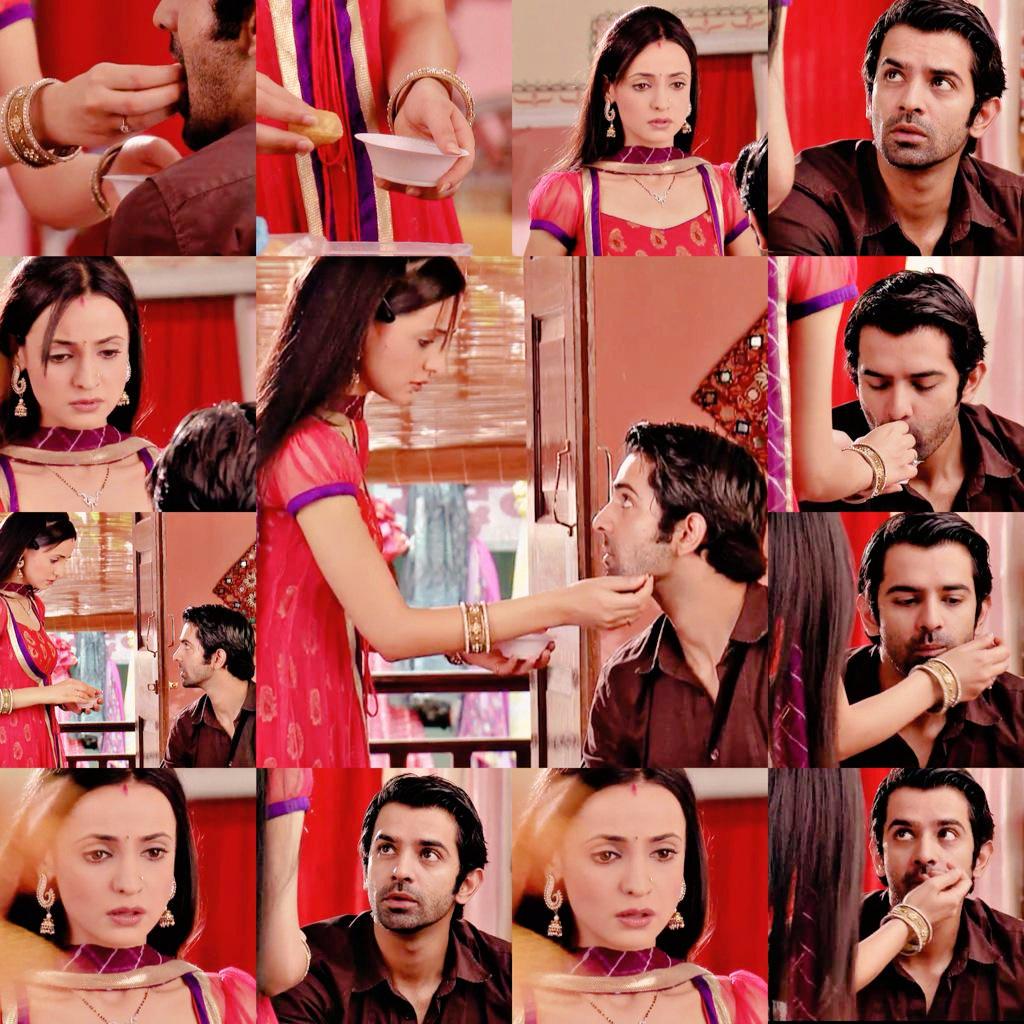 Reporter: So, this is the end of our Press Conference, we had a very lovely time with this two lovely couple today. Thank you, for this privilege of doing having this conversation with you today!! We had a great time with you, and all our best wishes are with you!!
Arnav and Khushi: Thank you, for such a great time. 

THANK YOU!!!

Disclaimer: The views expressed above are member's views and this website does not comply with it. The views expressed may not be factually correct. Incase of any issue please contact us/report it to us.