Who is the most healthy? Who has the best body?
Oct 16, 2016
Who is the most healthy? Who has the best body? (By Healthy Bites)
1/25 SPLASH NEWS
25. COURTENEY COX, ACTRESS
At 47, Courteney has never looked better. Her secret? Interval training, which fires up her metabolism and burns more fat. Courteney's trainer, Michelle Lovitt, varies her cardio between the elliptical and treadmill. Michelle also keeps Courteney's body guessing with resistance-band and power-plate strength training.
If you've reached a workout plateau, give this interval training routine a try. It combines fat-burning cardio with moves that target your entire core rather than individual muscles, so you'll burn more fat while toning up.
24. Olivia Munn, Actress/Model
2/25 SPLASH NEWS
24. OLIVIA MUNN, ACTRESS/MODEL
Running is the one exercise Olivia will not do anymore. At 31, she prefers surfing, hiking, and Pilates. Her healthy-eating guideline is simple: If she can't see it, she won't eat it, so she keeps unhealthy foods at bay.
Still looking for the diet trick that will work for you? Quit playing head games and get real with these tips.
23. Nicole Scherzinger, Musician/Actress
3/25 SPLASH NEWS
23. NICOLE SCHERZINGER, MUSICIAN/ACTRESS
Nicole's trainer, Adam Ernster, focuses on building muscle. Nicole gets those killer abs by using a stability ball to do crunches, which makes them more challenging. To tone her legs, she runs, dances, and does plenty of squats and lunges. By avoiding carbs, dairy, salt, and late-night munching, Nicole is able to keep her physique tight.
Controlling your sodium intake is more complicated than just putting down the saltshaker. You may be surprised by some of the saltiest foods out there.
Keep your diet on track with The New! Abs Diet Cookbook. Get your copy today!
22. Halle Berry, Actress
4/25 SPLASH NEWS
22. HALLE BERRY, ACTRESS
Trainer Harley Pasternak has worked with 45-year-old Halle—putting her through his 5-Factor plan, a fast-paced strength-training and cardio circuit that takes only 25 minutes! One of the actress's favorite workouts, kickboxing, tones her arms without adding too much bulk.
Women's boxing will make its debut at the 2012 Olympics in London, marking the first time that all summer sports will have female athletes. Go for the gold with this do-anywhere boxing workout!
21. Jennifer Lopez, Musician/Actress
5/25 GSI MEDIA
21. JENNIFER LOPEZ, MUSICIAN/ACTRESS
Celebrity trainer Gunnar Peterson guides 42-year-old J.Lo through lower-body exercises like weighted sumo squats, single-leg squats, and reverse lunges to front kicks to keep her butt and legs looking fabulous. To really make her toned lower half stand out, she exfoliates and applies tanner to her legs.
Make your legs shine with this contouring trick: Dust a pale-pink shimmer powder down your shins in a straight line. It will draw eyes vertically and make your legs look longer.
Want to look better in your two-piece? Pick up a copy of Look Better Naked! You'll get six weeks of eating plans, workouts, confidence-boosting advice, and more!
20. Vanessa Hudgens, Actress
6/25 FAMEFLYNET
20. VANESSA HUDGENS, ACTRESS
Post-workout pics of this 23-year-old actress regularly circulate celeb websites. Each photo captures her healthy exercise glow along with some awesome workout clothes. Hey, sometimes the perfect gym outfit can be all the workout motivation you need!
Improve your fitness fashion with these stylish workout clothes.
19. Cameron Diaz, Actress
7/25 SPLASH NEWS
19. CAMERON DIAZ, ACTRESS
When she's not surfing (one of her passions), the 39-year-old SoCal native sculpts her long legs and tightens her tummy by joining trainer Teddy Bass in the gym—three or four days a week, 60 minutes a session—for either Pilates, cardio, weight training, or a mix of all three! And although this girl loves food, she has no problem cutting out white sugar and alcohol to slim down before big events.
Get jaw-dropping results with this Pilates workout! It combines the body-sculpting benefits of Pilates with fat-melting cardio training.
Take control of your appetite! The Belly Melt Diet is designed to keep hunger hormones in control. Buy the book!
18. Maria Menounos, Television Host
8/25 GSI MEDIA
18. MARIA MENOUNOS, TELEVISION HOST
Maria—in spite of two cracked ribs and injured feet—is in awesome shape thanks to her participation on Dancing with the Stars. That's not to say she didn't have a killer body before her DWTS debut! Maria's used to getting creative with at-home (or at-hotel) workouts and trains with Andrea Orbeck on a regular basis.
Maria's biggest exercise motivator? Music. Need some new tunes on your workout playlist? Check out our playlist library!
17. Rihanna, Musician
9/25 GSI MEDIA
17. RIHANNA, MUSICIAN
The 24-year-old Barbados native exudes confidence when she's walking those white-sand beaches in a tiny bikini, but it's not without hard work. When she's on the road, the singer does her best to squeeze in at least three workouts a week, at least 25 minutes a day. Biking or cycling are also part of her regular cardio routine, as well as exercises like jumping rope without a rope, stationary jogging, and jumping jacks.
She's also worked with celebrity trainer Harley Pasternak on her diet—incorporating five well-balanced meals a day that are packed with protein, fiber, healthy carbs and fats, and a sugar-free beverage.
Get your meals in check with Women's Health's Flat Belly Day meal plan!
What's the 15-Minute Fat Loss Secret? Find out here!
16. Gwyneth Paltrow, Actress
10/25 SPLASH NEWS
16. GWYNETH PALTROW, ACTRESS
The 39-year-old actress–turned–country singer is a healthy-eating superstar. Through her blog, Goop, she reveals what helps her stay in amazing shape: a balance between healthy eating and exercise.
Gwyneth's cardio of choice is dancing, and she uses resistance bands and lightweight dumbbells for toning. Training with Tracy Anderson whenever she can, Gwyneth loves a good sweat.
For fun recipe ideas, check out Gwyneth's cookbook, My Father's Daughter.
15. Jessica Alba, Actress
11/25 SPLASH NEWS
15. JESSICA ALBA, ACTRESS
This 31-year-old Golden Globe–nominated actress and mom refers to herself as an amateur chef. In fact, some of Jessica's recipes have been featured on sites such ashttp://epicurious.com/. By cooking at home, Jessica knows exactly what goes into her food: nothing artificial.
Jessica's all-natural lifestyle doesn't stop in the kitchen. She's actively involved with charities such as Safer Chemicals, Healthy Families, ONE, Habitat for Humanity, and Project H.O.M.E., and she even founded The Honest Company, which creates unquestionably safe and eco-friendly baby products.
Green your home with this eco-friendly home decor.
Get ready for bikini season! Buy Tone Every Inch: The Fastest Way to Sculpt Your Belly, Butt, & Thighs!
14. Diane Kruger, Actress
12/25 SPLASH NEWS
14. DIANE KRUGER, ACTRESS
The 35-year-old former ballet dancer isn't a fan of the gym. Her hiking and camping hobbies keep her svelte, while her love of cooking has made it easy to keep a clean diet. When this actress feels as if she's gained weight, she simply watches her portions.
Break the clean-plate habit with some simple tricks—and lose inches instantly.
13. Bar Refaeli, Actress/Model
13/25 SPLASH NEWS
13. BAR REFAELI, ACTRESS/MODEL
The 26-year-old Sports Illustrated swimsuit model has a kick-butt workout—literally. The Israeli supermodel's trainer takes her through different martial-arts-style kicking sequences that work the abs, butt, and legs.
Kickboxing is a calorie-blasting powerhouse workout for the whole body. Try this do-anywhere boxing routine with high-intensity moves that sculpt muscles.
Want to feel good fast? Check out Dr. Oz's book You Being Beautiful!
12. Leighton Meester, Actress
14/25 GSI MEDIA
12. LEIGHTON MEESTER, ACTRESS
Justin Falahi, Leighton's personal trainer, takes her workouts outdoors. Strength-training moves on park benches and playground workouts make for a fun outdoor sweatfest. Before each workout, Leighton takes five minutes to meditate and de-stress, a perfect me-time moment.
Relaxing is all about getting your mind off the stresses of life.Meditating can help you attain a sense of calm and peacefulness.
11. Kristen Bell, Actress
15/25 SPLASH NEWS
11. KRISTEN BELL, ACTRESS
At 31 years old, this hilarious actress attributes her killer figure to always taking the stairs.
Yoga and strength training twice a week give her sexy muscle definition. As for food, Kristen finds counting calories useful and even comforting because it helps her know she's staying on track.
Need assistance with your calorie-counting math? Follow WH's formula and reach your goal!
Send your metabolism sky-high and drop 15 pounds in six weeks with The Women's Health Diet book!
10. Kate Hudson, Actress
16/25 FAMEFLYNET
10. KATE HUDSON, ACTRESS
When Kate's not running after her two sons, Ryder and Bingham, she catches a Pilates session or dance class. She's also a fan of Core Fusion, a mix of yoga, Pilates, ballet, and strength training.
As for diet, Kate's trainer Ashley Conrad recommends eating five times a day—making sure to include lots of lean protein. Not sure which proteins are the best? We sort it all out for you with this protein prescription plan.
9. Gwen Stefani, Musician and Fashion Designer
17/25 SPLASH NEWS
9. GWEN STEFANI, MUSICIAN AND FASHION DESIGNER
Gwen's weightlifting, boxing, and cardio workouts continue to pay off. The 42-year-old musician and mom is always active. Whether she's skiing, power walking, or chasing her kids, Gwen is rarely sitting down.
Whenever possible, Gwen chooses organic, grass-fed, and local food to keep herself—and her family—healthy.
Is organic food better and worth the extra green? We dig in and find out.
Get a flat stomach with The Women's Health Big Book of Abs. Order now!
8. Olivia Wilde, Actress
18/25 PACIFIC COAST NEWS
8. OLIVIA WILDE, ACTRESS
The 28-year-old likes to hike with her dogs, a bulldog named Lola that she lovingly refers to as "a side of ham" and a fluffy mutt that goes by the name of Paco. Although Olivia tries to avoid eating bread and pasta, her love of Italian food makes that difficult. Portion control is key for this toned actress.
Don't be afraid of carbs. Whole grains are nutritional all-stars. Eating them can help reduce the risk for heart disease and diabetes and may even help you lose weight. Just be wary of these bad carbs.
7. Rachel Bilson, Actress
19/25 FAMEFLYNET
7. RACHEL BILSON, ACTRESS
Those curves aren't from trips to the gym. This 30-year-old's favorite form of exercise is dancing "or some sort of sport," she says.
Rachel reinvested in tennis equipment (she played as a kid) so she and friends could hit the courts in L.A.'s Griffith Park, which is also a great place to hike. On days when she doesn't feel like leaving the house, she pops in a yoga DVD.
For a relaxing—and challenging—workout, give these yoga moves a try.
Take control of your appetite! The Belly Melt Diet is designed to keep hunger hormones in control. Buy the book!
6. Selena Gomez, Actress/Musician
20/25 SPLASH NEWS
6. SELENA GOMEZ, ACTRESS/MUSICIAN
You would never guess that this multitalented 19-year-old struggled with a junk-food problem. But that is reportedly what landed Selena in the hospital last year. Fast-forward one year and she says she's eating healthier and feeling better! Simple changes like adding more lean protein and vegetables can make all the difference.
If you need to make over your diet, pick up a copy of The Women's Health Diet book!
5. Katharine McPhee, Musician/Actress
21/25 STARTRAKSPHOTO
5. KATHARINE MCPHEE, MUSICIAN/ACTRESS
Training for her role on Smash keeps this 28-year-old starlet in killer shape! When she's not in five-hour dance rehearsals prepping for her role as Karen Cartwright, she works with personal trainer Oscar Smith. Smith's routines incorporate dynamic moves like burpees, pushups, and alternating lunge jumps.
Get the most out of your workout by incorporating these new exercise moves.
Get awesome fit tips! Buy Tone Every Inch: The Fastest Way to Sculpt Your Belly, Butt, & Thighs!
4. Brooke Burke, Television Host
22/25 SPLASH NEWS
4. BROOKE BURKE, TELEVISION HOST
This 40-year-old mom of four shares her workout secrets in her Transform Your BodyDVD. In this challenging fat-burning workout, Brooke leads you through a three-part sequence of dynamic exercises that work your total body.
After you sweat it out, make sure to fully cool down. Incorporate these post-workout tips for a well-rounded exercise routine.
3. Lea Michele, Actress
23/25 FAMEFLYNET
3. LEA MICHELE, ACTRESS
Lea stays in shape by tackling the trails in picturesque Runyon Canyon—a 15-minute drive from her apartment—and working out with L.A. health counselor Devon Butler. "We do a lot of yoga during red-carpet season," says Butler. "Lea has so much attention on her, and this is so calming." Lea especially likes Bikram, poses and breathing exercises done in a heated studio for deeper stretching and stress relief.
Thinking of incorporating yoga into your workout routine? Here are some facts about Bikram yoga.
Find easy ways to look and feel good fast in Dr. Oz's book You Being Beautiful!
2. Marisa Miller, Supermodel/Actress
24/25 SPLASH NEWS
2. MARISA MILLER, SUPERMODEL/ACTRESS
This 33-year-old model is known for her phenomenally flat belly. Her secret? She targets her obliques. "Working your obliques pulls everything together and gives you a slim waist," says Marisa. One of her favorite moves is the alternating crunch.
When it comes to keeping a diet on track, she offers this advice: "Eating smart is all about having an awareness of your body. The most obvious way to do that is by seeing it. So when you're trying to lose weight, spend more time wearing less."
Try it for yourself and look better naked!
1. Julianne Hough, Dancer/Musician/Actress
1. JULIANNE HOUGH, DANCER/MUSICIAN/ACTRESS
This multitalented 23-year-old hates the gym and turns to celeb fitness trainer Tracy Anderson for total-body "dance-y" workouts. When on the road, she mixes up sessions with her trainer and P90X DVDs. After all that hard work, Julianne follows a strict diet. When dining out, her order generally looks like this: a mixed green salad with lemon (and without cheese) and salmon with mixed vegetables—no oil or salt
Dec 19, 2016
7 Bollywood Actresses Whose Fitness and Diet Secrets You Should Learn (By Healthy Bites)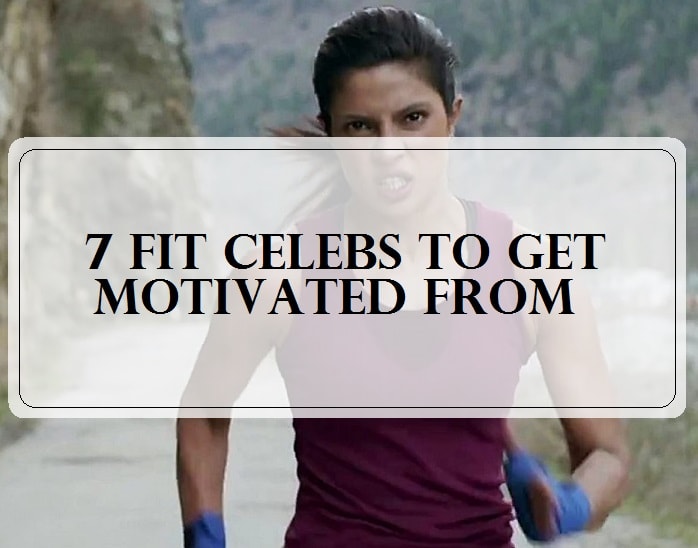 Top 7: Hot Bollywood Actress and their Fitness and Diet Secrets, Workout Routines
In today's busy & stressful life, being fit & healthy is truly considered a blessing. We all look up to different celebrities for their healthy lifestyle & exercise regime. Let us take a look at some of our top Bollywood divas & how they manage to remain in perfect shape at all times. These Indian actresses have grueling work hours yet manage time for their gym and workout routines along with following a healthy diet plan morning to night. They have lost weight and gone
from fat to fit
. Its not just about weight loss but overall health and fitness. And all this hard work have gained them titles like hot and ****y! Let's see the best fit
bollywood actresses and their fitness and diet plans
.
List of Fitness Secrets and Diet Plans of Top Bollywood Actresses:Deepika Padukone: Secrets to her Athletic Body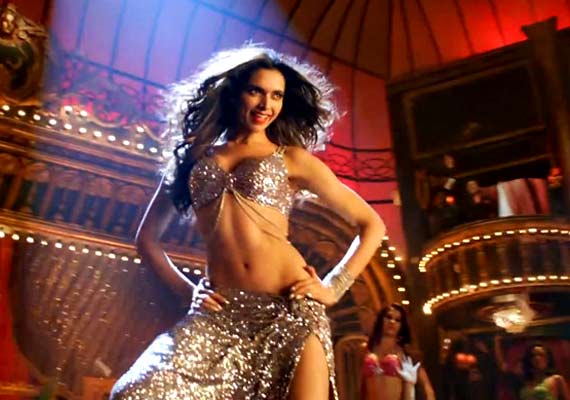 Deepika Padukone is certainly the reigning Queen of Bollywood & one of the fittest actresses in the hindi film industry today. Being a badminton player, she has always been in great shape since childhood. Her fitness trainer Yasim Karachiwala helps her stay fit at all times. Deepika has a great metabolism structure & she believes in having a healthy body rather than just being slim. Her perfectly toned body is the proof of her discipline, hard work & a strict diet.
Her Workout and Fitness Secrets:
Her fitness regime includes Pilates, cardio & strength and weight training. She also practices Yoga & does Surya Namaskar & asanas like Cat Stretch, Warrior Pose & shoulder stands. In addition, she also does Pranayama & meditation to relax her mind. She is not a gym freak & whenever she is busy shooting, she indulges in some physical activity like running, swimming or simply walking. Thus, she stays active which helps her keep a well-toned body. Her fitness mantra is 'Make fitness a way of life'. She also incorporates dance in her fitness regime which further helps her shed the extra calories.

Her Diet Secrets:
She does not like to cut down on her favorite foods & eats meals in small quantities every two hours. She eats fresh fruits & her diet is a proper mix of proteins & carbohydrates. She has a sweet tooth & loves chocolate, but she makes up for indulging in the guilty pleasure by going for extra workout sessions. She is a teetotaler which totally works to her advantage. She drinks plenty of water & takes a good night's sleep to remain healthy & glowing!
Bipasha Basu: Fitness Enthusiast and Strongly Built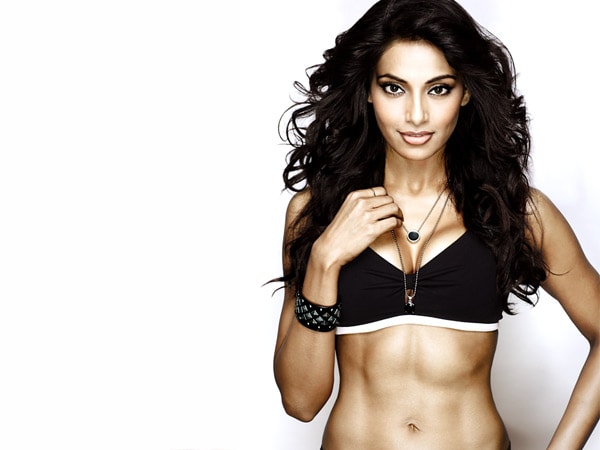 This Bengali beauty is another fit actress everyone looks up to. She had everyone talking about her perfect figure in the movie Dhoom 2. Bipasha works very hard to stay fit and in perfect shape. She follows a strict diet and workout regimen. She has also released fitness DVDs titled 'Love Yourself'. She is a fitness enthusiast & does not believe going on crash dieting or taking slimming pills.

Instead, she emphasizes on taking a balanced diet & avoiding junk food. She drinks plenty of water daily to flush out impurities & loves coconut water. This keeps her hydrated & makes her skin radiant too! She works out on treadmill & practice cycling & kick boxing. She makes it a point to alternate between different activities to prevent it from becoming monotonous. She also emphasizes on taking a good 7 to 8 hours of sleep every night.
Kareena Kapoor Khan: From Size Zero to Overall Fitness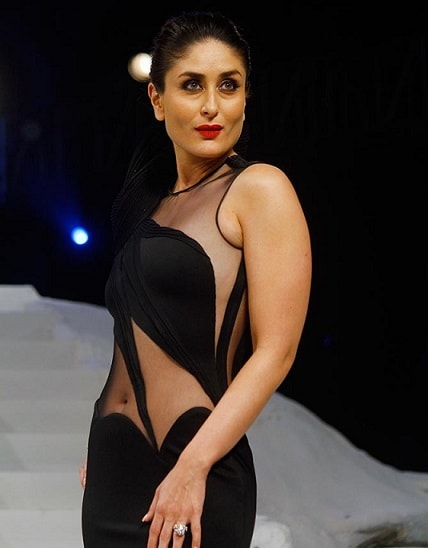 Kareena is a truly a style icon of Bollywood. She was in the limelight for her size zero figure in the movie Tashan for which she worked really hard. Kareena does pilates & cardio exercises but she focuses most on doing Yoga. Kareena's trainer Payal Gidwani Tiwari made her fall in love with Yoga. She religiously devotes at least two hours to yoga every day, no matter how busy she is. She loves to do power yoga which includes with Surya Namaskar, Bhujangasana, Virabhadra & Bikram yoga. Her cardio involves running, biking and swimming. Kareena takes a healthy diet and follows a strict exercise regime.

She loves food & does not believe in going without food for days in order to lose weight. In fact, she even includes sugars & ghee in her diet but in moderation. She eats everything but in a balanced way & she also emphasizes on the significance of a good night's sleep. She eats small meals after every 2-3 hours and drinks at least 6-8 glasses of boiled water every day.

Priyanka Chopra: Fitness and Diet Secrets Revealed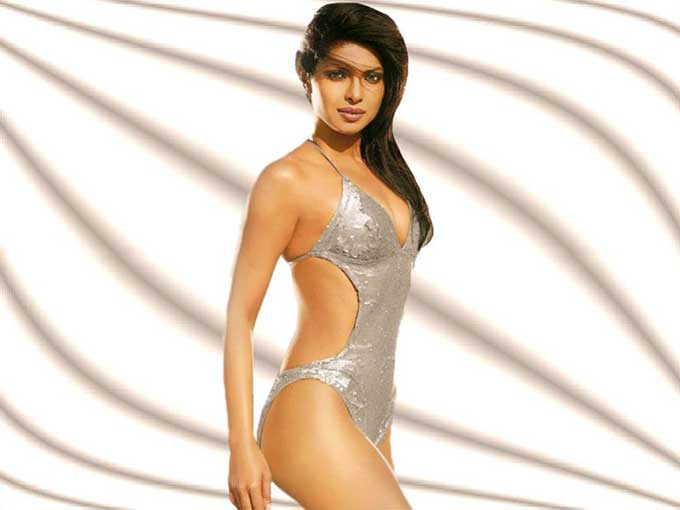 Our very own Piggy Chops is proud of her perfect ****y figure & never forgets to flaunt it & rightfully so! She looked ravishing in the movie Don & never shies away from donning a bikini either. Although she has a natural lean figure & does not gain weight easily, but she makes it a point to stay healthy and fit. She takes a simple and well balanced diet & eats in small quantities every two hours. She is not a gym freak, but she works out regularly on treadmill & does cardio. In addition, she practices running, spinning, push-ups & lunges.
Yoga is also an important part of her workout regime since it helps in to keep both her mind & body She enjoys doing stunts and also learnt Gatka or desi martial arts. Being a true Punjabi kudi, she loves food. She indulges in her favorite dishes once in a while but strictly stays away from fried & fatty food. She takes in plenty of fluids & loves drinking coconut water. She includes a lot of green steamed veggies and fruits in her diet as well.
Shilpa Shetty Kundra: Secrets to her ****y figure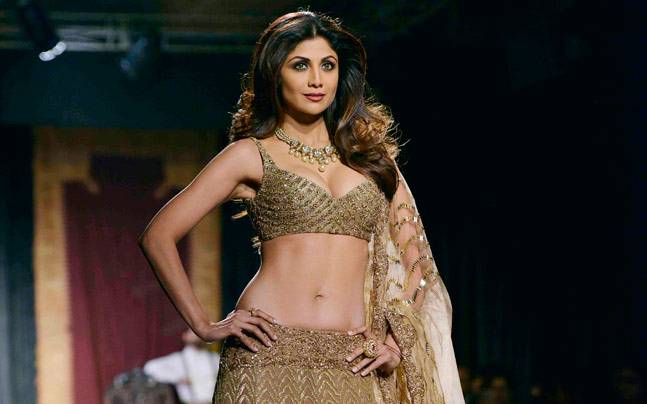 Shilpa Shetty is one actress who has definitely turned ****ier & fitter with age. She has come a long way from her robust body frame in the early years. Today she has one of the best bodies in B-town. She has released DVDs on yoga and pranayam as well. However, she weighed as much as 80 kilos during her pregnancy. However, she started working out in a few months & was back in her ****y avatar. She is truly an inspiration for new mothers to get back in shape and shed the extra kilos. She revealed that she used to work out in the afternoon when the baby was asleep.
She believes in taking a balanced diet & starts her day withamla or aloe vera juice. She avoids white carbs & instead includes brown carbs in her diet. She abstains from consuming snacks in between the meals. Her fitness regime includes cardio workout, strength training & yoga & meditation. She has allocated different days in a week for different workouts. She also takes carbs & non-carbs rich diet on alternate days. She is strongly against dieting & believes in eating healthy & exercising well. She loves to drink green tea and stays away from sugary drinks. She makes it a point not to eat after 8 pm and takes her last meal at least three hours before going to bed.
Malaika Arora Khan: how to get her hourglass figure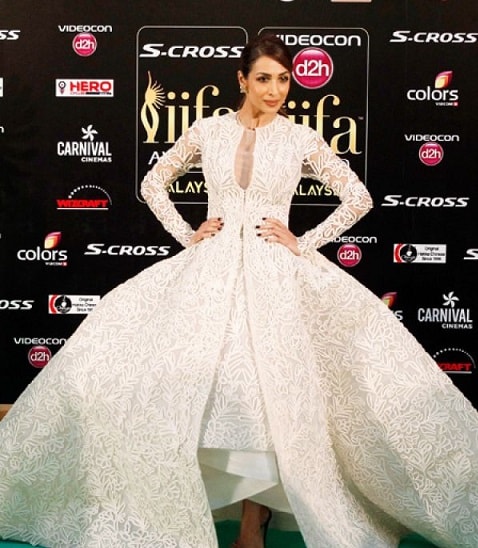 A mom with an hourglass figure & loads of oomph, she literally puts many of us to shame. Malaika believes in eating healthy & starts off her day with a glass of warm water with lemon and honey, followed by a liter of water. She also drinks coconut water, green tea & healthy juices to keep her well hydrated. She follows a five meal plan with nutrient rich foods & eats everything but in moderation. However, she avoids fried & oily food. She cooks with extra virgin olive oil. She believes in an early dinner & does not take any carbs at night. She truly believes in making breakfast the heaviest meal followed by lunch & then dinner the lightest one.
In addition to the cardio exercises in the gym, she also indulges in aerobics, hip-hop & Yoga to work on different parts of her body. She works out thrice a week practicing squats, kickboxing & free weights. She also loves to jog & swim whenever it tends to get monotonous. She also dances to keep herself fit & knows many dance forms like Bharatnatyam, Jazz Ballet and Russian Ballet.
Parineeti Chopra: Weightloss and Workout Secrets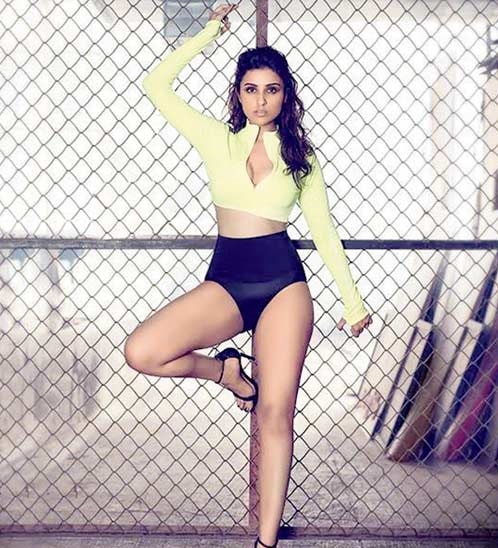 Parineeti took everyone by surprise when she posted photos of her latest fitness photoshoot a couple of days back. After shedding a lot of kilos, she is back in a new avatar & is looking breathtaking. She has been on the heavier side since her childhood days & has a tendency to gain weight easily due to her poor metabolism After being criticized for her weight, she embarked on a journey of losing the extra kilos through intense workout sessions & a strict diet plan.
She starts her day with jogging & then moves on to activities she likes such as swimming and horse riding. Apart from hitting the gym, she also does Yoga & meditation which helps her stay away from stress. She takes her dinner at least two hours before bed & is also doing a form of Kerala martial arts called Kalaripayattu. She now feels that she is much fitter & healthier now. Parineeti is truly an inspiration for all of us & her journey from fat to fitter is commendable.
By Contributor: Stuti
Apr 19, 2017
Top 12 Bollywood Beauty Secrets (By Healthy Bites )
Ever met any of the gorgeous Bollywood actresses? I assure you, they look even better in real life. Looking good is an art, and not entirely nature's act. And you do not have to be a big shot actress to look gorgeous. You can take a few pages out of the beauty diaries of these pretties and use them to boost your looks.

Perhaps you dismiss the Bollywood stars' beauty as the handiwork of dozens of well trained beauty professionals? Well, you might be surprised to know that most stars have a few beauty secrets up their sleeves. It is not always about hair and makeup. Since they must look presentable at all times, they need to take extra care of their looks. This means that even on a regular basis they need to follow certain regimes that enhance their beauty. Generally these are household beauty tips that the stars may have been using even before their stardom. This means that even you can try them out.
12 Bollywood Beauty Secrets You Should Know
If you are eager to know the Bollywood actresses beauty secrets, then read on ahead:

1. Fitness Secrets
More than their appearance, many actresses believe that inner beauty or a healthy system is extremely important than anything else. Looking glamorous with makeup is still easy but getting your systems function properly is a tough task considering how much junk we eat these days.
Yoga, swimming, exercise and morning walks are simple activities that most of our Bollywood stars incorporate in their daily lives to beat the stress and also to stay healthy and look young.
You can pick a couple of good healthy habits from all our beautiful ladies in Bollywood. On one hand, Shilpa Shetty's Yoga is becoming very popular while Bipasha Basu loves to spend quality time in the gym.
Getting a right trainer who understands your body does a great job to attain that perfect curve, unless you want to be size zero like once Kareena used to be.
Staying fit and keeping one's mind at peace is the best beauty secret that all of us would agree. Take Karishma Kapoor for example, a mother of two, Karishma Kapoor still gives some of the newcomers a run for their money. So is Madhuri Dixit, whose smile can still make your heart skip a beat.

2. Hydration
We all require around 2 liters of water every day to stay healthy. But for the beauty queens, water is not a mere necessity but a step towards beauty. Drinking ample amounts of water, but not overdoing it, ensures that the skin remains supple. The more water you drink, more toxins are washed out of your body. You can also try detox drinks to keep yourself hydrated. Actors and actresses take care to keep themselves hydrated at all times.
3. Turmeric
Turmeric, in its raw form, can do a lot of good to our body. Raw turmeric is a good disinfectant, thus its intake can help you stay healthy. At the same time, raw turmeric can offer your skin fairness and glow. So, you can either ingest it with milk or rub it on your skin directly.
4. Coconut
Coconut is a beauty saver for most actors and actresses. Apart from the fatty flesh, the coconut water as well as coconut oil can help a lot. Coconut water is an excellent antioxidant. It can flush all the toxins out of your body. Coconut oil can be excellent for your skin and your hair.
5. Lemon, Honey And Warm Water
Those who are trying to lose weight will definitely benefit by drinking honey, lemon and warm water. The mixture helps shed excess flab. The drink should be taken on an empty stomach to ensure best results.
6. Other Oils
There are various kinds of oils used by Bollywood stars to improve their skin and especially their hair. Most of these oils are readily available in the market like the oil extracts of amla, almond, castor and reetha.
7. Greens
A healthy stomach can result in a healthy body. Taking a lot of greens ensures proper roughage intake. This means that your body will be cleared of all the toxins with the help of the greens. So, have a green diet to stay fit and beautiful like the stars.
8. Milk And Yoghurt
Both milk and yoghurt can boost radiance. One can have the milk and yoghurt or one can apply them on their skin to get the desired results. This is one of the wonderful beauty secrets of Bollywood actresses.
9. Fish
Adding fish to your diet is a good way of giving your body the much needed nutrients. Fish offers the antioxidants that your body needs. Fish also offers nutrients that have an anti ageing effect on your skin.
10. Moisturize
Drinking ample quantities of water may not be enough to ensure supple skin. You need to keep your face and body moisturized at all times. Actresses, like Nargis Fakhri, know the benefits of using a moisturizer. Use moisturizers that suit your skin. Use day creams during day and night creams during night. Know your skin type. This is essential if you want to have a smooth and supple skin.
11. Cleanse
Keeping your skin clean can be the best way to start looking gorgeous. If you do not cleanse your skin then the pores will get blocked and your skin will no longer look radiant.
12. Makeup Secrets
When you see clear skin, matte finish or glowing face on screen, it has much to do with how the makeup artist has used the brushes to enhance the right contours and features.
Looking beautiful is a tough task especially when you have a troublesome skin. To hide the flaws with the right makeup is quite an art. Many Bollywood actresses swear by three makeup essentials, namely, the right foundation matching your skin tone, a concealer and nice compact that evens out the shade of your skin.
Selecting the right colour for yourself is extremely important to look pleasant. Do not follow makeup trends blindly.
Bollywood divas like Rekha, Hema Malini, Aishwarya, Juhi, Sonali Bendre, and Karishma are living examples of how a healthy lifestyle can camouflage your age.
I guess now it's obvious that beauty is a matter of routine and nurturing rather than something endowed by nature. So look like a star by imbibing few of these Bollywood beauty's beauty secrets.
Jun 4, 2017
Now You Can Also Look Like Bollywood Actress, Check These Tips (By Healthy Bites )
Lesson 1
1. Remove ALL excess facial and body hair
I know, it's not fun. But the difference it makes will be pretty astounding. Most Bollywood actresses probably undergo laser hair removal to permanently remove their facial and body hair. Because laser hair removal is not an option for everyone, here are some other approaches to consider:
Face: Use a depilatory cream for the cheeks, chin, and sideburns. Use tweezers to pluck your eyebrows and upper lip. I do not recommend threading (unsanitary) and waxing (pulls skin), particularly because of the risk of ingrown hairs.
Hairline: This is probably one of the most overlooked hair removal areas for Asian women especially. The hairline, along the forehead, often produces short hairs (one to two inches long) that are thin and unable to grow. These can look sloppy and ruin many hairstyles. Take care of these with a small pair of scissors, and tweezers where appropriate. As for the back of the neck, you can try trimming these short hairs with scissors and carefully following it up with an epilator or depilatory cream.
Bikini area: Brazilian wax (costly but effective) or scissors plus an epilator (with caution) and a razor as needed.
Body (including underarms, arms, legs, back, stomach): Epilator. You can try a regular epilator (plug into the wall) or a wet/dry epilator (can be used in the shower). It's useful to have both; the regular is more effective and the results last longer, but the wet/dry is far more convenient and less noisy. Waxing is effective, but you must wait for the hair to grow long to remove it again. I don't recommend shaving, as it's a temporary fix and the hair will grow back spikier.
2. Exfoliate
Exfoliating involves scrubbing dead skin cells from your skin to reveal smooth, healthy skin from underneath. There are two types of exfoliation: physical and chemical.
Face: For the face I recommend chemical exfoliation, as physical exfoliation (scrubs) can cause minute tears in your delicate facial skin. Try daily toners or natural, organic chemical exfoliation with a lemon juice and honey face mask once a week. Exfoliation can help skin look fair and bright by removing tans.
Body: Sugar/salt/powder scrubs can be fun to make or buy, but the most cost-effective method is to use a dry brush to scrub your entire body before stepping into the shower. Do this once or twice a week. To lighten dark skin patches around the elbows and knees, apply lemon juice for a bleaching effect.
3. Cleanse
It is worth adding that you must always maintain proper hygiene. Shower every day, use a deodorant, and wash your hair every other day. Never, ever go to bed at night without washing off every trace of your makeup. Brush your teeth twice a day with a whitening toothpaste and floss in the evening. If your teeth are very stained, use a round of whitening strips once or twice a year. These are simple but necessary steps to looking and feeling beautiful.


4. Moisturize
You'll never see a Mumbai superstar walking around with an ashy, dry complexion. Apply a moisturizer to your face twice a day, morning and night. If it suits your skin type, include a face and body sunblock/sunscreen (SPF) in your skin care regimen. Use a richer, heavier night cream, serum, or oil for anti-aging benefits during the night. Always apply moisturizer to your body after you have showered. I recommend using baby oil gel for ultimate moisturization; it also leaves a slight sheen to the skin without being greasy. You can also use a shea or cocoa butter lotion to help with stretch marks. Use a hand cream to keep your hands soft.
5. Maintain your nails
Keep your nails well-groomed on both your hands and feet. Opt for a French manicure (you can do this at home with a white polish French manicure pen and a clear or pale pink nail polish) for an elegant, versatile and womanly look.
6. Pamper yourself
Celebrities and socialites love to indulge in regular facials and massages once a month. Massages in particular can be especially good for reviving the body and relaxing the mind, as well as stimulating blood circulation to the skin for a youthful glow. Give yourself a facial with an all-natural aloe vera face mask.
Lesson Two: Makeup
MAC Cosmetics is Bollywood's premiere choice for makeup; the majority of actresses rely on MAC Cosmetics for their film and event appearances. Follow these makeup tips and look ready to star in the next Karan Johar or Aditya Chopra picture!
1. Use concealer and foundation
To conceal undereye darkness and blemishes, use MAC Studio Finish SPF 35 Concealer in a shade that matches your skin color (or is one shade lighter).
Even out and perfect your skintone with MAC Studio Fix Fluid SPF 15 Foundationin a shade that matches your skin color. It is very, very important to get a perfect match, so have a friend or a professional MAC makeup artist help you select the right shade. If your makeup is the wrong color, it will be obvious in real life and in photographs (your skin will look grayish and sickly). Don't let that happen! Apply a translucent powder to blot oil if necessary throughout the day.
2. Apply eye makeup
To get the famous Bollywood heroine look, sweep a matte medium-brown eyeshadow (MAC Eye Shadow in Folie) over the lid and blend up past the crease, fading halfway to the brow. Using a black gel eyeliner (MAC Fluidline in Blacktrack), line your lower waterline and lower lashline. Use a smudgy black pencil (MAC Eye Kohl in Smolder) to line the upper lashline generously. Use a matte black eyeshadow (MAC Eye Shadow in Carbon) and blend it into the upper lashes. Sweep outwards just a touch to create a small winged effect. Curl lashes (apply false eyelashes for full effect) and apply mascara.


The preferred colored contact lenses of the movie industry are Freshlook Colorblends in Green.
3. Apply blusher and/or bronzer
Three top-used Bollywood blushes to include in your makeup bag are: MAC Powder Blush in Gingerly, MAC Powder Blush in Mocha, and MAC Powder Blush in Pink Swoon. Also invest in a matte bronzer like MAC Bronzing Powder in Matte Bronze.
4. Apply lipstick
Indian actresses tend to favorite natural, brown-based pink, brown-based peach, and neutral pink lipsticks. To complete your makeup look, try these B'wood favorites: MAC Lipstick in Twig, MAC Lipstick in Mocha, MAC Lipstick in Touch,MAC Lipstick in Fast Play, and MAC Lipstick in Viva Glam VI. For evening looks, experiment with a red lipstick.
Lesson Three: Hair
1. Cut/grow your hair about four to five inches past shoulder length
Bollywood actresses typically keep their hair about this length (reaching just past the bust area). Have your hair dresser cut your hair in layers for added volume and character. If your hair is too thick, ask the salon to "thin out" your hair. They will use a specific type of scissor that will cut the hair in a way that makes it appear less bushy.
2. Be a brunette or a black-haired beauty
Some actresses and models will keep their hair its natural black or dark chocolate color, but many will have their hair professionally dyed a rich mahogany brown, or brown with some lighter highlights. If you want to lighten your hair, seek professional help.
3. Learn to blow dry and curl your hair
The gorgeous ladies of tinsel town will often step out with a magnificent blowout, with locks shining and not a frizzy strand in sight. Learn to use hot rollers, a hair dryer, a curling iron, and a straightening flat iron to style your hair in different ways. Most often, the actresses keep their hair down, and save the up dos, buns and ponytails for rare occasions.
4. Take good care of your hair
Most actresses' top beauty secret to keep their tresses healthy and gleaming is hair oil massages. Celebs also swear by Kérastase hair products. Apply conditioner after shampooing and use heat protection products before hot styling. Avoid washing too often by using a dry shampoo between washes to prevent oiliness.
Lesson Four: Lifestyle and Presentation
1. Your body is your temple
Maintain a healthy diet, consuming lots of fruits and vegetables, whole grains, and an adequate amount of protein. Exercise at least four times a week; include yoga and Pilates in your workout routine. Get at least eight hours of sleep a night. Stay hydrated with water and white or green tea throughout the day. Take daily multivitamins and fish oil capsules every day. Limit consumption of skin sins like alcohol, cigarettes, fatty, processed foods and (perhaps most importantly) sugar.


2. Posture and comportment
Do not slouch. Keep your head held high and your back straight throughout the day. Do not sit with your legs spread out or in an unladylike manner. Do not make silly or unflattering faces or voices. Do not laugh in an unattractive way. Practice the smile you will use in front of the camera when pictures are being taken. Do not be photographed while eating or drinking.
3. Attitude
Stay positive and upbeat! Smile! Be friendly– do not scowl, glare, or sulk. Goodness and kindness lend a woman (or a man) a special poise and beauty that go beyond the physical appearance. Reject the concept of "stress" and embrace inner calm. Take time to enjoy your life and appreciate the gifts you have been given, including your family and friends. Work diligently and efficiently, and keep your face and body relaxed to avoid creating tension in the body, mind, and soul. Have a passion, goals, and ambitions; the determination and motivation you feel towards realizing your dreams will show in the sparkle of your eyes.
4. Master the arts
Practice singing and dancing. Singing will develop and give you command over your voice, making it more melodious, even, and attractive. Dancing will make you more graceful, less clumsy, and will tone and firm your body. Gracefulness of the figure can be expressed in even the slightest movements– from the tilt of the head, to the movement of the hands, to the sway of the hips.
5. Dress in a feminine, professional manner
Bollywood actresses are popular symbols of South Asian femininity. They dress in feminine clothing– skirts, blouses, Western and Eastern dresses, tailored pants, stylish jackets– and accessorize with jewelry, high heels, and purses. Avoid sloppy, ill-fitted, tawdry, or dirty outfits. Respect yourself and others will respect you. Refer to our Jolie Asie "How to Dress Like" guides for more information on putting together a suitable wardrobe.
Whether you want to look like Kajol, Sonakshi Sinha, Sridevi, Rani Mukherjee, orSonam Kapoor, remember that Bollywood heroines come in all shapes, sizes, and colors. What's important is how you take care of yourself, how you present yourself, and how you feel about yourself.
Jul 15, 2017
10 Bollywood Actress Face Care Tips (By Healthy Bites )
We adore these leading ladies of Bollywood for their flawless looks and inspite of the fact that they are mostly dolled up for most appearances but they have the best skin which counts for the added freshness and glow to the face! Even if these beauties step out without a hint of makeup, you will fall for the gorgeous skin which is naturally so beautiful!
So, I am sure everyone must be looking for some or the other celebrity tips to get flawless looking skin and so here is a quick guide on top 10 Bollywood Actresses who have spilled their best kept skin and face care secrets!
Kareena Kapoor
Skincare is simple for her and she doesn't wear makeup on a daily basis as she believes in staying natural and away from the chemical laden makeup cosmetics. No product at all on her face during the day and night! She only decks up for events and photo shoots!
She believes cleansing is the best way to keep the skin glowing! Her daily go-to face wash is one from Lancome. She avoids using many creams because of the high chemical content of these products.
Deepika Padukone
The leading lady on the box office these days in the South Beauty Deepika has a natural glow which is easy to achieve! She believes in keeping the skin free from any makeup to the maximum possible extent! Eating healthy food and liquid intake is what is her secret to young and glowing skin! The basic CTM routine is what she mostly sticks to for her face care! She uses mild soaps and indulges in clean-up sessions often.
Katrina Kaif
She is blessed with flawless healthy skin and doesn't hang around in makeup when ever she steps out! You can spot this beauty in a no makeup look most of the times!
She is a lip balm person and she takes Acai berry supplements for her skin. She uses La Prairie night cream, Mene & Moy Face Wash and Lancome Cleansing Milk.
Priyanka Chopra
The former Miss World is going places and all the credit for her gorgeous are homemade recipes! A homemade face scrub containing rice flour and honey for exfoliating and moisturizing the skin. She also uses yogurt face pack to moisturize and brighten the skin.
Sonam Kapoor
Sonam starts her day with sipping some warm water, which is followed by honey and limewater to flush out the toxins. She loves cucumber juice, coconut juice and buttermilk for keeping the skin healthy and hydrated!
Aishwarya Rai
The most beautiful woman in the world Aishwarya Rai and being a mother has not changed anything at all for this gorgeous actress of Bollywood. She mostly relies on using organic ingredients for
Sonakashi Sinha
This Dabangg actress surely wooed so many hearts with her Indian looks and her voluptuous figure! She admits using multani mitti packs once in a while and regularly uses fresh aloe vera on her skin for minor skin issues. Any bruises, blemishes instantly disappear with aloe vera, it's the best thing for the skin.
Alia Bhatt
This newbie in Bollywood is the youngest of the lot and has the innocence and soft skin of a baby and all she does for that is take lots of fresh fruits and juices to keep her skin glowing from within! She also indulges in regular spa treatments which relaxes her skin and it glows naturally! Apart from that she is not very keen on a particular skincare regime and mainly attributes her fitness and diet as the prime reason behind her flawless skin!
Parineeti Chopra
While this bubbly actress is not very fond of makeup and likes to keep the skin more and more free from products and chemicals. But one advice she considers of her mother is to use aloe vera for face skin care as it very natural and protects and nourishes the skin in the best possible way! To some up her skincare tip, it is basically a regular CTM routine which Parineeti focuses majorly on!
Sharaddha Kapoor
This stunning actress is another ardent fan of natural beauty and relies very less on makeup for her looks! She believes in liquid intake to keep her skin hydrated and elastic and flush out the impurities from the body! She is a firm believer in keeping the skin clean to the maximum and free from makeup! For occasional outbursts on the skin she sometimes uses toothpaste to vanish those zits!
Sep 26, 2017
Beauty Secrets and Diet Tips of Bollywood Stars (By Healthy Bites)
Beauty, skin care and diet. Three things every woman wants to know more about.
We all wonder how Bollywood stars still manage to look flawless on their days off.
How they maintain a healthy diet, what they use on their skin, and what beauty means to them.
DESIblitz has rounded up four stunning Bollywood actresses who always manage to look incredible, with makeup or without.
Here are their beauty secrets!
Jacqueline Fernandez
Jacqueline Fernandez is a Bollywood actress who remains open in revealing her beauty/skin care tips. She has given many interviews in which she shares her makeup and skin care regime with fans.
In an interview with Vogue India, the Sri Lankan beauty states she uses ice wrapped up in a muslin tissue and places them on her cheeks and eyes to reduce puffiness and maintain a healthy glow.
In another interview with Cosmopolitan India, Jacqueline emphasises the importance of eating healthy and being aware of the types of food you eat. She said:
"Believe me, as a teen I was plugged with acne, what cosmetics couldn't do, my diet did. Slowly I became more conscious about my nutrition and stopped eating junk. More of fish, veggies, fruits, nuts and a diet low on carbs and sugar soon made my skin glow."
When asked about her hair, the Bollywood star said she can always vouch for Kerastase as a brand. And while it may be high end and a pricey option, it gives good results, making it worth it.
She also uses beer to wash her hair. To add shine, she uses an egg white mask which she makes at home. Jacqueline also takes zinc as hair supplements and eats food that is rich in omega-3.
Madhuri Dixit
Madhuri Dixit is another actress who has stolen hearts with her beautiful aura, gorgeous skin and healthy locks. The timeless diva always looks stunning and we are dying to know her beauty secret.
What is beauty to Madhuri Dixit?
She tells StyleCraze:
"Beauty is in the eye of the beholder and what is beautiful to one, need not be beautiful to the other. But one must always work to feel and look good."
In regards to hair, the beautiful actress said she steers towards using oils to help nourish and soften her hair. She told Filmfare: "Mix olive oil and castor oil in equal proportions and apply to your hair and scalp."
Madhuri's beauty regime doesn't contain a lot of products. To achieve a natural glow, she simply stays happy. As simplistic as it sounds, she claims it has worked for her. She also states dancing is very spiritual for her and keeps her happy and beaming from the inside. Dancing is also a great source of cardio.
One of the grooming secrets the mega star swears by is to moisturise and wear SPF and always oil your hair before washing!
Sonam Kapoor
Fashionista Sonam is a Bollywood actress who is known for her inspiring fashion looks and for being the brand ambassador of L'Oreal.
Sonam told StyleCraze: "Think right, eat right, be happy, content and feel beautiful from within as that is what reflects on your face."
"Think right, eat right, be happy, content and feel beautiful from within as that is what reflects on your face."
She brushes her hair using a Conair hairbrush and uses Kerastase products. Sonam sips coconut water every 2-3 hours which keeps her skin in good condition.
Many of you may know that Kapoor lost weight prior to joining Bollywood Cinema. She followed a strict diet routine. Her diet plan included:
Breakfast ~ Oatmeals and fruits
Lunch ~ Dhal, sabzi, salad, and a piece of chicken or fish
Snacks ~ High fibre foods like crackers with chicken or egg whites
Dinner ~ Soup, salad and a piece of chicken
Neutrogena is her favourite sunscreen brand and she never steps out of her house without applying it.
Similar to Madhuri, Sonam also relies on oils for nourishing hair and uses them twice a month. She mixes coconut oil with almond oil. She avoids oily products and products full of heavy chemicals.
Katrina Kaif
Katrina Kaif is the hot and mesmerising leading lady of Bollywood. She has been in the industry for quite some time now and has drawn in audiences with her captivating look.
Katrina is one of those actresses that likes to keep her makeup and hair simple. We never see her experimenting with her looks apart from her red hair in her movie Fitoor. Having said that, she never manages to fail in looking elegant and ****y at the same time.
Katrina drinks four glasses of water when she wakes up. This is her skin care routine – pretty simple, right? Drinking water definitely makes a difference. Sometimes it's not about what you apply on your skin but what you eat and what goes into your body.
Before going to bed, Katrina recommends taking makeup off with a good cleanser to remove all grime and any residue.
Occasionally, she has pamper treatments which include facials and massages. These treatments stimulate blood circulation and leave a glow to your skin. Mineral mud masks from time to time are Katrina's emergency uses. They reduce impurities quickly, especially if you see a breakout.
The stunning actress likes to keep her makeup simple and her essential products are simply a sunscreen and lip balm. Her secret makeup tip is applying ice wrapped in a muslin cloth all over her face before applying makeup!
These tips from our favourite Bollywood beauties are definitely useful and we could always apply them in our daily routine.
Jun 17
7 healthy habits for teens (By Healthy Bites)
Today we get to go to high school!! At least, in my pictures, we get to. A few weeks ago, I received a fun opportunity to speak to a group of upperclassmen at a local high school during their home ec. period. I've always had a soft spot in my heart for teens since my college days working at summer camp and helping with our church youth group, so this was a great time for me to think back on all of those great memories while I prepped for the class! I wanted to let the students try some new foods that maybe they had never had before, so I chose to feature spaghetti squash, cannellini beans, and quinoa. I demonstrated how to make a baked spaghetti squash lasagna and did a tasting of a fall quinoa fruit salad and a chocolate chip cookie dough dip with a secret ingredient (cannellini beans!). As it turns out, about half of the class had never tried spaghetti squash or quinoa, and only a few people identified the secret ingredient. And as an added bonus, most everyone liked what they tried! Score! No picky eaters today – everyone had an open mind and tried all 3 of the dishes I brought.
After my cooking demonstration, I did a little presentation on "7 Healthy Habits for Teens." These were all habits I either developed as a teen or wish I had practiced because they helped me maintain a healthy relationship with food and eat healthfully during my college days. I wanted to share them with you today because even if you aren't a teen anymore, it's never too late to pick up some healthy habits!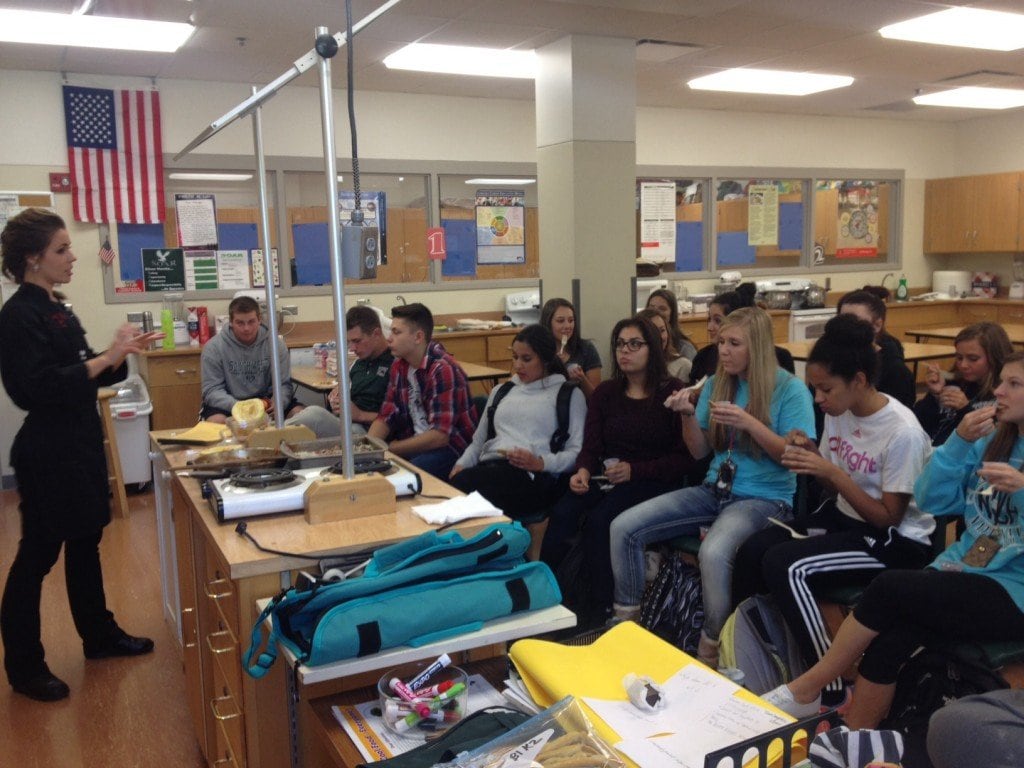 1. eat breakfast
Eating breakfast supports a healthy metabolism by "breaking the fast" after a good night's sleep. Remember that food = fuel. It's what keeps you going mentally and physically. Studies show that students who eat breakfast regularly have better concentration, perform better on tests and maintain a healthy weight more consistently. Choices can be simple and not your typical breakfast foods – it's fine to have a tortilla wrap with deli meat or a whole grain pita filled with hummus! To best regulate your hunger through the day and help you focus in the mornings, it's recommended that you eat within an hour of waking up.
2. follow the 80/20 rule
This way of thinking helps keep your diet balanced, healthy, but still allows for occasional indulgences. Let's break it down: 80% of the time, make food choices based on how they nourish and sustain your body. 20% of the time, you can indulge in "sometimes" foods – anything goes! You can enjoy the indulgence without guilt because you know that, for the majority of the time, you are fueling your body with the nutrients it needs. If you eat 3 meals per day, that's 21 meals per week. So for 17 meals (80%), you eat healthfully and for 4 meals (20%), you can have whatever you want.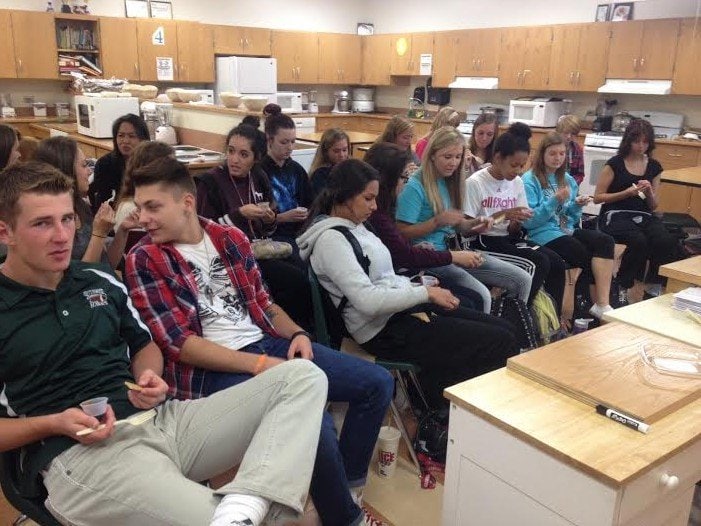 3. eat intuitively
Mindful eating = eat when you are hungry, stopping when you are full. Remember: healthy snacking is A-OK! When you get too hungry between meals, it can lead to overeating at mealtime. Have fruits and veggies handy to snack on and balanced your snacks with a bit of protein or whole grains. Try these combinations:
Apple + peanut butter
Whole grain crackers + string cheese
Grapes + toasted almonds
Tortilla + beans
4. offer to do the grocery shopping
There are so many benefits in doing this – don't wait until you are a busy college student to become an expert shopper! Offer to go to the grocery store for your family once per week. Pay attention to: what's on sale, what's in season (is usually on sale), foods you have never tried before, and how much things cost. Becoming familiar with these factors of grocery shopping will make it easier for you to budget your food money and plan healthy meals to cook at home once you are in college!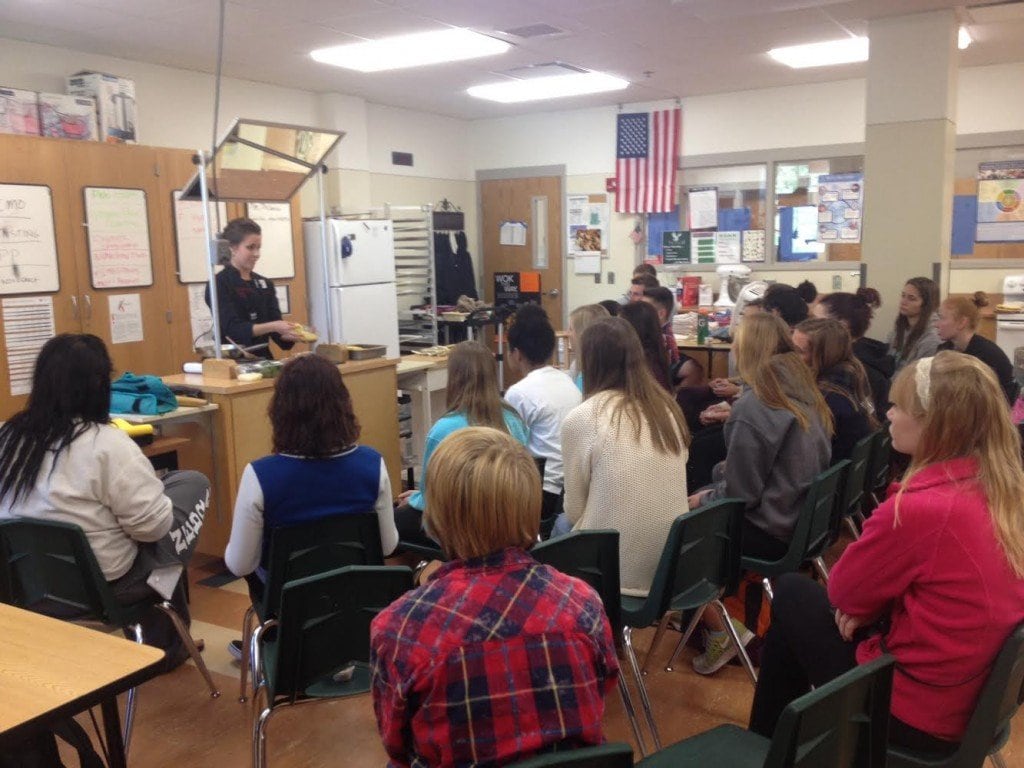 5. cook dinner for your family once per week
This will help you go into the college dorm/apartment with an arsenal of easy, healthy recipes that will fuel you through classes. College is a busy, fun and exciting time, so why not get comfortable in the kitchen early? Make a goal to plan one dinner a week to cook for your family. It's ok to enlist the help of a sibling, parent, or friend to be your "sous chef" or help with dish duty after the meal!
6. try a new fruit or vegetable each month
Make your meals interesting and exciting by incorporating foods you've never tried before into meals. Variety is key to helping you get the greatest benefit from all the vitamins and minerals that produce has to offer. And be sure to cook it yourself if you decide to try something new! Studies show that when people try a new food they have prepared themselves that they have a higher chance of liking the new food.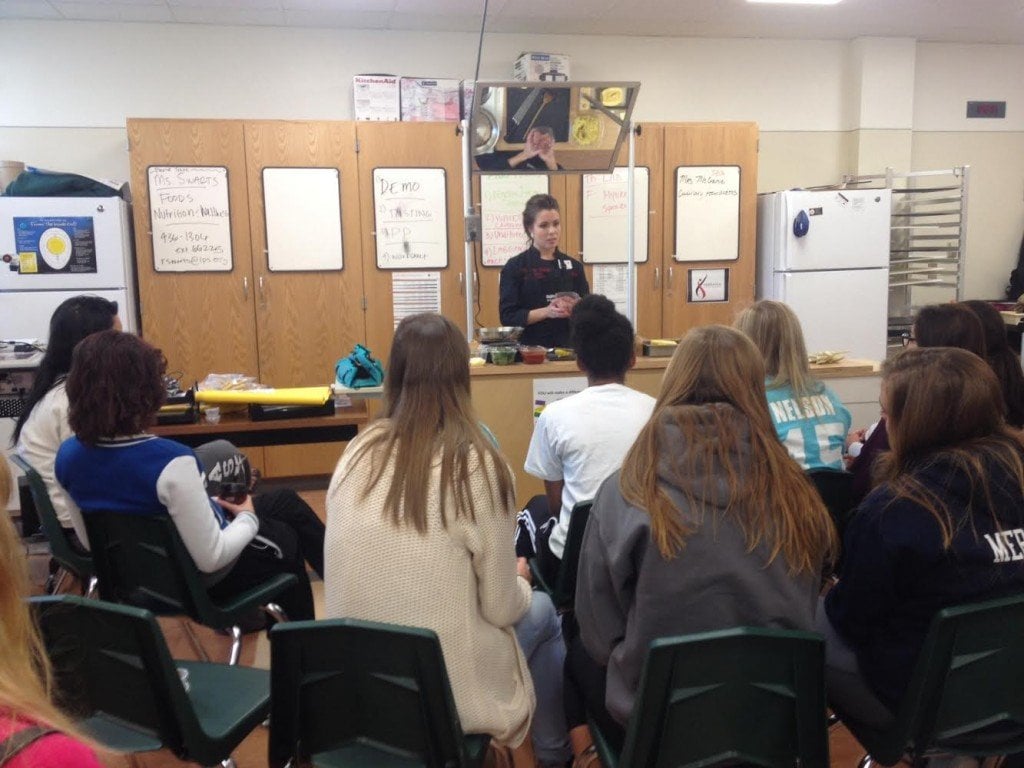 7. invest wisely
Remember that practicing good nutrition is like putting money in a savings account or having good insurance – it will pay off in more ways than you realize in the long run! The choices we make as young people about what to put in our bodies and how we take care of our bodies will have an effect on our health, ability to do what we love, confidence, and body image as we grow older. So pick a healthy habit and start your investment in yourself today!
Disclaimer: The views expressed above are member's views and this website does not comply with it. The views expressed may not be factually correct. Incase of any issue please contact us/report it to us.