Comments/thoughts/emotions of fans on Iss Pyaar Ko going off-air
Oct 8, 2016
Comments/thoughts/emotions of fans on Iss Pyaar Ko going off-air (By V1184) (Thanked: 9 times)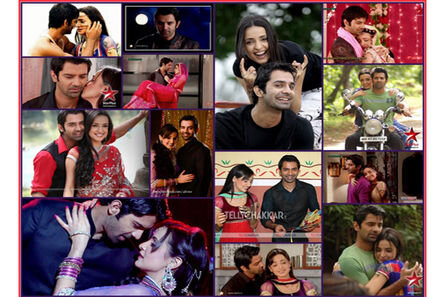 Bushra from Nagpur- I am a big fan of IPKKND. It's the best show Star Plus has aired till date. Arnav n Khushi are the most adorable couple of tellywood. Barun, Sanaya, Daljeet, Akshay, everyone hats off to them for their awesome acting. When I came to know that IPKKND is ending, I was completely in tears. I cannot imagine a single day without IPKKND.
But as we all know that good things come in short packages. But we guys can never forget the show.
I am not going to miss them because, "Huum yaad unhe kartey hain jo humse door hotey hain par barun aur sanaya toh humrey dil main hain forever."
I love you Sanaya and Barun and no one can takes your place in industry… I am sure.
Sonia from Peterborough, UK- IPKKND has been an amazing show. Both Barun and Sanaya are amazing actors, they really brought the characters of Khushi and Arnav alive, with their chemistry. Not just me but all the millions of Arshi fans around the globe will miss the rabba ve moments. The emotions, drama, romance and comedy that this show gave us is irreplaceable. Good luck to both Sanaya and Barun for the future. Hopefully for all us fans we will get to see them together again in another show or a part 2 of IPKKND. We will truly miss IPKKND.
Priya Iyer- It is indeed very sad to hear a serial so popular coming to an end and that too an abrupt one…though it's not wrong on Barun's part to look for greener pastures, the truth is his presence on the TV will be sorely missed.
Though a movie ensures a wider audience, a daily soap means a strong and a continuous connect with the characters and the actors who portray them. Barun's role had established that bond. Seeing him @ 8 pm everyday was a ritual…one which we would find difficult to break. We as his fans would respect his feelings but at the cost of missing him deeply.
But on Star Plus' part, I feel the channel has let the audience and the show lovers down very badly. Firstly by putting the notice about the abrupt closure of the serial and attributing it to Barun's reluctance in continuing. Never before has any channel resorted to such cheapness. All we have heard till date about Barun...is his professionalism. I am sure he must have given advance notice to the channel, they would have formed some strategy, replacement and the failure of which has resulted in they putting all the blame on Barun.
The least they could do now is to provide a decent closure to the serial so much loved by everyone. A last maha episode wherein they can bring all the characters, artistes, technicians together and ask them their experience, their memories, their loved moments etc. An ending on a happy note will help the viewers also have happy memories of the serial which will be cherished always.
Shikha from Hoshiarpur, Punjab- I am a big fan of this show, I love this show a lot...sometimes my family call me mental after seeing my excitement about Iss Pyaar Ko…...I love Barun Sobti…I have downloaded each episode of this beautiful show....I have huge collection of this show's videos...I even collected pictures of this show from every newspapers and magazines and paste on my file...:) I am a diehard fan of this show...firstly when I read an article about Barun Sobti quitting this show on Tellychakkar.com, I didn't sleep the whole night...I am very disappointed about listening that the show is going off air....:( hope that the next season come soon:)
Ritu Panda from London - I just wanted to say that Star Plus has played its cards very well. All the **** they say about talking to Barun Sobti convincing him to stay and not leave is nonsense. Braun has started shooting for a film long ago and at one point the Production House even gave him leave and showed his kidnapping track so that both things could be managed. If they could manage before, why not now? Star Plus only knows one thing how to "preserve" their image in front of the audience by acting innocent. To be honest I want to say one thing. We people have enough brains and if the channel thinks that by doing all this they will "win" the battle or that they will gain anything they are so wrong. Star Plus only cares about its image and its reputation. They don't care about their actors. If they did this wouldn't be happening. They behaved unfairly with Giaa Maanek and blamed the whole thing on her when it was not her fault and now history is repeating itself with Barun. Star Plus should be thankful that because of these shows they are so popular without them Star Plus would be nothing. Instead of behaving like **** with their stars they need to learn how to be loyal and stand by their shows. I am very angry with the way Star has treated their actors and those people who have stood by them to make their channel number one. I never expected such a reputed channel to behave like this.
Chanchal Eklure from Hyderabad- I will miss the show a lot and I am happy that the show is ending with Barun and Sanaya.... but this serial was the best of all times because of the anger and madness were together for the first time...
Aditi Baheti from Kolhapur- I will really miss this show. I am totally overwhelmed right now. I used to watch dthis show regularly even during my exams. I am really gonna miss seeing the most romantic couple onscreen of Barun and Sanaya. I wish you all comeback with season 2.
Abhishek Nayan- It's good that the show is ending, but it would have been better if the makers would have given it a logical ending and I feel the show should not end just because lead actor left it, after all he is not the only person involved in the project. What about the hard work of other actors and technicians in the show? One character does not make a show successful… it's the whole team.
Kiara Singh- IPKKND is, was and will always be close to me and my heart it was one story that displayed a real love story. Its pain, happiness how love can compel you to do things you would never have done if it wasn't for that person. I am very disappointed with the people who made this happen I, mean the people who are ending it. IPKKND just completed a year in June so it's a year and a few months and its finishing, well I hope they make it again in the future but I'd like to thank the whole cast and crew of IPKKND for giving us these 400 lovely episodes of IPKKND, it was a treat.
Sunitha Varma (Kerala) - Wish all good luck...god bless...one and half years of IPKKND was awesome, sad part is the sudden end of show...I wish each cast good luck for their future projects...directors, producer, Star Plus channel, technical people, spot boys & other people worked for IPKKND. Gr8 work love you all & god bless...will miss you all...now 8-8:30pm slot is vacant...miss cute couple Arshi...Barun Sobti, Sanaya Irani, Akshay Dogra, Daljeet Bhanot, Karan Goddwani, Deepali Pansare, Abhaas Mehta, Vishesh Bansal, Utkarsha Naik, Jayshree T, Sanjay Batra, Pyomori Mehta, Abha Parmar, Swati Chitnis, Sana Khan, Madhura Naik wish all good luck...writers - Ved Raj, Sudhir Kumar, Gautam Hegde, Janaki V, Hitesh Kewalya…directors - Arshad Khan, Lalit Mohan…producers – Gul Khan, Nissar Parvez, Rajesh Chadha…theme song – Raju Singh…cinematography - Hrishikesh Gandhi…production co – 4 Lions…channel – Star Plus…sorry if I missed anyone, all of them together made this show just superb, excellent work…hope to see such good serials/projects in future with such talented actors…gr8 work, love you all, miss you…god bless.
Simran Naaz from UK- I am okay because I know the show had to end one day but it was always my dream that I meet them two even though I live in UK. I am 12 and I wanted to send lots of pictures and painting but anyway I am really upset. I love Arnav soooooooooooooooo much and I am literally crying at this moment. I really like Arnav and Khushi and I am sad.
Pooja Krishan from Austria, Europe- I am a very biig fan of Iss Pyaar Ko Kya Naam Doon?!!!!!! and when I got to know that its ending this week on the 30.11.2012!!!! I got the biggest shock!! really I never thought that IPKKND. would end sooooo soooon!!!
Of course…many fans wanted it to end with Barun & Sanaya after they got to know about Barun's replacement...but phir bhi..i never wished it to end..:(( and now that it's ending..I keep thinking all day long...what will I do after it ends?? which show will I watch everyday like a freak??
Really I love IPKKND sooo much that I call myself an IPKKND freak. I surely want to request you from Tellychakkar to read out this message to barun and sanaya...and all the other wonderful & talented cast of the most wonderful, the most popular & the most will-be-missed show of Indian television....!!! hats off to all the people who are & were behind this awesome show.....! it saw many ups and downs...but it has made a special place in every persons heart...which can never be taken away by any other....! pls tell everyone that I love Barun, Sanaya, Karan, Daljeet, Akshay, Deepali, Abhaas...and many more I forgot to name...............
actually I got filled with excitement...and with emotions when I read this article on your Tellychakkar.com site....and I just tipped and tipped...and the last thing I want to say say is...that IPKKND is, was and always will be the most magical show of Indian television.
Ahmadi from Canada- I am a huge fan of Khushi and Arnav and I will miss them a lot!! I am really sad that Iss Pyaar is ending because after the long sequence of Arnav n Khushi fighting, viewers got to see happiness and romance. I think that viewers will miss them a lot, especially me!! But I still wish Khushi, Arnav all the best in their life and I hope to see them again in the future!! I will miss the show's cast's masti on sets and especially mami's "hello hi, bye, bye" a lot and I will miss Khushi, Aarav and Arnav.
Well all the best to the whole cast and my best wishes to Barun who is entering the movie field and pray that you will be a huge success there too!! I love u guys a lot... Khush, Arnav and the whole cast, I will miss you a lot!!
KKLJ from Pune- Iss Pyaar Ko Kya Naam Doon? Pyaar, Dosti, Paagalpan, Masti, ya Arnav aur Khushi?!!!!
The entire season of this serial was a joyous ride....with the right mix of emotions, drama, comedy, and romance....who would want to watch boring serials that drain you out emotionally! Superb performances by the entire cast, especially the "physics and chemistry" between the lead pair, Arnav and Khushi. I had never thought Sanaya Irani could carry off the role of a small-town girl with so much ease! Barun Sobti did complete justice to the role of Arnav Singh Raizada. Well, Arnav, your "What-the-.." has now become a new addition to my vocab! ;)
Kudos to the Raizadas and the Guptas, and little Aarav!
Hello, Hi, Bye-Bye, do not say Bye Bye and go abay so soonva....jaldi come backva in a new avtaarva! :)
Sandra Shaji from Mumbai -All the fans were quite disappointed when our main lead Barun sobti was leaving the show, but we had to think from his part also no. But IPK was the best serial ever the first serial thatI liked the most was Kaisa yeh pyar hai and this is the next best serial I love. But everything happens for the best it is better to end the show then to see somebody else taking asr's place. Love you Arshi hope you have a great future ahead. And one more request if Barun has finished his break, there should be a season 2 of the show.
Vanessa Rowe from Mumbai - 'Iss Pyaar Ko Kya Naam Doon?' is one of the few Hindi shows on TV that made a definite mark on whoever watched it. It had that special factor that set it apart from the rest. The twists, the characters, the actors, the direction, dialogues, and musical score were its strength and the electric on-screen chemistry between Sanaya Irani and Barun Sobti heightened the show's popularity to unimagined levels! I thank the whole cast and crew of IPKKND for livening our evenings, for bringing us entertainment and insights day in and day out, for always going on no matter what, and for gifting us a treasure of a show that will always remain close to our hearts! The IPKKND team made us feel like we were part of the show - I love and respect them for that and I wish them all the best of luck for their future - may they keep churning out beautiful, memorable, and pure artistic creations!
Nitu Sharma- I will miss Barun and Sanaya a lot and also IPKKND. I hope they come back in another show. IPKKND was my favourite show and I just loved watching Arnav and Khushi...it's really sad that it is coming to an end and that too so suddenly...but I think the ending of the story could have been much better rather than the current track. But what else we can do..just want to say Barun and Sanaya love you both and will really miss the rocking chemistry which was a part of my daily routine..Please do come back together on any other show. I miss all IPKKND actors namely Arnav, Khushi, Anjali, nani, mami, NK, Payal, Akash,buwaji, Grima ji. Really I love you all.
Aastha Agarwal from Moradabad, UP- I'm a diehard fan of IPKKND and Sarun. I have followed loads of shows earlier on TV but have not come across like this one ever in my life. This show made me crazy in its literal sense. I started behaving like Khushi and also started dressing like her (CRAZY I KNOW). I used to like jalebis but now I am mad for them. My family has even started calling me Sankadevi, what else do u expect??? If Sanaya made me crazy Barun made me crazier... I love the way he talks, walks, smirks his arrogance, style, charm all made me ga ga for him... I'm upset about the show being over. Actually I have a mixed feeling about it. I'm happy that the show is ending with dignity i.e., keeping the leads intact and I'm depressed thinking that what will I do now between 8- 8.30 slot????? I guess I will start watching all the episodes of the show from beginning. It was the only show I used to watch on SP and I don't intend to follow any new one. I just hope they bring back Sarun in a new show... Will be a treat in itself... Have you noticed something, it's the ONLY show on TV which is ending without the CONSUMMATION of the leads despite being them MARRIED ;) :'(
There is a lot to say but i guess i will wrap it here... Will surely miss RABBA VE, ARSHI and IPKKND.
Priya from Madurai, Tamil Nadu- Finally the serial ends. We are missing IPKKND. Arnav's room, Khushi's pagalpan, Anjali di's sentiment, NK's wrong Hindi, Mami ji's English, Arnav "what the" lots of. We are miss you guys. This is not a serial but a part of my life. Will miss you guys.
Sohini Mandi- Kolkata- I love IPKKND and of course Arshi. I am very sad that the show is ending. I will miss Barun and Sanaya .Hope they come back together in future.
Maria Mamodbay Fassy from France- Some love stories are born to touch our hearts forever...and when it ends...memories are still alive and never fade away with time...'
This is what I feel about Iss Pyaar. A unique show that touched our hearts forever. We got to see during 1.5 year a beautiful love story that kept us glued on TV screen everyday at 8.00 pm... Reaching perfection in every way... each day it was just a pure delight to watch the show!!! Arnav and Khushi love hate journey was just epic magical and fabulous!!! A love story that surpassed the limits of love and reached high skies...the meaning of true love was depicted through ARSHI....we'll always cherish those beautiful moments because we just can't forget Iss Pyaar...a serial like this comes only once in a lifetime and I'm glad I could watch it!!!
My warm thanks to all the people who contributed to make this show a hit in front of and behind the screen, all did a superb job!!!
I'll just say thank you to all the cast for portraying their characters to perfection!!!
Thank you for everything and all the best to everyone for their future projects....
Will miss Iss Pyaar.....
Manahal from La****, Pakistan – Hey Barun, Sanaya, Akshay, Daljeet, Abhaas, Deepali and the rest of the cast....................just wanted to thank you guys for giving us such a good show.............it's been ages since I watched any drama but I was forced to watch IPKKND just because of u guys.............u made it really special..........this show is really popular in Pakistan as well..........we hope to see you guys again in a new show or the second season ofit ................love u all from the bottom of my heart and wish you all the best for future
IPKKND ROCKS........BARUN AND SANAYA U GUYS ARE THE BEST<3 <3 <3 :**********
Article from Tellychakkar.com
Disclaimer: The views expressed above are member's views and this website does not comply with it. The views expressed may not be factually correct. Incase of any issue please contact us/report it to us.