Kumkum Bhagya: Will Abhi and Pragya KISS?
Aug 31, 2016
Kumkum Bhagya: Will Abhi and Pragya KISS? (By Medsuper) (Thanked: 1 times)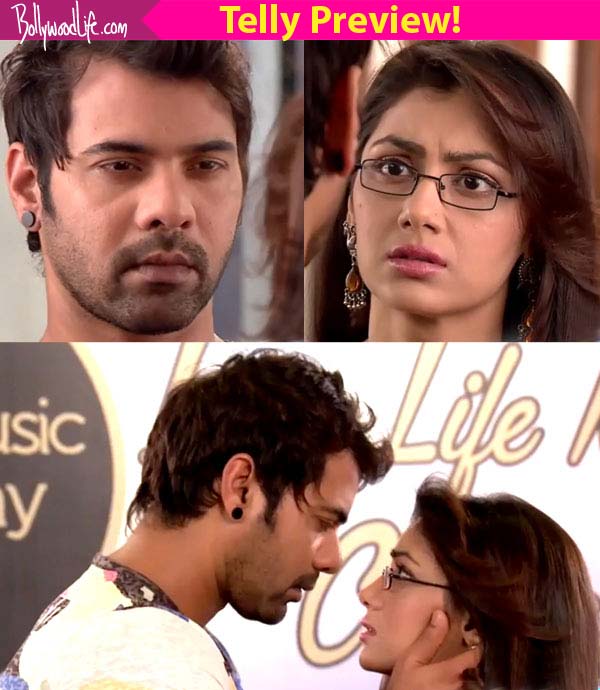 Here's the latest update on Zee TV show Kumkum Bhagya…
Abhi and Pragya will share a very intimate moment on the show. But what needs to be seen is if this is indeed real or then just a part of Tanu's dream. In last night's episode we saw Pragya was in a super happy mood after having spent some good family time with Abhi. Now she is enjoying her day out with Purab at a cafe and is penning down her feeling. And as fate would have it Pragya and Abhi meet again, this time coz the wind literally blows away her letter and places it on Abhi's T! Filmy isn't it? Totally and hence we are not very sure if this sweet romantic moment between Abhi and Pragya is actually a part of Tanu's dream or is it for real?
Abhi is irritated on finding out that he didn't get the coffee he wanted. He in fact insists on drinking the same coffee that Pragya had served him to pep his mood and insists that he cannot record without it. Pragya is on leave and Aaliya walks in to question why there's such a big fuss over coffee. Unfortunately for Aaliya she learns that there is a certain Pragya who made this amazing coffee for Abhi and she's extremely worried now. Aaliya wants to find out if Pragya is indeed trying to return to Abhi's life and will go all out to see if there's any truth to this. How will Pragya manage to stay out of Aaliya's reach? Well, we will have to see if Pragya will be busted in the coming days.
In today's episode we will see that Abhi and Pragya will meet outside the cafe accidentally. On seeing his biggest fan Abhi will be thrilled he will tease her and Pragya will continue feeling conscious. Pragya too will be elated to get another chance to be close to her husband. In fact the teaser for today's episode shows Abhi trying to come close to Pragya and hug her. It also suggests that there could be a steamy kiss between them, or will this be just a figment of Tanu's imagination? Or may be Aaliya is now dreaming about Abhi and Pragya getting close. Anyway tonight's episode will be sizzling for sure in either case.
Credit : Rashma Shetty Bali
Disclaimer: The views expressed above are member's views and this website does not comply with it. The views expressed may not be factually correct. Incase of any issue please contact us/report it to us.